The legend of Panipat
Rajbir Deswal

PANIPAT comes with a tag not only of history, but mythology, culture, industry, Sufism, poetry, Hindu-Muslim amity, Partition-tales and a vast account of exponential indulgences of Islamic scholars.
Panipat was one of the five villages sought by the Pandavas from the Kauravas, besides Sonepat, Tilpat, Baghpat and Indrapat. 'Pat' got corrupted from Sanskrit word prastha.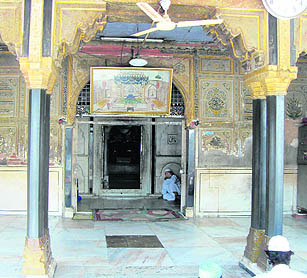 Legendary Sufi Saint Bu Ali Shah Qalandar, who lived in Panipat, was adored equally by the Hindus and the Muslims, and that contributed a great deal to the amity between the people of two religions

Famous poet Maulana Hali was born in Panipat, who contributed immensely to Persian and Urdu literatures; besides noted writer K. A. Abbas and yesteryear actor Jeevan.
'Panipati' is an acceptable accent of recitation of Holy Quran called Misri Lehza. Panipat Gharana is established in exponential vocal classical music. Many a poet and rich persons used to pride themselves with the title 'Panipati'.
Qadi Thanaullah Panipati and Nazim Panipati were the proud products of the historical town. Nazim Panipati wrote Lata Mangeshkar's first song "Dil mera toda, mujhe kahin ka na chhoda, tere pyar ne."
Called the 'Manchester of the East,' Panipat did not have many industries until the World War II, when some blanket manufacturing units were set up here for Army supplies.
The three decisive battles fought here, in many ways changed the future map of India. En route to Delhi, Panipat was a natural halt, West of Yamuna, for centuries, for the invaders from the North. The culture, in and around Panipat, could not remain unaffected due to these invasions and battles.
Folk tales and folklore of this particular pocket still have impressions (read scars) of the barbarism let loose by the invaders and the chivalric fight put up by the locals, who eternally remained the victims of plundering and marauding.
Under the command of Sadashivrao Bhau, the Marathas fought valiantly but Bhau was feared to the extent that even mothers put their infants to sleep, whispering in their ears hau — someone dreaded.
Kala Amb (black mango) earned its name because of the dried-up blood that made the entire area black, during the Third Battle of Panipat. Panipat still boasts of typical Muslim architectural designs in the havelis and mansions of many rich people.
No Hindu-Muslim riots took place here, ever. In fact, legendary Sufi Saint Bu Ali Shah Qalandar, who lived here and performed many miracles, was adored by Hindus and Muslims, equally. Out of his 19 spiritual masters, 11 were Muslims and eight were Hindus a fact that contributed great deal to Hindu-Muslim amity
Some structures around Panipat, the Mamu-Bhanja Sarai in Gharaunda, the Khawaza Khizar tomb near Gannaur (Sonepat) and many KOS Minars that dot the GT Road, are historical testimony to Panipat being a central place for a civilised Hindu-Muslim pocket.
Close to Panipat lived Sufi Saint Meeran Sahib (at Karnal), who, with the help of his disciples, rescued two Hindu girls, abducted by men from Aurangzeb's army and lost his life in the process. Another pilgrimage Mughal Pul, now called Pucca Pul, has thousands of Hindus paying their obeisance at the peer's mazar even today.
Once, Panipat was also famous for its rich Nawabs. I can recall a scene from Pakeezah when a costly carpet was gifted to one of the nauotch-girls as having been sent by Nawab Panipati although no vices like prostitution ever flourished here.
Most appropriate way to round off a peek into Panipat's past would be appropriate with a couplet by Hali:
"Khudee ko kar buland itna, ke har taqdeer se pehle/ Khuda bande se khud puchhe, bata teri raza kya hai"
(Your sublime spiritual heights of self-actualisation may compel even Almighty seeking it from you what destiny you choose for yourself)
Whoever said battles should have grounds, but grind too.