'I am not a director's actor'
Acting means to enact something without any pretensions, says Irrfan Khan, who is back
with his latest film Yeh Saali Zindagi, in a chat with Shoma A. Chatterji

IRRFAN Khan is going places. Irrfan, who will soon be seen in Yeh Saali Zindagi, was member of the International Jury at the 34th Cairo International Film Festival held recently. Born in Jaipur, Irrfan Khan got a scholarship to study at the National School of Drama, Delhi, in 1984. But recognition came with the international film The Warrior (2001) followed by Vishal Bhardwaj's Maqbool (2003) and Haasil the same year. He has been roped in by international filmmaker Ang Lee for his big screen 3D adaptation of Yann Martel's Life of Pi. He is also going to play one of the two villains in Marc Webber's Spider-Man reboot.
Do you remember the number of years you have been acting in films?
No, I don't simply because I hate counting the number of years I have been working in films. It is a strange approach. There might be people working in a given field all their lives without enjoying what they are doing. They might count how long they have been occupying a space they do not like. I chose to be an actor. I enjoy what I do though it took me a long time to get there. So, count, I don't.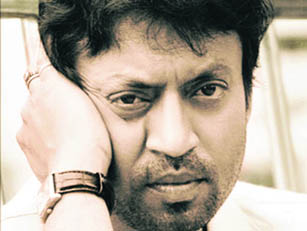 You've been in the business for around 25 years playing all kinds of roles in national and international films beginning with Indian television. How do you define the term 'acting'?
I define acting as 'not to act at all.' An actor must be mentally, intellectually and emotionally connected to a given situation or story. He has, then, to relive that situation and story through his body and mind. Acting means doing, to actually enact something without any pretensions. For example, if a particular shot needs me to lift a cup, I will lift the cup the way the character and the situation demands, not any which way. Things are effective when they are actually done and not pretended. The line between pretending and doing is quite thin. To blur that line, an actor must practice working around himself.
What kind of actor would you define yourself as — a spontaneous actor, a trained actor or a director's actor?
I would rather call myself an actor who exercises spontaneity. I am not a director's actor. I like to work with a director, who knows much more than I do. I am just a cog in the giant wheel of the film that is being turned by the director. I like a director, who I can place my faith in. If needed, I put in some homework for a given character. But many characters do not need homework. I follow my instincts and the director's directions.
Are you excited about your two new international assignments — Ang Lee's Life of Pi and one of the two villains in Marc Webber's Spider-Man reboot?

Just because these are 'international' projects is no reason for me to get excited. My career is dotted with many projects beginning with The Warrior till Danny Boyle's Slumdog Millionnaire. I feel honoured that a brilliant filmmaker like Ang Lee chose me to play the adult Pi in this Booker prize-winning novel. I am honoured because I am sharing the credits with great French actor Gerard Depardieu, who is playing Chef, an important character. I am looking forward to my first 3D film to be shot majorly in the ocean with small, lightweight, RED Epic cameras. Lee says that Life of Pi will change the way people look at the sea. I am looking forward to it. I have yet to know much more about my character in Spiderman save that I have been chosen to play one of the two villains Van Adder or Atter.
Which films in your career would you tick off as your favourite ones?
I would like to place Haasil on top because it is the first film that established me as an independent actor on the big screen and people accepted me as an actor on the big screen and not on television. The Warrior, Maqbool, Life in a Metro, Namesake, Slumdog Millionaire, Mighty Heart, Billoo Barber, Dil Kabaddi, Saat Khoon Maaf, Thank You and Paan Singh Tomar in which I have a long span beginning from the age of 20 are my favourite films. I am getting subjects which I want to do.
What is the criteria you use while accepting an assignment?
I am choosy about banners. The size of a given role, too, is important because an actor needs to be visible for some time to make a difference to the film and to be noticed and remembered by the audience. The co-star matters a great deal depending on the kind of film we are working together in. Some films need a certain kind of chemistry. Some do not need any chemistry at all. In some films, the co-actor is very important. As an actor, your on-screen rapport with your co-actor is as important as your own performance. I have excellent screen chemistry with Tabu, for instance. We worked together in Maqbool and Namesake and it was really wonderful sharing screen space with her. She is also there in Life of Pi but not with me.
Which directors would you love to work with now that you have already worked with most in Bollywood?
I would love to work with Dibakar Banerjee, Shreeram Raghavan, Navdeep Singh, who directed Manorama Six Feet Under, Anurag Kashyap, Ram Gopal Varma and Prakash Jha.