Set a theme, party hard!
If you think you know all about partying, compare your party history to the track of these people from the city. Here is a sneak peek into some private bashes.
Tropically speaking
The fountain in the back lawns of the house of Abhishek Bajaj formed the perfect setting for a Hawaiian theme party. On either side of the entrance, pots of pine trees made the setting akin to a beach. Hollywood party by Bikram
Anne can't wait to have children
Hollywood actress Anne Hathaway has that she wants to have children but is not ready to settle down yet. The 28-year-old actress, who has been in a steady relationship with actor Adam Schulman for two years now, has said that she is dying to have children and start a family but she is not ready to settle just yet, reported a website.
Adapted on the screen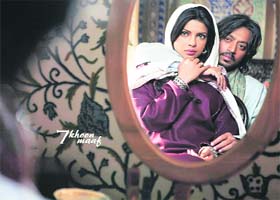 Literary works have always been the fodder for Indian filmmakers, but of late the number of adaptations of Indian authors into films has seen a marked increase. S Hussain Zaidi's Black Friday and Ruskin Bond's The Blue Umbrella have been made into movies in the last couple of years, which did well on the silver screen. With Saat Khoon Maaf, based on Ruskin Bond's short story Susanna's Seven Husbands, we look back and get for you 'hits n misses' of B-Town that have been adapted from novels.
100 and going strong
What's the secret to longevity? "A glass full of milk and haldi in diet," says Harnam Singh Bewli, who turned 100 years on Saturday. Celebrating his birthday with his five generations of children, grand and great grand, the man takes us a century back in time. Reflecting on memories and looking ahead with promise, he talks about past perfect, ideal present and the wonderful future.
A banker's quest for literature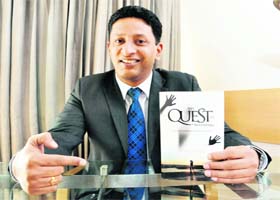 It's unabashedly commercial, whatever sells is written and whatever is written gets published. "The other day I happened to be browsing at a bookstore and you wouldn't believe some of the titles had even grammatical mistakes… Many of the novels were generously punctuated with swear words and I wish there was a bare minimum standard as far as editing and content was concerned," author Anurag Anand minces no words when asked about the current publishing scenario.
Theatre lessons for Dikshant kids
Almost 25 students in the age group of 10 -15 years are attending a three-day theatre workshop, Kahaani Calling at Dikshant Global School, Panchkula by renowned actor and theatre person Lovleen Mishra from Mumbai.
Blind date
Vista, brand of Alps Industries Ltd. is synonymous with sophisticated and most fashionable interior décor. Vista brings about the most revolutionary concepts in interior designing giving a whole new dimension to the interiors.
Role call
Digital Technology Leader, Samsung India has appointed Raj Kumar Rishi as 'Vice President and Business Head' for its Audio Visual (AV) business. In this role Rishi will be responsible for managing the sales and marketing of Samsung's AV portfolio that comprises of Flat Panel, LED, LCD TVs, Home Theatre and Digital Imaging products like Camera and Camcorders.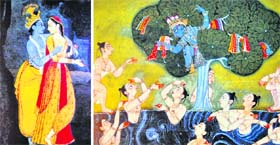 Only a rasik can soak rasas of art
From what it takes to admire a work of art to what subtle tools artists employ to seduce the viewer's mind, eminent art historian Professor B N Goswamy dwelt on many aspects of Indian painting, especially miniature art.
Book on Heroes Of Hampi launched
ACK Media, the leading Entertainment and Education Company for children, launched the new Amar Chitra Katha title ' The Heroes of Hampi: the Mythology of Kishkindha' during the renowned Hampi Utsav popular for its mega cultural extravaganza, the Hampi Utsav, also known as the Vijaya Utsav.


Paris La Metisse presents the city in varied hues
The melting pot
The true cosmopolitan spirit that Paris as a city has gets reflected in Paris La Metisse, a touring photography exhibition on at Alliance Francaise de Chandigarh-36. The exhibition shows Paris being the city of multiple identities and origin.
Dance for Peace by Korean Women — Photo: Parvesh Chauhan
'I maintain purity of dance'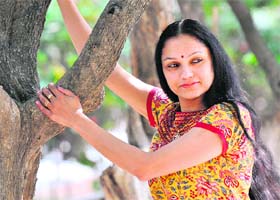 Rama Vaidyanathan, a bharatnatyam danseuse, talks about her observation of audiences
In a bid to ensure that audiences are able to understand a certain art form better, artistes at times underestimate them. "There will always be people who understand art and those who don't. While we introduce slight changes to cater to those who know less about art, we can't ignore people who know a lot," comes from Rama Vaidyanathan, a bharatnatyam danseuse, who was in the city for a performance organised by SPIC MACAY.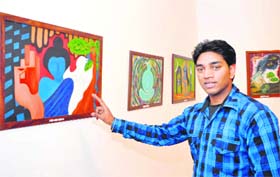 Art with a social message
He serves as part of his profession, and paints as part of his passion! For Pardeep Mehra, a trainee waiter, with CITCO's Hotel Shivalik View, an art exhibition is as much a departure from hospitality industry as a feat. "Hospitality industry can be quite exhausting , for relaxing I took to the brush around four years back." His third solo exhibition, Cosmos Vis-à-vis Natural Heritage, too talks of subjects close to his heart.
Irrfan wants to quit smoking
Irrfan Khan started smoking while doing his first play but the actor now wants to kick the bad habit, which he calls his biggest disappointment. A self-confessed chain-smoker, Irrfan says his character was required to smoke in his debut play. He wanted it to look natural but ended up picking the habit.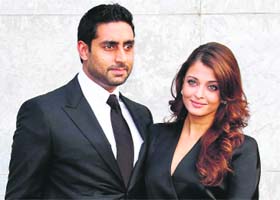 Abhishek's wife, friends to give him a surprise birthday
Bollywood actor Abhishek Bachchan, who is currently shooting in New Zealand for Abbas Mastan's Players, is in for a surprise birthday Saturday as wife Aishwarya and his friends are planning to visit his sets and take him out for some thrilling adventure sports. Abhishek's friends will be flying down to New Zealand to indulge him in his favorite adventure sports. Aishwarya is planning a surprise 35th birthday for her husband, according to sources.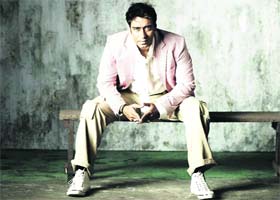 I have avoided coterie around me: Ajay Devgn
Ajay Devgn feels that his dislike for a coterie around him has kept him in good stead in Bollywood. Devgn had three hits to his credit last year and opened 2011 successfully with Madhur Bhandarkar's rom-com Dil Toh Bachcha Hai Ji but the national-award-winning actor says he has been careful about picking up people around him. "I have never had a coterie around me whether at the beginning of my career or today," Devgn said.
My kids are like hurricane: Ricky
Latin heartthrob Ricky Martin feels his twin kids, Valentino and Matteo, are like 'hurricane' in his life. The 39-year-old singer has been devoid of sleep and rest as there is always a party going on in his home now the twins have arrived, who were born via a surrogate mother in 2008, a publication reported.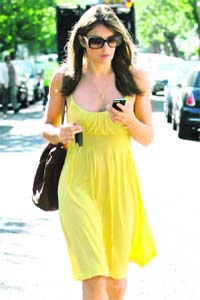 Hurley's pet parrot calls her mama; she calls him ping-pong
Actress Elizabeth Hurley is elated that her pet parrot, Ping Pong has started calling her mama. The actress-and-model has been giving lessons to her feathered friend on how to speak and now the pet and is delighted with the new development, a publication reported.
Hugh Jackman adds fat for upcoming movie
Hollywood star Hugh Jackman has been consuming 6,000 calories a day in his effort to bulk up for the X-Men Wolverine movie, being directed by Oscar-nominated Darren Aronofsky. Aronofsky has ordered Jackman to look even bigger than he did in the previous movie X-Men Origins: Wolverine two years ago.
Ashton's bachelor pad up for sale
Hollywood heartthrob Ashton Kutcher has put his multi-million-bachelor pad up for sale, six years after he tied the knot with Demi Moore. When he bought himself a USD 1 million luxury home in the Hollywood Hills, Kutcher was still a man about town, enjoying his bachelor life.
Shining through
If not the jewellery, it's raining jewellery exhibitions! This one claims to bring 2, 000 pieces of ornaments to choose from. "We've been putting up this exhibition for the past five years and each time we get a tremendous response," says Ramesh Parmar of Madhuri Jewellers. — TNS
On at Aroma-22 till February 7