TELECOM SECTOR
Bright SPECTRUM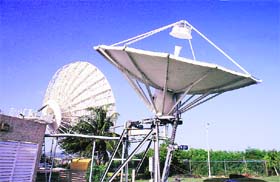 Though it has been in the news more for the scams, the telecom sector is not just a "telecon" show. It is all set to offer a broad range of career opportunities in the years to come, writes Charandeep Singh
Communication is a way of life for us as the new ways and means of communication have revolutionised our lifestyles. We should thank the proactive approach of the Indian telecommunication industry for making everything 'just a phone call away'.
Braving the blaze
Fazle Ghufran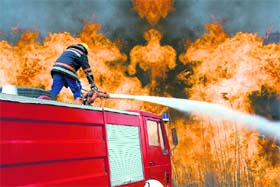 Earlier this year six persons were found dead and dozens others were injured at Park Street's Stephen Court Building in Kolkata in a fire accident. As many as 13 persons were killed in the blaze that raged for 11 days at oil depot in Jaipur in October, 2009, besides a loss of Rs 300 crore. Death of more than 50 persons in a fire accident in Meerut in 2006, and of 83 schoolchildren in Kumbhkaon, Tamilnadu, in 2004 are the tragic reminders of the damage that an uncontrolled fire can cause.
smart Strategy
Negotiate prudently
Preetinder Kaur
Negotiating a higher salary remains a tricky ground whether one is a beginner or an experienced player. Most people frequently ask if it's possible to negotiate a higher salary. The answer is yes. Provided you have done your homework well and play your cards well.
JOB BUZZ
Edelweiss in hiring mode
Financial services major Edelweiss Group is planning to hire 30,000-40,000 people in the next three to five years as it plans to expand its presence in businesses like insurance, mutual fund, housing loan and other retail-focused markets.
Course watch
A SUCCESSFUL ENDEAVOUR
The number of beneficiaries under the Hunar Se Rozgar programme of the Ministry of Tourism has already exceeded the target set for the current financial year. The target for the current financial year was 5,500 persons to be implemented by 35 institutes of hotel management, seven food craft institutes, two five-star hotels and the state governments of UP, Orissa, Kerala, MP, and Punjab.
OFFICE MANTRA
Work vs words
D.C. Sharma
Psychological research has revealed that conversations at workplace can make or mar the future of an employee. While it is acceptable for the boss to be rude and blunt, the subordinates are expected to be courteous and cooperative. In most of the situations and organisations employees are not appreciated for presenting their viewpoint openly.
Happiness @ work
Gems of ancient wisdom
Make yourself useful
Instead of whiling away your time in case your work has finished earlier than your team mates, lend the others a helping hand. The gods were eagerly awaiting the birth of Kartikeya who was destined to kill demon brothers Surapadman, Simhamukha and Taraka.
Career Hotline
Pervin Malhotra