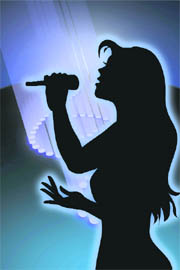 Get a voice to die for!
His voice intrigued me to the point that I wanted to pick up my mobile phone and talk to him right then. "Do you want to talk right now," he asked, his voice vibrated. I am at utter loss of words. "Yeah, if you can," my voice muffled. "Go on then," the mesmerising voice that can evoke thousands of desires, can seduce you, a voice that can soothe a baby to sleep and still rock, echoed in my ears. How it had given me sleepless nights from the day I heard him! "Hi. I am Neelesh Misra, Yaad Sheher Ka Neelesh Misra." Neither do I know him like others nor want to check out his profile on Facebook. I just love his voice. Some voices have it, they reverberate in your mind and heart - a stranger's wrong number call on your mobile, a voice overheard in a bus…some voices remain forever.
Win your Valentine with a new look

It's a common saying - the optimist looks at the world through rose-tinted spectacles. But proving that the world looks better without the glasses, Bausch and Lomb gave a makeover to four youngsters with contact lenses. "We did a survey with youngsters and got to know that young girls and boys would like to make friends with a person with spectacles, but would never like to date them," says Sunil Gadgil, general manager, marketing, Vision Care, Bausch and Lomb.


Aanchal Kumar gives makeover tips to aspiring models. Photo: Vinay Malik

'Valentine's party fever dying down'
He is geared to play Tere mast mast do nain, Tujhe bhula diya and other such romantic numbers in the run up to Feb 14, but Suketu, one of India's most popular DJs, says the spirit of Valentine's Day parties is fading away.
Cotton, silver... just take your pick
I am a regular at Cotton Fab as it provides variety. The stuff is authentic as well as reasonably priced," says Balbir Kaur, a homemaker from Sector 21. On at Kisan Bhavan-35, Cotton Fab has craftsmen from across the country with their wares.
The exhibition showcases a variety of lampshades for your home; and (right) women take a look at the dress material.
City is hub of theatre
There had been a spurt in theatre activities in the Chandigarh region, especially by the amateur theatre groups. The city has an appreciative audience, which is important for any performing art genre," opines Devendra Ankur, former director of National School of Drama. Ankur shares his views on the literary and theatre scene in the city, following his experiences at a fortnightly TFT theatre workshop he conducted along with young director Utpal Jha.


Lifestyle invites responses on the following issue: What's your favourite Holi memory?
Please e-mail the responses in around 200 words to lifestyletribune@gmail.com or post along with your photo and contact number to 'Relatively Speaking', Lifestyle, The Tribune, Sector 29, Chandigarh. The best responses will be published.
Herbs to spice up love life
If you are looking for long-lasting love, plant a garden with herbs that bring love
A container full of basil on a woman's window sill was once a signal that she was looking for love! If folklore is to be believed, there are many herbs that are associated with attracting luck in love. Love is in the air and rightly so when the yearly celebration of love, the Valentine's Day, is round the corner.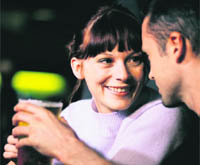 Fall in love to stay healthy
Is love powerful enough to lower one's blood pressure, reduce depression and speed the healing of an injury? Well, science says, yes it is! "Our relationships help us cope with stress, so if we have someone we can turn to for emotional support or advice, that can buffer the negative effects of stress," the Washington Post quoted Julianne Holt-Lunstad, of the Brigham Young University, as saying.
Renee Writes


Take charge
I am a 28-year-old guy working as a pilot in a private airline. I get attracted to girls, but somehow my relations never last. I wonder if I am very overbearing in my approach. I long to have a relationship that is serious and meaningful. In school also, I did not have many friends. I always seemed to chase away most of them. Do you think something in wrong with me?
TV programmes depict your fears
What you watch on TV may say a lot about your fears and attitudes about crime, suggests a new study. The University of Nebraska-Lincoln researchers surveyed hundreds of adults about how often they watched various kinds of crime TV-- made-up dramas, documentary-style 'real crime' programmes and local and national news.


Black magic
Bollywood actor Rani Mukharjee at an event in Gurgaon. — PTI
Men do CRY
A new survey has found that almost three-quarters of British men have shed a tear in front of others. According to the poll for Clinton Cards, four out of five men are happy to 'express their emotions', 84 percent do not think twice about telling loved ones 'how they really feel' and 71 per cent have cried openly.
Are you a born pessimist?
Some of us are born to be pessimistic, according to a study, which found that the level of a chemical in the brain affects how we see the world. Researchers at University of Michigan discovered that levels of a molecule called neuropeptide Y (NPY) directly relates to whether we have a "glass half empty" or "glass half full" attitude towards life.
Rejuvenate your skin
Vichy gives you the fast rejuvenating deoxidizing moisture care with pro-regenerating antioxidant Citrus Polypheno-Vichy Aqualia Antiox. The unprecedented high-potential antioxidant complex exclusively selected by Vichy Laboratoires, has demonstrated its capacity for protecting stem cells and progenitor cells against UVA-induced oxidant stress. It thus preserves the skin's regenerative capital to create a new epidermis. Protected against oxidant aggressions, the stem cells and regenerative cells regain all their vitality and self-regenerating activity.
Sunny dons a priest's look for Mohalla Assi
Filmmaker Chandraprakash Dwivedi's new offering Mohalla Assi will see Bollywood actor Sunny Deol in a new avatar, essaying the role of a dhoti-clad orthodox religious priest.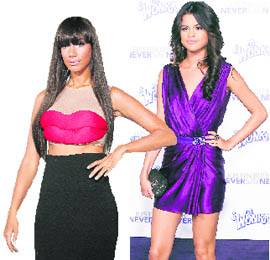 British singer Leona Lewis poses at the premiere of the documentary Justin Bieber: Never Say Never at Nokia theatre in Los Angeles recently. The documentary opens in the US on February 11. Actor Selena Gomez waves at the premiere of Justin Bieber: Never Say Never. — Reuters
Nicole Kidman in tears over Oscar nomination
Hollywood star Nicole Kidman, who has won an Academy award nomination for her role in The Rabbit Hole, said that she broke into tears when her name was announced.
Matt is a real friend: Ben
Actor Ben Affleck says that despite his global fame he only has a few friends and one of them is fellow Hollywood heartthrob Matt Damon.
Lindsay Lohan in trouble again
Just a month after she was released from court-ordered rehab, troubled Hollywood starlet Lindsay Lohan is set to be charged with felony grand theft, when she appears in court. When Lohan appears in court on Wednesday, she will be charged with the theft of a $ 2,500 necklace reported stolen from a jewellery store last month, said LA District Attorney's spokeswoman Jane Robison.
Frieda in the Most Beautiful Women list
Indian beauty Frieda Pinto has outrun Hollywood stars like Natalie Portman and Julia Roberts in a new 'Most Beautiful Women in Film' list.