Careers in retail management
A brand apart
Usha Albuquerque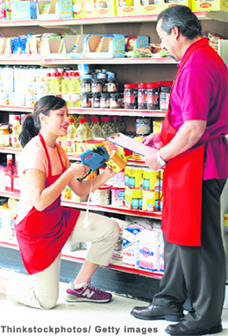 With the growing middle class and the increasing purchasing power, the retail sector is booming in metros while picking up momentum in smaller cities and towns too. As Sunil Mittal of Bharti plans a huge retail empire in partnership with Wal-Mart, many others are following suit. Retail companies like Pantaloons and Shopper's Stop have expansion plans afoot, while companies like Reliance and Tatas have huge plans to get into this sector too. Not surprising therefore that India's retail industry is among the largest industries in the country, with revenue estimated to be around $ 220 billion and growing at a rate of over 20 per cent every year.
Job profile: Retail professionals try to understand and interact directly with the customer in a store in order to be able to provide him/her the product closest to his need. A Retail Manager plans and co-ordinates the operations of retail outlets be it small franchisees like speciality shops, fast food chains, or sections of supermarkets or department stores.
Career Hotline
Pervin Malhotra
Judicious choice
Q. I am a lecturer in a private college. I am interested in doing some charity work in my spare time. How do I go about choosing a good NGO which can provide me exposure to the social sector?


Careercature
Sandeep Joshi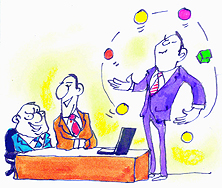 Sir, he is not performing a juggling act but giving a presentation of his multi-tasking skills.

Dare to dream
Starting one's own venture is not an easy road to take, writes Pawan Kamboj
The trend of starting one's own entrepreneurial ventures is catching up with the youngsters these days. More and more professionals are preferring to be their own boss rather than slog in a nine-to-five cushy job. There are many views on what makes someone an entrepreneur and what an entrepreneurial venture is. An entrepreneur is a leader who knows the way, goes the way, and shows the way.
First Person
Believe in yourself
First generation entrepreneur Jitin Chadha established management institute Indian School of Business & Finance, in New Delhi in 2006 at the age of 28. He talks about the challenges of starting one's own enterprise and the strategies that ensure its success:
Office Mantra
The fun of solving problems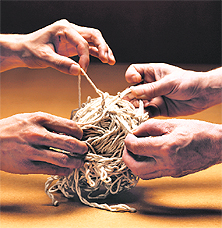 R.C. Sharma
Amit Mohan, a senior executive in an MNC, was all set to return home, when his boss called him to solve a work-related problem urgently. Tired and irritated Amit did trudge into the boss' cabin to tackle the situation but even after spending the whole evening trying to find a solution he was nowhere near it. Such situations are not rare in the corporate world. People often invest more time and efforts than required to handle and solve such problems. The main reason behind this is their attitude towards problems and the approach applied to solve them.
Thinkstockphotos/ Getty images
Happiness @ work
Gems of ancient wisdom
Find a shoulder to cry on
Don't bottle up office frustrations. Find a shoulder to cry on — a colleague, a friend or even your spouse. When Rama, the epitome of poise who relinquished his kingdom with a smile, was angry and sad at the abduction of Sita, he found support in brother Lakshman.
NEWS BOARD
Aptitude test
The All-India Management Association (AIMA) will hold a new online test to evaluate B-School students on their employability in line with the current industry trends. The test will certify and check the students' readiness and aptitude before they enter the corporate world. The Management Aptitude and Skills Test (MAST) will be held on February 20 all over India. This online test will benefit students as well as those already employed.
The CEO factor
A new study has revealed that dominant CEOs, who are powerful figures in an organisation as compared to other members of the top management team, can evoke extreme results for the company. It found that the performance of a firm under a powerful CEO could either be much better than other companies or much worse. However, a company with a strong board of directors can nullify the effect of a dominant CEO and take the company to new heights. The authors observed that companies under strong CEOs like Bill Gates of the Microsoft and Jack Welch of the General Electric, have performed extremely well. On the other hand, a dominant CEO might prove disastrous for the employees as well as the shareholders, as in the case of Kenneth Lay of Enron.
Healthy hiring trends
Recruitment activities in the country are expected to be good in the coming months in many sectors, including manufacturing, job portal Monster.com has said. "Seeing the overall hiring activities in 2010 and in the beginning of 2011, I am optimistic about the whole (hiring) scenario," Monster.com Managing Director (India/Middle East/ South East Asia) Sanjay Modi told PTI. The latest Monster Employment Index, that offers a snapshot of online job demand in India, showed that hiring trends picked up in January.
Fortnightly Quiz-381
1. Name the smallest planet ever discovered outside our solar system.
2. What is the full form of UIDAI?
3. In how many years is the Census exercise conducted in the country?
4. When will the 12th Five Year Plan begin?
5. Which is the largest country in Africa?