Powermat, a new innovation, is a universal tangle-free device for wireless charging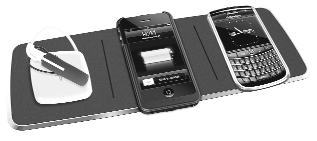 Cell phones have changed the way we communicate in the last decade, and despite standards being developed to make chargers universal, there is always that same old issue: where to plug it in, and with what charger. The situation has gotten worse with the use of smart phones that drain their charge within a day.
The Israeli company Powermat (www.powermat.com) has developed a brilliant solution that allows you to charge your smart phone, iPod or handheld device simply by setting it down on a small high-tech charge pad.
You need no cord, no plug-just a small case or receiver that is permanently affixed to your device.
You come home or enter the office, set up to three devices on the mat and voila-after the required charge is achieved, Powermat shuts down and you're good to go.
"It's an increasingly wireless world and we are more tied down with wired devices and finding the right charger," says Beth Meyer, Vice President of global marketing. "Powermat gets rid of the tangle."
Meyer points out that Powermat can actually extend the battery of handheld devices and phones, which are more often than not overcharged. Powermat determines what charge to deliver and for how long. That will help prolong the battery's lifespan, consume less energy and cut down on environmental greenhouse gases.
The mat, which can be bought on the internet for around Rs 2700, is plugged into a power source, and using a digital "handshake," charges the smart device or phone via a receiver or case attached to it.
After launching Powermat to retail success in 2009, "we are going into the vision to build a truly wireless world," Meyer says, noting that travellers should soon expect to see Powermat stations in airports.
According to Meyer, the Powermat can theoretically be developed to charge anything from a cell phone to an electric car-the latter on a bigger mat, obviously. Maybe even one you park on.