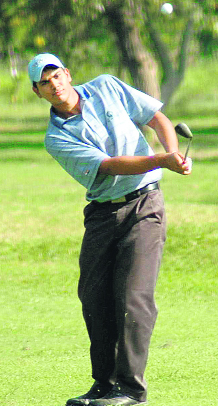 Kudos to Kapurthala lad
Donald Banerjee
Gaganjeet Bhullar has done it. Yes, this 22 year-old Kapurthala golfer has completed a hat-trick of victories in international golf and carved a niche for himself on the European Challenge Tour. Gaganjeet, who turns 23 on April 27, started the three-in-a-row feat with a historic win on the European Challenge Tour, the first by an Indian. He battled his nerves to edge out England's Matt Ford to clinch the Gujarat Kensville Challenge on January 16. A fortnight later, he followed this up with the Bangladesh Open title, again another first by an Indian. And, as if this was not enough, he completed a hat-trick, winning the PGTI Players Championship on the Royal Calcutta Golf Club greens on February 5. That his nerves are made of steel was amply demonstrated in all three triumphs. The Punjab lad went through some anxious moments on the last day as the English player sank successive birdies. The anxious moments continued into the last two holes with Bhullar conceding a bogey on the 17th. But a par on the 18th saw the Kapurthala boy winning by one shot.
Gaganjeet Bhullar has become the first Indian to win on the European Challenge Tour. Photo: Pradeep Tewari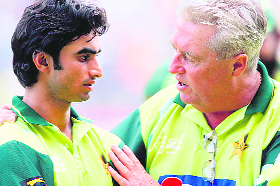 Woolmer, wags & WC
Sunil Narula
The 10th ICC World Cup kicks off with India taking on Bangladesh in Mirpur today.  It's a moment to celebrate, as the Cup is once again being hosted in the subcontinent and India is seriously being considered as one of the hot teams. It's a time to look forward to some high-voltage action, to a deluge of big hits and an avalanche of runs.
Bob Woolmer's (right) mysterious death became a high point for journalists

Fitness mantra
IN A NUTSHELL
Nancy Sahni
Have you all dieters heard about the coconut oil diet plan? Yes, it's in, but is it another fad or is there something real in it. Let's find out. When researchers observed that people living in tropical countries are not overweight, are literally free of heart diseases and have fewer health problems, they also observed that these people literally lived on coconut diet. So, may be this is the reason for their fit body … and thus originated the coconut diet plan.