He calls Hitler his friend
Writer-actor Nalin Singh shares details about his debut venture Dear Friend Hitler


Did we hear it right? Pardon please and Nalin Singh obliges, "There are no butterflies in my stomach. I am confident of the success of the film both in India and abroad." Just in case you sensed a bit of over-confidence there, Nalin can easily justify his prophecy, "It is not very often that you have a movie on such a different subject." The movie, set in the backdrop of World War II, portrays the clash of ideologies of Gandhiji and Hitler. "In his letters to Hitler, Gandhiji tries to dissuade him from using violent means. The movie also depicts Subhash Chandra Bose and his Azad Hind Fauj," shares Nalin. The Mahakumbh of cricket takes off today. As men get glued to the screens for the ICC World Cup-2011, we find out what their spouses plan to do
The 43-day cricketing extravaganza begins today and while men get busy watching ICC World Cup, what do women (not all of them are fond of the game that is akin to religion in India) intend to do?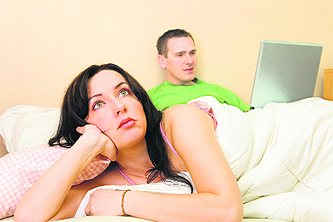 Is your spouse cheating?
A wink, a stare, a gentle touch — all are innocent signs of cheating. Symptoms might be in the form of a partner spending more time at work or staying back for emergency meetings or changing his or her dressing pattern, one thing is for sure…there are signs. We find out some.
Cheater-cheater at your home: You've had a happy married life, but suddenly you see a change in your partner's behaviour. This could be a sign that your spouse is cheating on you.
Don't sob over a break-up!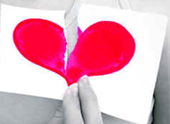 "You were the best girlfriend I ever had."
"You were nice too." "I am going to miss you." "Me too." "Everything was great between us. You understood me like no one ever did. But we got to break up." "I understand. It was nice knowing you. Bye and take care."
And this is how a love affair ends. It might be a misunderstanding or growing out of love; the fact is that break-ups are common today. "Dealing with a break-up isn't easy, one has to work hard to bring life back to normal," says Arushi Bhanot, a student.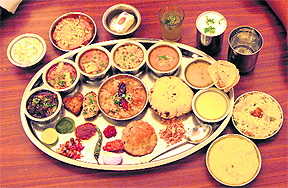 Dal Baati Churma...
Be it ghee-soaked Dal baati churma, Govind Kaju Gatta, Papad ki sabzi or the exquisiteness of Jaipuri Mewa Pulao; Rich in flavour and chatpata, in popular parlance, Rajasthani cuisine is one thing that you must try. Though you need to have a palate for this fare, the city foodies can try the sumptuous flavours of the desert land at the Royal Rajasthani Food Festival, at Rajdhani in IT Park.
Photo: Pradeep Tewari

Berry Sweetheart & more
Full of sweetness, Berry Sweetheart is a mix of cranberry and apple juice with a little honey for sweetness.
Mexican brewery produces gay beer
A small Mexican brewery has unveiled what it claims is the world's first beer aimed at the homosexual community. The beer has a slight honey flavour and will initially be marketed to gays and lesbians in Mexico, Colombia and Japan.
Microsoft guy opens window to cooking
Nathan Myhrvold believes that cooking is not just an art, but a science too - meet the man who cooks nitrogen-dipped burgers and ultrasonic French fries. Author of 2,400-page, 625-dollar self-published book, 'Modernist Cuisine: The Art and Science of Cooking', Myhrvold, a former technology chief for Microsoft, combines science and his culinary skills to create food.
Bruschetta for starters
Nothing beats a comfortable meal at home. Good music and great grub are your essential prerequisites for a party to sky-rocket. So lets talk starters for a start!

Inner self on canvas
| | |
| --- | --- |
| Art may be an extravagant display of one's talent for some, while for others it may be an expression of emotions on canvas. Nevertheless, art, a creative process that it is, is more of a subconscious enterprise rather than a deliberate one. That is what Sanjeev Kumar's painting exhibition, at the Government Museum and Art Gallery-10, all about. "It's always been God's will. I was always interested in painting and shifted from non-medical background into the field of art. He paved the path for me and here I am," he says. | Sanjeev Kumar — Photo: Pradeep Tewari |
They run to paint!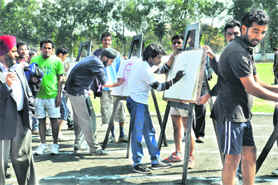 What do we expect of an athletic meet? Races, hurdles, long jumps and other physical sports, of course! But, fun is doing things differently. So, instead of going with the tradition, the Government College of Art-10 did something unique on their annual athletics meet. "Since every annual sports day consists of the same events, we thought of doing something new. So, we introduced an event—Run and Paint," says DS Kapoor, principal of the college.
Students of College of Art at the Run and Paint competition
Exhibition showcases embroidery skills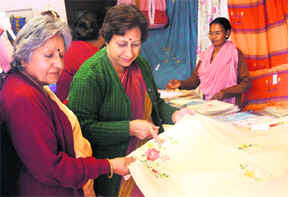 These women entrepreneurs from Haryana are not just self-reliant, but also revolutionaries. Fed-up of their husbands and their chauvinistic attitude, they decided to chart their own course and live with pride. And the result was Arpana Handicrafts. The group has been exhibiting their creations in the city for the past 30 years and this year too, they are back with their intricate designs (read embroidery) at Aroma, Sector 22, till Sunday.
Visitors at the exhibition at Aroma-22. Photo: Pradeep Tewari

Paris' return gift: a music album
Socialite Paris Hilton made her birthday celebrations more special with the announcement that her new album will be released "in the next few months".
Demi Lovato back to work after rehab
Singer Demi Lovato has returned to the recording studio to work on new music following her 10-week stint with a rehabilitation centre.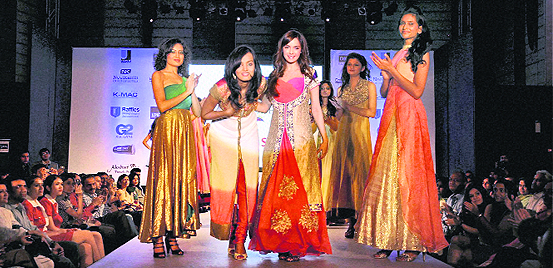 Razzle dazzle: Bollywood actor Shazahn Padmasee walks the ramp to showcase the creation of designer Anoli Shah during Vibrant Fashion Week in Ahmedabad. — PTI photo

Victoria can't act
Singer-turned-fashion designer Victoria Beckham is under no illusions about her acting talent and plans to stick to designing.
Prolab for body
Plethico launches Prolab, a new age supplement for aspiring bodybuilders and athletes. It customises a nutritional supplement programme and helps in specific training. It has also been providing them with high-quality sports nutrition.
For shiny hair
Hindustan Unilever Limited has launched Sunsilk Shiny, smooth and tangle-free nourishing conditioner, containing Amla Pearl Complex to restore the natural lustre. This conditioner gives hair the vital nourishing touch it requires and adds a natural sheen. Sunsilk Shine expert and Hollywood celebrity hair stylist Jamal Hammadi has specially co-created the conditioner using his special ingredient, Amla Pearl Complex.