A man of action
Reviewed by B.G. Verghese

Civil Disobedience
By L. C. Jain.
The Book Review.
Pages 265. Rs 395.

LAKSHMI Jain was a self-effacing man who spoke through his actions. He had a wide circle of friends and associates who knew of his quiet efforts and admired him. But it only now, after his passing, that a semi-autobiography has appeared. This was largely complied and completed by his son, Sreenivasan (Vasu), from parts of an oral history he had recorded for the Nehru Memorial Museum and Library, notes and personal conversations. And with it, a posthumous Padma Vibhushan in token of his public service.
The tale told in Civil Disobedience is an absorbing narrative of nation-building, in which Lakshmi was both architect and mason, and is a tale well told and worth telling. Some remember because they were friends and colleagues; few know, for so little was recorded.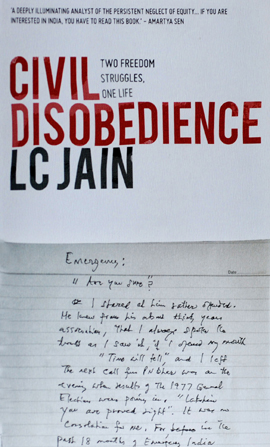 Civil disobedience is an apt title, for it suggests a Gandhian path which Lakshmi trod. But it also exemplifies his defiance of and willingness to depart from established norms to do what he thought was right and worth doing. In this he was a pioneer in many respects. The Two Freedoms in the sub-title speak of his participation in the Independence struggle and his subsequent struggles to win that larger freedom from want and for dignity for the Last Man that alone would bring true freedom to India, as Gandhi said.
Lakshmi Jain belonged to a Delhi family that was drawn into the nationalist movement. So, he was aware though not involved in what was going on until 1942 when, as a Hindu College student, he was sucked into the Quit India movement by Aruna Asaf Ali. Required to operate under a code name, he chose to be known as Santosh — his original name. The die was cast.
In 1946, he got involved in the physical organisation of the historic Asian Relations Conference through Sarojini Naidu and was responsible for raising a student volunteer corps to ensure no damage was done to the Purana Qila, where the nationalist elite of Asia gathered. There were some tense moments when the Palestinians objected to the Israeli presence and when (Nationalist) China took umbrage at the presence of a separate Tibetan delegation. The differences were overcome and the conference provided first intimations of the rise of a new Asia.
Partition brought grief. Lakshmi found his happy, pluralistic world of Chandni Chowk erupt in barbarity and bloodshed, of which rape and refugees were grim by-products. Sucheta Kripalani summoned him to take charge of the Kingsway Camp for refugees from which a mob had defiantly killed a hapless Muslim in the presence of Gandhi while he was addressing a rally at Chandni Chowk. That was the night of Lakshmi's Gandhian conversion.
Next, that remarkable lady, Kamaladevi Chattopadhyaya, visited the Kingsway Camp and plucked out Lakshmi to build a future for these refugees through her Indian Cooperative Union. Chhatarpur, near the Qutb, was selected and an experiment in land to the tiller launched through joint farming with pooled implements and labour. A blueprint for rural credit was prepared, which later morphed into NABARD. Chhatrarpur worked for a while but unravelled as a result of "ethic" strains and official hurdles. Before long, it became a playground for farmhouses!
By then, the ICU under Kamaladevi was involved in resettling the 30,000 urban lower middle-class Hindu Pathan refugees from the NWFP camped at the Purana Qila. Lakshmi joined Sudhir Ghosh in motivating, organising and training these people literally to build their new homes and future. That is how Faridabad came into being. That done, how were the residents to live? A few medium industries were brought in and the populace re-trained as entrepreneurs and industrial workers to start small enterprises.
Then, on to reorganising the Cottage Industries Emporium, developing the handicrafts and handloom movement and, subsequently, the SuperBazar to hold down essential consumer prices by eliminating middlemen. Followed an interlude with Jayaprakash Narayan and bhoodan leading on to a passion for decentralised development and district planning through Panchayati Raj in Karnataka, first with Ramakishna Hegde, and then nationally.
The Emergency provided a grim interlude followed, after India Gandhi's second coming, by a vindictive attack on the Gandhi Peace Foundation and Association of Voluntary Agencies for Rural Development (AVARD), with which Lakshmi was closely associated. The GPF was targeted as JP's operational base for "Total Revolution" and the Janata Party. There was a foray into the north-east to report on implementation of economic aspects of the Assam Accord and a spell in the Planning Commission where Lakshmi found "grass without roots", which was to be the title of a book he later wrote.
And finally, an appointment as High Commissioner to South Africa in the transition from Mandela to Mbeki. This was for him a moving experience. He sought to bridge the silken divide between the blacks and Indians by visiting Sewoto and found inspiration in the working of the Truth and Reconciliation Commission under Desmond Tutu, with its Gandhian overtones.
There is a personal story that concludes with an epilogue about the estrangement caused by his out-of-caste marriage with a South Indian Brahmin, Devaki. But, as in the fairy tale, they all lived happily ever after.
Lakshmi kept busy till the end. His was a full and rewarding life. Civil Disobedience will remain a tribute and testament to his spirit and work.