Short Takes
Warriors and winners
Reviewed by Randeep Wadehra

The Siege of Warwan
By Major General G.D. Bakshi (retd)
HarperCollins.
Pages 284. Rs 299.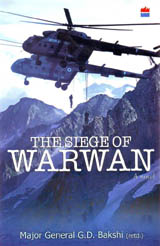 THE setting is Kashmir's remote Warwan valley, which is tough to reach and has become a haven for terrorists, who exploit the locals and rape their women on the pretext that jihadis need to be "comforted". Nothing is sacrosanct for them. Major Dushyant "Dusty" Bharadwaj of the prestigious Poona Horse, who has just lost in love, volunteers to join the Rashtriya Rifles as an antidote to his post-heartbreak blues. On arrival in the valley, Dusty realises that he is going to be tested to the hilt. The actions of his predecessor, the extremely competent but ruthless Major Suhag – who was his rival in profession as well as boxing – had generated lots of mistrust and hostility among the local villagers. After taking over as Company Commander at Warwan, Dusty realises that the Indian soldier is as much feared as the terrorist by the simple folks, and has his task cut out for him. Soon, he establishes his credentials in a bloody faceoff with the dreaded jihadi Kari Hanzala.
Parallel to this narrative is the story of Ayesha, a woman doctor who has fallen in love with Javed – her classmate in the medical college. But, Javed crosses over to the PoK to train as a terrorist. The dejected Ayesha marries a middle-aged Peer on the rebound. Thence begins her ordeal when she becomes a victim of Kari Hanzala's lust.
This action-packed thriller explodes with passion and violence even as it has a rather rose-tinted denouement. There is a vast deficit of war fiction in Indian writing. This book is an excellent addition to the genre.
Nandan Nilekani
By Rajiv Tiwari.
Diamond Books.
Pages 142. Rs 95.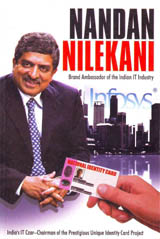 An alumnus of IIT Bombay, Nandan Nilekani had joined a firm, Patni Computer Systems, under N.R. Narayana Murthy, in 1978. On July 2, 1981, he was part of the group that had founded the now legendary Infosys Technologies Ltd. The group comprised Murthy, S. Gopalakrishnan, Nilekani, K. Dinesh, N.S. Raghavan and S.D. Shibulal. In March 2002, Nilekani took over from Narayana Murthy as the CEO of Infosys.
Nandan Nilekani — a role model for wannabe techie-entrepreneurs — is the Indian IT industry's global ambassador. A winner all the way, he not only took Infosys to new heights but also is the co-founder of Nasscom (National Association of Software and Service Companies).
At present, he is the Chairperson of the Unique Identification Authority of India, holding a cabinet minister's rank in the Union Government. He has won several prestigious national and international awards. This volume gives glimpses of Nilekani's personal as well as professional lives along with his views on a wide range of issues. You would like to have it in your personal library.
The Story of Napoleon
By Harold F.B. Wheeler.
Arora's Book World.
Pages xvi+304. Rs 160.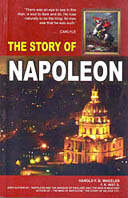 There are certain events and characters that, instead of fading away with time, grow into legends, which are handed down from one generation to another — gathering mass of mythology in the process. Napoleon is one such historical figure. Given his physical attributes and the place and circumstance of his birth as also the fact that he belonged to an ethnic minority (Italian-Corsican), there was absolutely no indication that this 4"10'-tall man would one day become the emperor of France and a mighty conqueror to boot. Carlyle aptly described him as "our last great man", whose rise, as well as fall, was equally spectacular.
This book was written originally in 1911 or so. But, even today, its contents provide us with refreshing insights into the various facets of Napoleon's life, keeping us absolutely wrapped up in the bargain.