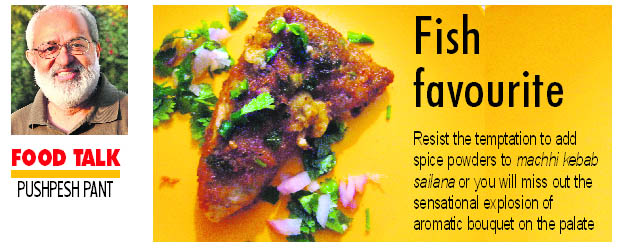 INDIA has a long tradition of 'Royal Cooks'— princes of blue blood, who were not only gourmets but also wielded the ladle brilliantly in the kitchen to the sheer delight of their guests. The list begins with Raja Nala — consort of Damyanti — a man of many parts, human computer, master trainer of horses and reckless gambler, who figures prominently in the Mahabharata. He is credited with discovering the Nala Paka process of cooking with solar heat. Moving from myths to history, we come across King Someshwara of Karnataka, the author of Manasollasa, a massive treatise on culinary arts.
In the modern times, the Maharaja of Patiala acquired an enviable reputation in culinary arts. Patialashahi cuisine at one time was as famous as the Patiala Gharana of music. However, the man who shone as a peerless solitaire was Maharaja Digvijaya Singhji of Sailana. Author of a best-selling cookbook, he is remembered as a magician, who rustled up fantastic meals from almost nothing. His recipe for jungli maans shows us what can be accomplished with just meat, salt and little oil/fat. The gifted man painstakingly collected recipes, undertook measurements with a goldsmith's balance and wrote these out in an easy-to-grasp manner. It's a matter of great satisfaction that his son Maharaj Vikram Singhji is valiantly trying to carry on the tradition.
We were absolutely bowled over by his macchi kebab at the Sailana Food Fest at Surajgarh Fort — a quaint little heritage hotel, not far from Delhi. We strongly urge our readers to try this out. Needs no garnish, just take care not to over-fry. Resist the temptation to add any spice powders, otherwise you will miss out the sensational explosion of aromatic bouquet on the palate that is coordinated by fresh green ginger, chillies and coriander.
Machhi Kebab Sailana
Ingredients
Fish fillet (preferably, Sole) 400 gm
Small onion (peeled, chopped fine) one
Ginger piece (scraped, diced fine) 2 inch
Green chillies (deseeded, chopped fine) 3-4
Malt vinegar 1 tbsp
Eggs (beaten lightly) two
Breadcrumbs ½ cup
A large sprig of fresh coriander leaves (chopped fine)
Oil to fry
Salt to taste
Method
Wash and pat dry the fillet into about 4 inch long pieces. Sprinkle over with vinegar and salt. Keep aside for one minute. Take one fillet at a time and dip in the egg batter. Coat with chopped coriander, chillies, onion and ginger on both sides. Then, crumb by rolling in a plate spread over with breadcrumbs. Heat oil in a pan. Gently lower the kebab one by one. Fry on medium heat till golden. Remove with slotted spoon and drain excess oil on kitchen towels/paper napkins. Enjoy hot — straight from the pan to the plate!