Worth a dekko
With enough scope to exploit the treacherous underwater caves, the 3D format
of Alister Grierson's Sanctum enhances the visuals

WHAT's in a name, said the Bard of Avon and gave the rose as a good reason but that was way before cinema and promos came along. Today, it means a lot, or else why would James Cameron of Abyss (1989), Titanic (1997) and Avatar (2010) fame lend his name to Sanctum, which is directed by Alister Grierson.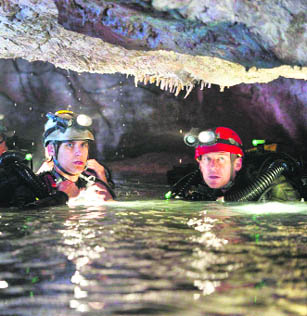 Sanctum is based on a real-life experience of a group of intrepid divers

Having said this, blockbuster Sanctum is based on a real-life experience (like Danny Boyle's 127 Hours) of a group of intrepid divers with an antagonistic father and son (Roland Rosberg-Rhys Wakefield) on their research expedition to an unmapped water cave system in the South Pacific, a locale that is quite fetching. The father-son nexus doesn't really enhance the narrative as the conflict is lukewarm, to say the least.
Accompanied by a chirpy financier (Ioan Graffudd) and a handful of fellow explorers, they are trapped in a labyrinthine network of tunnels after a flashflood seals their exit. It is a test of endurance as they fight the elements and their own egos. It, of course, gives director Grierson enough scope to exploit the treacherous underwater caves and though he could have been more subtle, as subtle as the "b" in subtle, the fare is more than just tolerable. The 3D format enhances the visuals.
But the predominantly Australian cast is far from adequate as they ham their way around. True, the action is the main star but even then, some good cameos would have helped. The adventure lends itself to human feelings under stress like the disaster movies of the 1970s, The Poseidon Adventure and The Towering Inferno.
Cameron comes calling
Zorianna Kit chats up James Cameron, producer of thriller Sanctum, which has the cash counters ringing

Still, with all its glitches, it is worth a dekko. But remember it is not by James Cameron, who anyway now tends to let form overwhelm content.