ART & LITERATURE

'ART & SOUL
ENTERTAINMENT

TELEVISION

GARDEN LIFE

NATURE

FOOD TALK

CONSUMER, BEWARE!

FASHION

GLOBOSCOPE

BRIDGE

ULTA-PULTA
EARLIER FEATURE

TRAVEL

RELATIONSHIPS

DREAM THEME

TIME OFF
World in written word
Vandana Shukla
Literature is bridging geographical, historical and cultural divides, as was evident in the voices from across continents that travelled to India recently
W

ORDS

acquire their own aura and power when they find an echo in the human heart, irrespective of accidental geographies. Suzanne Boil, retired HR head of a corporate house from Australia, came to the recent Jaipur Literature Festival (JLF) on an invitation from her aunt, a friend of William Dalrymple.

Perspectives on Partition
From Partition to terror to juicy lesbian tales, Pakistani writers are touching upon everything
Histories are recorded in black and white, but when a writer looks at the Partition of the subcontinent, she explores the
grey areas.


Candace Bushnell has moved beyond Sex and the City and would like to be known for other works, too

Saga of sacrifice
The Ghadar Movement was organised by Indian immigrants, mostly Punjabis in America and Canada, to violently overthrow British rule in India, writes Karanbir Singh
IN the annals of the Indian freedom struggle, there existed a heroic saga of silent sacrifices for the motherland which has been largely ignored by the electronic and print media since Independence.
Untamed Africa
Serengeti presents the true picture of Africa with more than 15,000 square miles of plains and endless wildlife, writes Sumitra Senapaty
EYES heavy with sleep, I peer through the netting of my tent. In inky darkness, I hear hyenas laugh and birds chatter. Too soon the sun peeps over the horizon, turning the early hours of morning from violet to pink to the bright blue of African daylight.


Bless thy pet!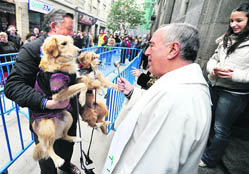 Two dogs are blessed by a priest during the festival of San Anton in Madrid recently. Hundreds of pet owners around Spain flock to church to have their pets blessed on the day of San Anton, the patron saint of domestic animals. Photo: AFP

Your child's ticket to NASA
IF your child wants to become an astronaut, here is a golden chance — Nickelodeon is hosting a contest for selection of a few kids for a 10-day curriculum at the Kennedy Space Centre, Orlando, later this year.
Get rid of those scars
Scars on the face can be embarrassing and depressing. Cosmetic technology has changed this nightmare, says Dhanvanti Keshavrao
IN our great grandmothers' times, a permanent scar was probably something you had to come to terms with, something that lessened your value as a bride, if you were unmarried.
Super price of superstars
With Shah Rukh Khan reportedly being paid Rs 5 crore per episode to host Zor Ka Jhatka on television, superstar hosts are having a field day on the small screen, writes Nutan Sehgal
SIX decades ago a significant event changed the way stars would be paid for films. In 1951, producer K. Asif offered an unheard fee of Rs 50,000 to Dilip Kumar, the then ruling king of Hindi cinema, to act in his movie Mughal-e-Azam.
Flying Sikh on celluloid
A biopic on Milkha Singh will go on the floors this year, says Rakeysh Mehra in conversation with Manisha Rege
Filmmaker Rakeysh Omprakash Mehra says his next movie Bhag Milkha Bhag, based on the life and times of legendary athlete Milkha Singh, will go on floors in August-September this year, chronicling his arduous journey from a traumatised childhood to his moment of glory as the country's ace runner.
Cameron comes calling
Zorianna Kit chats up James Cameron, producer of thriller Sanctum, which has the cash counters ringing
ONE year after his 3D adventure Avatar was ringing up movie ticket sales on its way to a global box office record of $2.8 billion, James Cameron is back in theatres with a new thriller, Sanctum.



Globoscope: Worth a dekko