World in written word
Vandana Shukla

Literature is bridging geographical, historical and cultural divides, as was evident
in the voices from across continents that travelled to India recently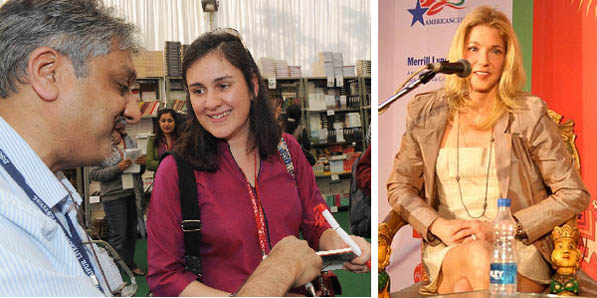 Pakistani novelist Kamila Shamsie believes in mapping a trajectory of emotions rather than
chronicling cartographic divides Photo: AFP. (Right) Candace Bushnell has moved beyond Sex
and the City and would like to be known for other works, too

WORDS acquire their own aura and power when they find an echo in the human heart, irrespective of accidental geographies. Suzanne Boil, retired HR head of a corporate house from Australia, came to the recent Jaipur Literature Festival (JLF) on an invitation from her aunt, a friend of William Dalrymple. She had come to escape loneliness and post-retirement blues. Even in her dreams, she did not expect to find answers to her miseries in the exotic fair that she thought the JLF would be. After listening to an excerpt from The Purple Hibiscus, at a reading session by Chimamanda Ngozi Adichie, a young Nigerian novelist, she realised she was not alone in experiencing emptiness and crumbling in a familiar world. Many others, from war zones, from acute depravity and from lands of prosperity have woven threads that bind the universal soul. They do it by transforming suffering into a creative force, as did Adichie, who was born seven years after the civil war in Nigeria and whose family was traumatised by the shadows and memories of the war. This turned her to writing.


The fiction of Chimamanda Ngozi Adichie finds an echo among the blacks, whites and browns, as she writes for a new world order Photo: AFP

It amazed Suzanne that thousands of miles away from her homeland, in the reading of a book written in Nigeria, published in the US and read in India, she would find her reflection. Books transcend geographical boundaries to touch the chord of humanity that lies dormant in each individual. Even when the world was not globalised, the way we know it today, Chekhov, Dostoevsky, O'Henry and Dickens were household names in India. But, good literature remained a one-way traffic. From political superpowers, it came down to the colonised Third World. In that world, Africans and Asians would share the fictional world of the economic powers but not vice-versa.
Hence, when Adichie said, "To write fiction is in a way to inhabit different parts of you," her fictional characters found an echo among the blacks, whites and browns, in equal intensity. She is writing for a new world order, where experience and expression carry more power than the person writing it. Both her novels — The Purple Hibiscus and Half of the Yellow Sun — deal with a country in political turmoil, affecting institutions, individuals and families. The crisis of a society in transition, its paradoxes and dilemmas, its human fabric and values crushed, the power of religion acquired in a crumbling structure, the ensuing debate between what is righteous and what is right, and human beings torn between choices of altruism and violence, love and disgust, and a sense of alienation in a crowded world find an imprint on the human heart globally. "When I was denied a visa for India, which is now emerging as an economic superpower, while my husband, who holds an American visa, had an easy access to the country, I thought how things remain the same the more they seem to change," she said, finding a thread of commonality among many. For Adichie, writing may be a "messy, complex way to realise one's humanity," but it was her humanity, reflected through the characters in her books, that made an alien audience respond in rapt attention.
The success of Nam Le's debut book, The Boat, recipient of over a dozen awards and translated into 13 languages, defies everything one would associate with traditional writing. The seven stories in The Boat are set in different geographical locales across the globe; from Vietnam, Colombo, Hiroshima, Teheran, New York to Australia, yet they speak a universal language of love, hate, anxiety, suspicion and an innate need for bonding. The globetrotter of words with an Oriental face did not feel like a stranger in Jaipur after he read a story from The Boat, " By switching from place to place, as well as time to time, I was in some ways formalising the idea that there is no place that's not strange to us," said the Vietnam-born author, who wrote his non-creative thesis in iambic tetrameter.
Anxious of having to wear a tie and coat for the rest of his life as a lawyer, one fine day he took a loan on his law firm's guarantee and set out to see the world. It resulted in a spectacular disaster of a 700-page novel. Then came the stories, written and rewritten several times and so The Boat happened, universally acclaimed and celebrated, a book of people's narratives, defying man-made boundaries. Junot Diaz, the Pulitzer-winning Dominican writer, described it as "wonderful stories that snarl and pant across our crazed world," while Diaz called Le "a heartbreaker not easily forgotten."
On the other end of the spectrum, Candace Bushnell, author of Sex and The City, popular from New York to Bathinda in equal measure, did not have to work hard to strike a chord. "Be a person first and then a gender," sounded a bit middle class coming from the iconic Bushnell. But then, reality is different from fiction. Bushnell, now 52 , married to a belly dancer, sounded sobered, matured and wiser than her wild years of the 1930s lived in New York that she chronicled through her column, later turned into a TV series and film by the same name.
Unaffected by the mass hysteria over her fictional characters that women identify with — Samantha, Carrie and Charlotte — she said she had moved beyond Sex and the City and would like to be known for her other works, too. She asserts she never wrote anything about sex or to give a message for women, but they saw a message of liberation in it because the story is a reflection of the times she was living in — when women created a space for themselves with their economic freedom and sexual choices. In countries like India, where these changes are catching on, she finds a new following. However, she added a word of caution for women, "Only you can earn your self. It's hugely gratifying to be your own person, but that requires courage and a bit of your own money!"
J. M. Coetzee, whose name most people could not pronounce correctly, touched a deep chord in an audience of close to 700. Born in South Africa and of Afrikaner descent, Koetzee spoke both English and Afrikaans. A Nobel Laureate (2003) and two-time Booker winner (1983 and 1999), he uses words with the precision of a space aircraft builder. Author of celebrated works like Age of Iron, Waiting for the Barbarians and Disgrace, Coetzee is known for his monk-like austerity and discipline. His uncanny ability to probe the human mind and emotions under any guise make him a much-read and admired author, despite the fact that he is known to have smiled only a few times in his life and his reclusive nature is so legendary that he did not go to receive his Booker, both times. Coetzee now lives in South Australia.
What made such a large gathering listen to an old writer, who was not a performer by any standard, in pin-drop silence may cause some wonder. But what made people buy over 10,000 books in the first two days of the festival is no mystery. When we read a book, we enter a hall of mirrors, which reflects our own being in multiple settings. We acquire a global vocabulary of joy, alienation, pain and pleasures through books. With everything transient and mortal around us, the inked words on paper offer some semblance of permanence to our own narratives. So, we read books.
Perspectives on Partition
From Partition to terror to juicy lesbian tales, Pakistani writers are touching upon everything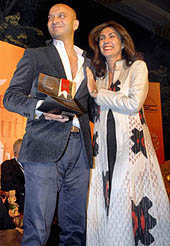 Writers from Pakistan, like (left) H. M. Naqvi, winner of the $ 50,000-DSC award for his novel Home Boy, and many others make the Great Divide look futile Photo: AFP

Histories are recorded in black and white, but when a writer looks at the Partition of the subcontinent, she explores the grey areas. When Kamila Shamsie talks of her own treatment of the theme in Salt and Saffron and Burnt Shadows, she can not avoid drawing comparisons with her aunt Attiya Husain's famous novel Sunlight on a Broken Column and the works of other Urdu writers on Partition. New-age English-speaking Pakistani authors like Shamsie look at these events, avoiding 'bad politics'.
Unlike her predecessors, Shamsie would rather map a trajectory of human emotions and conflicts rather than chronicle cartographic divides. "English liberates us from conformity. We don't have to have a politically correct stance for an English readership. And we need books because they are an escape from bad politics," says Shamsie, whose book explores cultural conflicts of cousins living on two sides of the divide when they meet.
Author of Moth Smoke and The Reluctant Fundamentalist, Mohsin Hamid, candidly talks of the metamorphosed Muslim identity post- 9/11. Hamid had written The Reluctant Fundamentalist in 2000, but no agent was interested in his narrative of a rich Pakistani young man working for Wall Street. Then came 9/11, and the same agent, who had made the observation, approached him for the manuscript. The book plays on the word 'fundamentalist'with a surprise element in store, which has nothing to do with terrorism. Interestingly, The Reluctant Fundamentalist is available in Hindi translation as Changez ke Bayan, but no one has attempted to translate it for Urdu readers in Pakistan.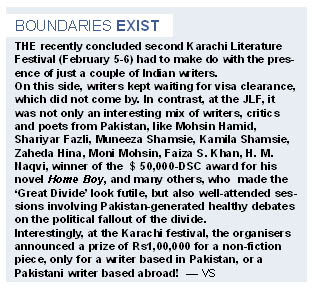 No one expects juicy adventures of a lesbian detective to come from the pen of an Urdu writer from Pakistan. To top it, these highly popular risalas, called Chhalawa, have been translated into English by an unassuming Faiza S. Khan — bespectacled, coy-looking, London-born- Pakistan-educated author, who cannot read Urdu. Yet, she translated Chhalawa with the help of friends and got it published to show the world that 'Sex was not invented in the West".
Chhalawa, read by millions in Pakistan, chronicles adventures of voracious Bano, a wealthy Karachiite, who solves crimes and trawls school buses for her sex preys. Faiza could not read the English extract from the Chhalawa serial — a household name in Pakistan, albeit one mentioned in hushed tones because it was too sleazy for an audience in India, which also had adolescent schoolchildren. Faiza found it amusing.