Untamed Africa
Serengeti presents the true picture of Africa with more than 15,000 square miles
of plains and endless wildlife, writes Sumitra Senapaty



EYES heavy with sleep, I peer through the netting of my tent. In inky darkness, I hear hyenas laugh and birds chatter. Too soon the sun peeps over the horizon, turning the early hours of morning from violet to pink to the bright blue of African daylight.
A multitude of wildebeest flows towards the Mara river in perfect formation. On the game drive, I swat tsetse flies while waiting for elephants to cross the road. I count myself lucky! Often tourists return from Africa complaining that they didn't see too many animals. For them I have but one recommendation: Serengeti. Much has been written about the great Serengeti, and none seem an exaggeration. The national park encompasses more than 15,000 square miles of plains, with thousands of acacia trees, sausage trees and vegetation.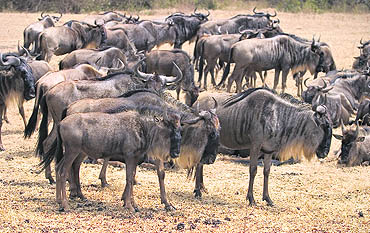 Every year, millions of wildebeest, joined by thousands of other grazing animals cross the vast plains of the Serengeti in search of greener pastures. The wildebeest, a quaint looking beast, is said to be assembled with leftover parts of other Savannah animals Thinkstockphotos/ Getty Images

What looks like a dark green patch of vegetation, turns out to be thousands of beasts on the move. I discover what I had come for — animals, animals and more animals. Leading the endless procession is the wildebeest, a quaint looking beast, said to be assembled with leftover parts of other Savannah animals: the horns and long legs of the bigger antelopes, the coarse hair of a warthog, the tail of a giraffe and the almost non-existent brain of a fly!
Amongst the wildebeests are the zebras. They stand in family clusters when not on the move, heads resting on the black-and-white striped necks of their partners. There were lions panting beside fresh kills, limping calves injured in the crush, doomed to be an evening meal, hovering packs of hyena, crocodiles lurking in waterholes, and in the sky the ubiquitous vultures circling around.
I am at the right place at just the right time — on the banks of the Mara river, to witness the Great Migration of wildebeest across the Serengeti. Every year, millions of wildebeest, joined by tens of thousands of other grazing animals – zebra and gazelles – cross the vast plains of the Serengeti in search of greener pastures. The entire journey is orchestrated entirely by nature and the seasons.
My Tanzanian guide is an admirable spotter, seeing creatures, big and small, where I could see nothing but trees, rocks, and grass. In constant communication by radio, speaking softly in Swahili, he would suddenly speed up the Toyota Land Cruiser. Soon, there would be a leopard or perhaps a lion standing magnificently atop a kopje, or group of rocks. Finally spotting a rhino, albeit very far away, gave us bragging rights to seeing the traditional Big Five: rhinoceros, leopard, buffalo, elephant, and lion. Even more impressive was the procession of wildebeests, part of the millions of animals who migrate between Tanzania and Kenya each year.
My favourite part of the trip is night time, listening to the animals that come into the camp at night. These tented bolt holes are well equipped and have a proper double bed, an indoor toilet and outdoor shower, though everything is under the canvas. And it is just a zip between me and the wildlife! Visitors are allotted a private butler who looks after their every need.
There is a campfire under the stars before dinner each night. Great South African Wines, fantastic service and a memorable taste of Africa.
Next morning we are relaxing in our tent when all seven tonnes of a pachyderm stroll into view, maybe 30 yards away. He looks around slowly, lifts his trunk, and wanders away in search of better company. During the four days spent in Serengeti, we saw as many as 15 elephants clustered together, giraffes by the score, lions, leopards, baboons, zebras, dik-diks, impalas, warthogs, zebra parrots, ostriches, vultures, storks, mongooses, gazelles, crocodiles, cheetahs, buffalo, a seemingly endless line of wildebeests, hyenas, jackals, crested cranes, hartebeests, monkeys, monitor lizards, hippos and so many more creatures great and small. And, with just one exception, we saw them up close. This is Africa and this is the home of the Maasai, who have grazed their animals on the vast plains of the Serengeti for centuries, the place where the land moves on forever, adventure most civilised and memorable.


Factfile
How to reach: The best airport to arrive at for Serengeti is Kilimanjaro International Airport at Arusha. Flights are available for Nairobi from where one can take connecting flight to Tanzania. From Arusha, charter flights are available for Serengeti. If you are lucky, you will get an aerial view of the migration!
Entry regulations: All visitors to Tanzania need entry visas, proof of sufficient funds for their intended length of stay, and a return ticket. A yellow fever vaccination certificate is mandatory to enter Tanzania. Also take malaria prevention tablets under medical supervision before your visit. Take along plenty of mosquito-repellent creams and wear long sleeves.
Best time to visit: During the annual animal migration in Tanzania. The migration follows roughly the same circular route at roughly the same time every year. The route covers thousands of miles, hence knowing the route and the timetable will give you some idea where to be and when to be there. But the timetable can vary from year to year depending upon nature and climatic changes. So be flexible about your arrangements and it is recommended that you stay in a movable tented camping, such as Serengeti under Canvas. Best time to see the migration across the Mara River, between Serengeti and Masai Mara is during August and September.
Camping in the Serengeti: Some private tented camps of &Beyond Serengeti Under Canvas move around the Serengeti National Park year round, bringing guests within reach of the Great Migration, as well as offering exceptional sightings of the resident game in the remote corners of the park. These exclusive semi-nomadic camps offer many comforts, including hearty bush meals served next to a blazing campfire, exhilarating game drives led by trained guides, carefully planned according to the projected movements of the Great Migration. & Most camps also offer daily safaris (early/mid morning, and then again in the afternoon/early evening or often for the full day).
Safari Tips: Be prepared to get up early and stay out late as many of the animals hide from the heat of the day, under trees and in the long grass. Wear the right clothes. Plain beige or khaki is the best colour. Blue apparently, attracts tsetse flies and bright colours can warn the animals of your presence. There is danger of sunburn if you expose skin during the day - and eaten alive by mosquitoes at night. Take sunscreen lotions and sunglasses. Days are warm and nights chilly, so pack accordingly.