Super price of superstars
With Shah Rukh Khan reportedly being paid Rs 5 crore per episode to host Zor Ka Jhatka on television, superstar hosts are having a field day on the small screen, writes Nutan Sehgal

SIX decades ago a significant event changed the way stars would be paid for films. In 1951, producer K. Asif offered an unheard fee of Rs 50,000 to Dilip Kumar, the then ruling king of Hindi cinema, to act in his movie Mughal-e-Azam.
Nineteen years later, in 1969, Shakti Samant pushed the envelope further and is rumoured to have agreed to pay Rs 1.5 lakh to the then reigning Bollywood badshah Rajesh Khanna for Aradhna.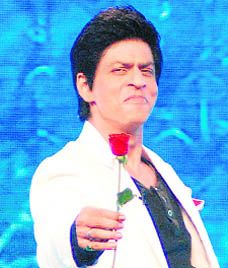 Shah Rukh Khan is hosting Zor Ka Jhatka, an adaptation of the reality thriller
series Wipeout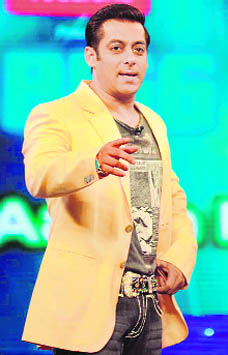 Salman Khan is rumoured to have received Rs 3.5 crore per episode
for hosting Bigg Boss-4
Photos courtesy: Colors

Fast forward to the present times. The news that Imagine is paying Shah Rukh Khan Rs 5 crore per episode for hosting Zor Ka Jhatka — an adaptation of the reality thriller series Wipeout — has hardly raised any eyebrows.
That's because in the first decade of the new millennium star prices have gone through the roof, thanks to television producers hankering after them to boost the ratings of their reality shows.
The price tags may strain the credulity of viewers but the fact remains that stars are demanding astronomical sums for TV shows and producers have no choice but to cough up money for a headstart without any guarantee of success.
Today, stars like Amitabh Bachchan, Shah Rukh Khan, Salman Khan, Akshay Kumar, Priyanka Chopra and others have started equating the small screen with its bigger version as far as their fees is concerned. In fact, after the stupendous success of the first avatar of the Bachchan-anchored Kaun Banega Crorepati, that sent TRPs spiralling for Star Plus, others, too, have followed suit. Channels now don't mind paying enormously high sums to Bollywood stars for reality and game shows that guarantee big advertising revenue and high viewerships.
The rollercoaster ride to big money started in 2000 when Amitabh Bachchan was roped in for an undisclosed sum to host Kaun Banega Crorepati. In the fourth version that ended recently he is rumoured to have got around Rs 1.8 crore per episode. There have been amazing returns for the Big B-hosted the show and the channel has made multiples of what it paid the actor through advertisements and endorsement deals.
In 2008, Salman Khan hit it big time with the game show Dus Ka Dum on Sony Entertainment Television. According to industry insiders, he received a fee of Rs 80 lakh per episode and made an astounding Rs 24 crore from 30 episodes. In the third avatar of the show, Salman is said to be getting Rs 2.5 crore per episode and if this, too, goes the distance, he will make a mind-numbing Rs 75 crore for 30 episodes.
But that fee is still less than what Salman got for hosting Bigg Boss-4. He is rumoured to have received Rs 3.5 crore per episode.
Akshay Kumar, too, is not far behind. As host of Masterchef India Akshay Kumar is said to have charged Rs 1.5 crore per episode. Masterchef India boosted the somewhat flagging TRPs of the channel. The show notched up a robust viewership.
Despite the fact that the guys were doing exceedingly well on the small screen, there have been few takers for girls. The only exception is Priyanka Chopra, who hosted Khatron Ke Khiladi-3 and is believed to have been paid Rs 1.2 crore per episode. This show, too, boosted the viewership ratings of Colors channel.
But now Shah Rukh's rumoured fee package of Rs 5 crore per episode for Zor Ka Jhatka has broken all records.
With stars asking for whooping price, the jury is out about their being overpaid and pampered. But producers are quite happy to part with the amounts asked by the well-known names. The reason behind this is not far to seek. Most of the top Bollywood actors can at least ensure the initial success of a show and boost the viewership ratings tremendously. After that, if a show has intrinsic strength, its chances of shoring up big advertising revenues automatically multiply. — NF