Flying Sikh on celluloid
A biopic on Milkha Singh will go on the floors this year, says Rakeysh Mehra
in conversation with Manisha Rege

Filmmaker Rakeysh Omprakash Mehra says his next movie Bhag Milkha Bhag, based on the life and times of legendary athlete Milkha Singh, will go on floors in August-September this year, chronicling his arduous journey from a traumatised childhood to his moment of glory as the country's ace runner.
"The story of Milkha Singh's life is extremely inspiring. I had read his autobiography and approached him with my desire to make a film on it. Prasoon Joshi has written the movie. We researched for two years about Milkha's life and his past during our interactions with him in Chandigarh. All incidents have been captured in a dramatised version for the film," said Rakeysh.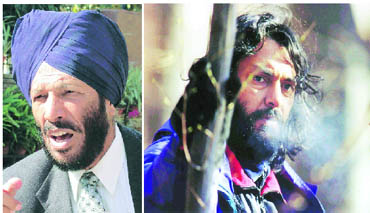 Rakeysh Omprakash Mehra (right) is all set to make Bhag Milkha Bhag, which is based on the life of the legendary athlete

As a kid, barely in his teens, Milkha saw his entire family being hacked to death during the riots that took place on the Pakistan side of Punjab. All he could see and remember was his dying father screaming to him... "bhaag...bhaag Milkha bhaag" (run`85run Milkha run), to escape from being killed by the rioters.
The visuals of the dastardly act perpetually within him, his entire family killed before his very eyes, impoverished and alone, he ran across to the Indian side of the border and became one of the greatest 'runners' of the country.
Rakeysh said he was on the lookout for a new face or a relatively new face to play the character of Milkha Singh.
"I had given Prasoon three-four subjects to write a movie and he decided that he wanted do to Milkha's story first," he said adding that he would produce the film as well.
Rakeysh said he was yet to finalise the cast of Bhag Milkha Bhag. Speaking about his films, he said he does not attempt to be different for the sake of being different.
"Once a movie is out of my system, I can't make the same thing again...Rang De Basanti was a huge success. But, I cannot repeat the same story of youngsters out to change the world. If something remains, I try to exploit it again and again," he added.
The director said he had changed the beginning and the ending of Delhi 6. The film was released worldwide in February 2009. He plans to re-release it on DVDs soon.
"But not for a year, at least. I will plan this later," he said adding that the revised version bagged the National Award and was also screened at the Venice Film Festival. There is a huge gap between each film he makes as he is also the writer of the movies he produces and directs.
"My stories are original and, hence, it takes time to create a story. I normally take two years to finish the story before getting down to actual shooting," Rakeysh said. He said he had two more films for production as well as direction lined up.
"Decision on which one to make first after Bhag Milkha...is too early to say right now," he added.
Speaking about his productions, Rakeysh said an untitled movie starring Amitabh Bachchan with a new girl on a father-daughter relationship would go on floors in May. The debutant director Sunil Pandey had assisted him in Rang De Basanti and Aamir Khan for Taare Zameen Par.
The film will be co-produced by Reliance Pictures. "There is another movie by a newcomer director. I liked the story idea and he is working on the script," he added. Rakeysh admitted that he felt the pressure to better his previous work after the success of Rang De Basanti.
He said he was not unnerved that his next release Delhi 6 was not as successful as RDB.
"The idea is to do good work to the best of your ability and results will follow but that is a different story. You don't do your work for results you want to tell a story that is why you do the film," he added.
According to him, a director should have something to say, a point of view and that, too, a unique one. The producer should keep the business of the film intact.
"You can't chase money in any business. I believe in chasing excellence in work and money will follow," he added.
He said a filmmaker has to deliver entertainment to people by making good films at competitive cost. — PTI