M A I N N E W S
Mumbai Attacks
Bombay HC upholds death for Kasab
Also confirms acquittal of two persons accused of providing logistical support to Let
Shiv Kumar
Tribune News Service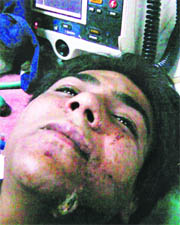 In this photograph released by police, Ajmal Kasab is seen lying at an undisclosed location in Mumbai. — AFP
Mumbai, February 21
The Bombay High Court today upheld the death sentence a special court had awarded to Ajmal Kasab, the lone terrorist caught alive in connection with the Mumbai attacks of November 26, 2008. The high court also upheld the lower court's decision to acquit two persons accused of providing logistical support to the Pakistan-based Lashkar-e-Toiba (LeT) that masterminded the terror attacks.
Delivering the verdict, the Division Bench comprising Justice Ranjana Desai and Justice RV More held Kasab guilty on four counts, including the murder of three senior police officers. Kasab has been allowed 30 days to file an appeal in the Supreme Court.
"There is no scope of reform or rehabilitation of the convicted-accused," the judges said. The court went on to say that this was the rarest of rare cases that merited the death penalty. "The court cannot be more confident than it is today that death penalty must be given. If he is not awarded the death penalty, people might lose faith in the judicial process," the judges noted.
Meanwhile, Maharashtra Chief Minister Prithviraj Chavan said the state government would challenge the acquittal of Fahim Ansari and Sabahuddin Ahmed in the Supreme Court.
Earlier in the day, Kasab attended the hearing via video-conferencing. Clad in a white kurta-pyjama and sporting an unshaven look, Kasab appeared cool and cheerful.
Reacting to the verdict, public prosecutor Ujjwal Nikam called it a major triumph for the prosecution. "This is a victory of justice and defeat of the drama by Pakistani terrorist Kasab," Nikam told reporters outside the courtroom. Peppering his comments with the choicest of epithets for Kasab, Nikam called him a "nautanki ka khalnayak", "monster" and a "demon" who was well-trained by his handlers to mislead investigators. "However, nothing worked and we managed to foil all his designs," Nikam said.
Kasab's lawyer Farhana Shah said he was not given a fair trial. "The case moved too fast and we could not defend Kasab. There were several loopholes in the case. He did not get a fair trial," Shah said. She went on to recommend that Kasab should appeal against the death sentence in the Supreme Court.
Lawyers Ejaz Naqvi and RV Mokashe, who represented Ansari and Ahmed, hailed the verdict acquitting their clients. "It is a victory of the truth," Naqvi told reporters outside the court.
Trial of the face of terror
Oct 18, 2010: Case begins in the high court.
Oct 25: Judges view CCTV footage showing Kasab and slain terrorist Abu Ismael being involved in acts of terror.
Oct 27: Prosecutor Ujjwal Nikam justifies the death sentence awarded to Kasab by the trial court.
Nov 25: Kasab's lawyer Amin Solkar begins argument, demands retrial.
Dec 7: Kasab denies killing police officers Hemant Karkare, Ashok Kamte and Vijay Salaskar.
Dec 14: Court rejects Kasab's juvenile plea.
Dec 21: Court hears state's appeal against acquittal of Fahim.
Jan 17, 2011: Arguments conclude.
Feb 21: Court confirms death sentence to Kasab and acquittal of Fahim and Sabahuddin. — PTI