PUNJAB

HARYANA

JAMMU & KASHMIR

HIMACHAL

REGIONAL BRIEFS

NATION

OPINIONS

LETTERS

BUSINESS

SPORTS

WORLD


M A I N N E W S

revisiting a carnage


Ghost of Chhillar haunts Haryana
20 persons were killed in the Rewari village in the '84 riots
Raman Mohan/TNS

Chhillar (Rewari), February 23
More than 26 years after 20 men, women and children (the number mentioned in the FIR according to the police) were allegedly burnt alive in riots following the assassination of Indira Gandhi, the mystery remains unresolved.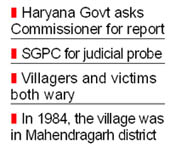 All main characters in this sordid drama — the police, the residents and the survivors — have a lot to answer for. The police must explain why the case was closed and how the FIR, which was registered after the incident, was lost or misplaced.
Villagers need to explain why they failed to intervene when, according to them, an estimated 300-strong mob of "outsiders" went on a killing spree that lasted (as per their own version) for six to eight hours. This happened even when the villagers outnumbered the mob.
As for survivors, they too need to come forward and explain why they have kept quiet all these years. In the words of 83-year-old Dhanpat Singh Yadav, the then sarpanch of Chhillar, this is what happened on the morning of November 2, 1984.
"It was a bright sunny day. Around 10 am, a mob of 250 to 300 men, all outsiders, arrived in the village in a Haryana Roadways bus and a truck. They carried jerry cans of diesel and were armed with rods and sticks. They headed straight for the Sikh settlement, about 1 km from the main village, where 13 Sikh families had been living since they migrated from Pakistan in 1947," recalls Yadav. The settlement was known as Haud, a reference to the pond built there by a Muslim fakir in 1920, he tells.
"When I was informed about the mob, I rushed there with around six villagers. We challenged them. But they threatened to burn us alive. We were made to sit there as several of them stood guard over us. The mob attacked men, women and children who were outside. A few were set ablaze outside their houses. Others fled to the safety of their homes and locked themselves up," he says.
"The mobsters dug holes in the roofs, poured diesel inside and set fire. At least 20 of the victims were trapped inside. Meanwhile, 30 men, women and children locked themselves up inside a room on the first floor of a house. At around 5 pm, a section of the mob approached the room. One young Sikh, Balwant Singh, suddenly came out and attacked the mob. One mobster got a deep cut on his shoulder. The mob then withdrew and left the village. The villagers then escorted the survivors safely to Rewari," he says. None of them ever came back to the village, he adds. "In the following years, they sold their land and houses, most of which have now been demolished."
See also Page 7