M A I N N E W S
Vastanvi stays on as Darul Uloom V-C
SMA Kazmi/TNS
Deoband, February 23
Maulana Ghulam Mohammad Vastanvi, the newly elected 'Mohattim' (Vice-Chancellor) of Darul Uloom whose praise for Gujarat Chief Minister Narendra Modi's "good governance" had kicked up a row, has got a breather. Majils-e-Shoora, the 145-year-old Islamic seminary Darul Uloom's (Deoband) top decision-making body, turned down Vastanvi's resignation offer at a meeting here today.

Who is Vastanvi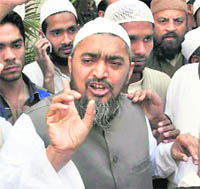 Maulana Ghulam Vastanvi after attending the meeting of the Governing Council of the Deoband seminary on Wednesday. Tribune photo: Vinod Pundir

Maulana Ghulam Mohammad Vastanvi (60), who hails from Gujarat and also has an MBA degree, was elected as Darul Uloom's V-C on January 10. The moderate Maulana had triggered a controversy soon after his appointment with his remarks praising Gujarat Chief Minister

Narendra Modi's rule and his development policy. He had reportedly said that Muslims should forget the communal riots of 2002 and move on and that the community did not face discrimination in Gujarat.
Elected as the V-C on January 10, Vastanvi has been asked by the Majlis-e-Shoora to continue in office pending an inquiry into the incidents that followed his alleged statement on Modi.
A three-member inquiry committee has also been constituted to look into the matter. The three-member inquiry committee will comprise Maulana Mufti Mohammad Ismail (Malegaon), Maulana Mufti Manzoor Ahmed (Kanpur) and Maulana Malik Mohammad Ibrahim (Vellore, Tamil Nadu) — the trio members of the Majlis-e-Shoora.
Also, Maulana Mufti Abul Qasim Naumani, a senior Majlis-e-Shoora member, has been appointed as the acting "Mohattim" of the Darul Uloom. And in case Vastanvi is indicted by the inquiry panel, Naumani would take over as the V-C.
Of the 18 Majlis-e-Shoora members, 14 turned up for today's meeting, the notable absentee being Maulana Badruddin Ajmal, MP from Assam who had supported Vastanvi initially but had to bear the wrath of the powerful Madni family.
Notably, a section of students and faculty members had demanded Vastanvi's resignation after the statement, which the V-C later denied having given. The development of his resignation being rejected was confirmed by Vastanvi while talking to mediapersons later.
For its part, the Majlis-e-Shoora, in a release, appealed to all the members to treat the issue as "over" and "not to be raised in the media any more".
Today, there was an air of excitement in Deoband as a large number of students, teachers and residents flocked the Darul Uloom guest house where the Majlis-e-Shoora meeting was on. A large police posse was also deployed, but no untoward incident was reported.
Meanwhile, insiders feel that the support received by Vastanvi from the Muslim community across the country and even abroad forced the powerful Madni family to look for a compromise.

Maulana Ghulam Mohammad Vastanvi (60), who hails from Gujarat and also has an MBA degree, was elected as Darul Uloom's V-C on January 10. The moderate Maulana had triggered a controversy soon after his appointment with his remarks praising Gujarat Chief Minister Narendra Modi's rule and his development policy. He had reportedly said that Muslims should forget the communal riots of 2002 and move on and that the community did not face discrimination in Gujarat.@@n Madnis: Power brokers of UP@@n Edit: Deoband controversy