M A I N N E W S
Libya protesters gear up for the 'battle of Tripoli'


Battles rage as rebels seize key Libyan towns


Tide of rebellion comes closer to Gaddafi's home


Gaddafi loyalists launch aggressive counter-attack


Gunbattles in Zawiyah, 50 km from Tripoli, kill 10


Gaddafi blames Osama bin Laden for orchestrating uprising against him

Benghazi, February 24
Forces loyal to Muammar Gaddafi launched a counter-attack today, fighting fierce gun battles with rebels who have threatened the Libyan leader by seizing important towns close to the capital.
The opposition was already in control of major centres in the east, including the regional capital Benghazi, and reports that the towns of Misrata and Zuara in the west had also fallen brought the tide of rebellion closer to Gaddafi's power base.
Gun battles in Zawiyah, an oil terminal 50 km from the capital, left 10 persons dead, a Libyan newspaper said.
In the eastern city of Benghazi, residents had been queuing to be issued guns looted from the army and the police in order to join what they called the battle for Tripoli, BBC quoted witnesses crossing out of Libya as saying.
Gaddafi spoke on state television to offer condolences over those who had died, calling them Libya's children. Speaking to the TV station by phone rather than appearing in person as he has in recent days, Gaddafi said people in Libya were fighting among themselves and had been taking drugs.
Calling for calm, he accused Al-Qaida leader Osama bin Laden of orchestrating the uprising against him. "Bin Laden ... this is the enemy who is manipulating people," Gaddafi said. "Do not be swayed by bin Laden."
Forces loyal to the Libyan leader on Thursday attacked anti-government militias controlling Misrata, Libya's third-biggest city, 125 miles east of Tripoli.
Lawyers and judges said they had Misrata in their grip, according to an Internet statement, several people were killed in fighting near the city's airport. Soldiers were reported along the roads approaching Tripoli.
In Zawiyah, witnesses said people in civilian clothes, who appeared to be both pro- and anti-Gaddafi forces, were firing at
each other in the streets. "It is chaotic there. There are people with guns and swords," said Mohamed Jaber, who passed through Zawiyah on his way to Tunisia on Thursday.
Al-Jazeera television broadcast pictures of what it said was a burning police station at Zawiyah. A witness told Reuters the Libyan army was present in force.
The uprising has virtually halted Libya's oil exports, said the head of Italy's ENI, Libya's biggest foreign oil operator. The unrest has driven world oil prices up to around $120 a barrel, stoking concern about the economic recovery.
Anti-government militias were in control of Zuara, about 120 km west of Tripoli, Egyptian construction workers who fled into Tunisia told Reuters on Thursday.
There was no sign of police or military and the town was controlled by "popular committees" armed with automatic weapons. "The people are in control. Police stations have been burned and we didn't see any police or army in the past few days," Egyptian labourer Ahmed Osman said.
World leaders condemned Gaddafi's bloody crackdown on the week-long revolt, but did little to halt the bloodshed from the latest upheaval reshaping the Arab world.
US President Barack Obama made his first public comments, condemning as "outrageous" and "unacceptable" attacks on protesters that have killed hundreds in 10 days. — Reuters

UN drops Gaddafi's daughter as goodwill envoy
United Nations, February 24
The UN Development Programme has dropped Libyan ruler Muammar Gaddafi's daughter as a goodwill ambassador following the recent events in Libya that include a crackdown on anti-government protestors.
UN spokesperson Martin Nesirky yesterday said the agreement with Aisha al-Gaddafi has been terminated under Article 30 of the UN guidelines for the designation of goodwill ambassadors and messengers of peace. The article says that the designation will be terminated if "the messenger of peace or a goodwill ambassador engages in any activity incompatible with his/her status or with the purposes and principles of the United Nations, or if the termination is in the interest of the organisation." Aisha al-Gaddafi was appointed as the goodwill ambassador of Libya on July 24, 2009 to address the issues of HIV/AIDS and violence against women in Libya, both culturally sensitive topics in the country.
Meanwhile, UN Secretary-General Ban Ki-moon has blasted Muammar Gaddafi for ignoring his call to stop violence against protestors, which the UN chief stressed to the Libyan leader during a 40-minute conversation this week. "What he (Gaddafi) has done is totally unacceptable," Ban told journalists yesterday. — PTI

Sleepless nights for several Punjab families
Kanchan Vasdev & Bipin Bhardwaj/TNS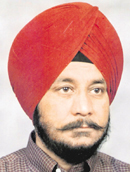 Dr TS Anand

Ludhiana/Kaboolpur (Jalandhar): With the revolt against four-decade-old rule of Muammar Gaddafi in Libya turning violent, worried NRIs there want to return home at the earliest. For this, they have been sending SOS back home. Reports that around 1,000 persons have been killed in Libya so far have made several residents, who have relatives settled in the troubled nation, make efforts to approach the Ministry of Overseas Indian Affairs (MOIA) with the request to make arrangements for the eviction of their kin. Prof TS Anand (62), former Principal of GGN College here, is stranded at Hoon in Libya. His son Gaganjot Singh, a share broker here, said his father was 200 km away from the airport and could not come back unless he was airlifted. However, Indian embassy officials there had refused to help him saying they could not arrange for airlifting of stranded people if there number was less than 50.
"My father, who is a professor in Arabian School of English there, is accompanied by seven Indian teachers, who are waiting to be rescued. The worst is that we are not even able to talk to them. My brother from Canada somehow managed to speak to him a couple of days ago and that is how we got to know about him. Please help my father," said Gagan. His father had immigrated to Libya two years ago after getting superannuated, he said.
Rachpal Singh (55) of Raikot and his son Gurdeep Singh (24) are also stranded in Libya. Rachpal has been working there for 22 years and had recently called his son there. "We had never thought that they would get stuck there," said Bhupinder Singh, second son of Rachpal.
Abhjinder Singh of Kalsian village in Moga is also making rounds of various offices to get his brother Karamjit Singh rescued from Libya. "He is stranded in a factory with around 200 Indian youths," Abhjinder said.
Kanso Devi, a 75-year-old widow from Kaboolpur in Jalandhar, is also in a state of shock these days. Her son Raj Kumar left for Libya to earn livelihood around nine months ago, leaving behind his mother, wife and three daughters back home, who are now praying for his wellbeing.
Raj Kumar is one of the 10 Punjabis who have been stranded in Graiyan City of Libya for the past some days.
Ram Rattan Lamba, younger brother of Raj Kumar, said his brother and other Indians were in contact with him through the Internet. However, they had no money and proper clothing to guard themselves against chilly weather conditions. Miscreants had robbed them of their belongings, he said.

First Indians to be evacuated on February 27
New Delhi: India is ready to dispatch three Naval warships to Libya for evacuation of about 3,500 stranded Indians. Most of them are Punjabis mainly working in the construction and oil industry besides being traders. Apart from the proposed Naval warship plan, a passenger ship 'Scotia Prince' will carry out the first evacuation on February 27. The ship is already in Egypt and is ready to set sail for Benghazi in eastern Libya. The ship will bring back at least 1,200 persons to Alexandria (Egypt) by March 1. The evacuees would be flown home thereafter by special Air India flights. External Affairs Ministry personnel and medical teams will be on board to assist the evacuees, a statement issued by the ministry said today. Some 8,500 Indians are listed for evacuation from Tripoli while another 1,500 are trapped in Benghazi. The Government also awaits air evacuation clearance. Aircrafts are on stand by for this purpose. Landing clearance from Libya is awaited and should be received soon.
The Naval ships will take 12 days to reach the Libyan capital of Tripoli, which is 4,017 nautical miles (about 7,000 km) from Mumbai. According to sources, so far no decision has been taken on pulling out Naval warships on anti-piracy duty in Gulf of Aden for deployment to Libya. This means all the ships will have to set sail from India and in 12 days matters may deteriorate further. India has a tie up with friendly countries close to Libya for replenishments of oil for the ships besides water and food for the evacuees. The Navy's landing platform dock, INS Jalashwa, is listed to depart for Libya and will be accompanied by two destroyers. INS Jalashwa, a 17,000-tonne vessel, is designed as a troop carrier and can take up to 800 men. It will be able to carry some 1,200 person in one trip. — TNS