Are you ready for a Small Slim Punjabi Wedding?
Many agrees with KV Thomas' proposal to cut down on guest list for marriage functions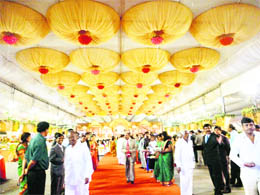 There's trouble brewing in the Indian wedding paradise. If Food Minister KV Thomas has his way (we mean his plan to limit the food served at various functions, especially weddings to reduce wastage), the Big, Fat Indian Wedding will soon be a thing of the past. This is something that could seriously offend (pun intended) our Punjabi sentiments. After all a wedding is an occasion to show off one's wealth and prosperity. We ask people for their feedback.
Lavish is a small word
w Steel baron LN Mittal's wedding for his daughter Vanisha Mittal in 2004 made it to the Forbes list of 'Billionaire Weddings'. According to reports $60 million were spent by Mittal. A 20-page invitation in silver boxes was sent out by the Mittals and as many as 1,000 guests were flown in from across the world and they stayed in a five-star hotel in Paris.
The frugal sixties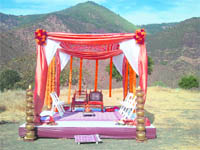 To conserve food, the government is thinking of putting a limit on guests and edibles at celebratory functions. As children, we were admonished for wasting food in our plates. The logic was that a starving person could use it. We looked around for the poor and wondered how a baigan or chapati could travel from the erring plate into a beggar's stomach. As a result, we obediently ate up and put on extra poundage along the way. However, today all of us realise that the fewer the onions consumed and wasted, lesser the shortages in the masala department.
Rose festival begins

Once again, the festival of roses is set to greet C-town residents with its delicate scent. With rose festival around the corner, everybody is geared up to welcome it with arms wide open. Chandigarh people will have all the fun and folic at their doorstep for three consecutive days this rose festival i.e. 25, 26 and 27 Feb.
Today's attraction
"This time there are 825 exquisite rose varieties that would be showcased. The best among them are Queen Elizabeth, A-1, Superstar, Rose Hybrid Tea and Rose Floribunda. There are going to be 32,500 rose plants on display for the audience.

Oscar time
Oscar statues are stored in a tent during preparations for the 83rd annual Academy Awards. The Oscars will be presented this Sunday. — Reuters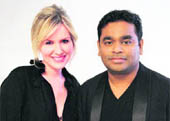 Oscar-winning composer AR Rahman (R) and singer-songwriter Dido pose for a photograph. Rahman is nominated for two Oscars, one for best original score for 127 Hours and one for original song If I Rise. Dido shares the best original song nomination with Rahman and Rollo Armstrong. — AP
Shoes for office wear
Liberty Shoes has launched an eclectic office collection for working women. Meeting the demands of the workplace requires a perfect balance between comfort and style. And, that's what the Senorita Office Collection from Liberty is about. It's a range that reflects taste and elegance with slick designs in rich leather that make a statement. Combining simplicity with sophistication to be classy and comfortable and make the right professional impression.
Fair deal
Godrej FairGlow, will now be available in a new, beautiful avatar across the country. This specialist fairness soap will woo users of other beauty soaps with its fairness plus protein's formula and will be launching the Godrej FairGlow 'No Samjhauta' campaign for the same. Over the next few months, women and other citizens across major cities in Maharashtra and Punjab will be encouraged to swap their ordinary beauty soap with FairGlow.
Madhvan would love to play angry young man
The multi-lingual star R. Madhvan, who debuted in Bollywood with Rehna Hai Tere Dil Mein, is known for his performances in films like Mumbai Meri Jaan, Yuva (Tamil), Guru, 13 B, Teen Patti and 3 idiots. Now, he is all set to try his hands on a romantic comedy Tanu Weds Manu which hits the silver screen this Friday. It is a different kind of romantic story rooted in Indian culture. It is a film set in Punjab and beautifully shot in Kapurthala, Jalandhar and Amritsar. R. Madhvan, better known as Maddy, talks about his new film.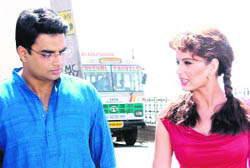 NEW RELEASES
Watch out for this wedding
Film: Tanu Weds Manu
Producers: Vinod Bachchan, Shailesh R. Singh, Surya Singh Director: Anand L. Rai Star cast: R. Madhvan, Kangna Ranaut, Ejaz Khan, Deepak Dobrial, Jimmy Shergil, Ravi Kissen
Directed by Anand L. Rai, Tanu Weds Manu is set to hit theatres today in Chandigarh, Panchkula and Zirakpur. The movie, a romantic comedy, throws lights on the Indian arranged marriage system wherein parents choose life partners for their children.
Madonna borrows daughter's clothes


She may have been a fashion icon herself but pop diva Madonna borrows her teen daughter's clothes at times without her consent. The Material Girl and her 14-year-old daughter, Lourdes, run a fashion line for teens and their styles are so similar that they often wear each other's garments. But Lourdes gets fed up when some of her clothes go missing-only to find out her 52-year-old superstar mother has been raiding her closet.
Anne Hathaway won't mock people as Oscars host
Unlike other award ceremony hosts, Hollywood actor Anne Hathaway won't be poking fun at celebrities while co-anchoring the Academy Awards because she feels she hasn't "earned the right" to do so.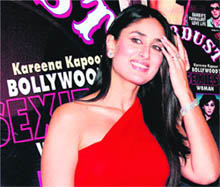 Actor Kareena Kapoor after being crowned as Bollywood's Sexiest Woman in the latest issue of a magazine in Mumbai on Wednesday. — PTI
Salman to perform death-defying stunt
Bollywood's Dabangg actor Salman Khan will be seen doing a death defying stunt in PepsiCo's Mountain Dew new ad — he jumps from 10,000 feet in a 'wingsuit' from which a parachute springs open.
Playboy covergirl makes a Bollywood debut
Playboy covergirl Candice Boucher will make her Bollywood debut as a sand artist in director Prashant Chadha's Aazaan. Acclaimed sand artist Alexandra Konofalskaya was flown down from Belarus to train Candice for her role.
Lindsay Lohan to serve jail time
The Mean Girls star has been given time until March 10 to decide if she will accept a plea deal or go to trial
Hollywood starlet Lindsay Lohan was told by a judge that she will not escape prison even if she strikes a plea deal in the case of grand theft against her, in a court hearing here today.
Camels turn models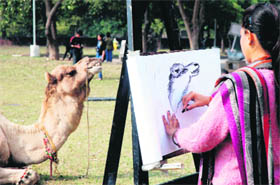 In 2010, horses turned models for the students of Government College of Art. This year, it was the turn of three camels from a nearby village. "We keep doing such sessions with human models. However, this year again we wanted to bring in animals to our campus so that students can study their anatomy," says DS Kapoor, the principal. Meanwhile, students attended the two-day sketching programme on February 22 -23 with a lot of enthusiasm.
Through the lens' eye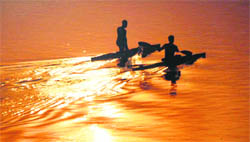 If one wants a peep into the minds of young student photographers and their impressions of life around them, Click is the exhibition one needs to check out. Photographs by these students of Government College of Art-10 are on display at the Government Museum and Art gallery-10 till February 26. Here are few of the interesting works.