Editorial
Red signal ahead
Lack of vision may derail Railways
As expected, Mamata Banerjee presented a populist Railway Budget on Friday ahead of elections in some states. Her bias towards West Bengal provoked a protest in the Lok Sabha. She brushed it aside, saying "I am proud of my state". The budget reflects the minister's flawed concept of "social viability" as against the experts' preference for economic viability in running the world's second largest rail network.
Ludhiana gets Shatabdi to Delhi
Chandigarh, February 25
A new Shatabdi train between Ludhiana and New Delhi, a mechanised laundry unit at Chandigarh, a passenger coach terminal at Ludhiana, a 'bridge factory' and an Institute for Tunnel Engineering in Jammu and Kashmir are among the announcements for the region that figured in the Railway Budget on Friday.
Praise from PM, barbs from Oppn for Didi
New Delhi, February 25
Even as the Opposition slammed Railway Minister Mamata Banerjee describing her Railway Budget today as a "fraudulent exercise", Prime Minister Manmohan Singh and Finance Minister Pranab Mukherjee commended their Trinamool partner in the UPA for having presented a good budget despite a difficult situation.
People gather to watch the broadcast of Railway Budget speech in Kolkata. AFP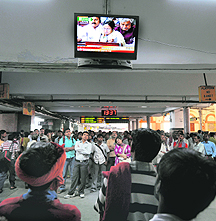 Bengal gets major share of pie
New Delhi, February 25
As Railway Minister Mamata Banerjee vowed to support the "common man" in her third annual Budget today, with a promise of Rs 57,630 crore investment in the rail network in the next fiscal year, it was her home state West Bengal that walked away with a major share of the pie yet again.
The Railway Minister has done a commendable job. It will help weaken cost push element of inflationy.

— Manmohan Singh, PM

No attempt is visible in this budget to retrieve the debt worth Rs 25,000 crore. This is no budget. It is a whole lot of announcements. The budget is for Bengal and 'baaki sab kangaal (others left bankrupt)

— Gopinath Munde, BJP

Punjab does not exist on the map of India, as she (Mamata) has not allocated a single penny or a railway track for the granary of the country that is feeding the whole nation

— Sukhbir Singh Badal, Punjab Dy CM

The budget is an exercise in deceit. It is cunningly juggling figures to show improved financial position of the PSU behemoth.

— Sitaram Yechury, CPM

This is an unrealistic budget. Where are the financial resources shown to put up the infrastructure to run so many trains.

— Gurudas Dasgupta, CPI

It is a routine budget, nothing sparkling, about this budget.

— Lalu Prasad Yadav, ex-rly minister