Nuptial knot comes of age
In this age of makeovers, the age-old institution of marriage, too, is donning new avatars. The 'new' generation is learning from the mistakes of the 'old', and pushing the frontiers, defining a new code, writes Aruti Nayar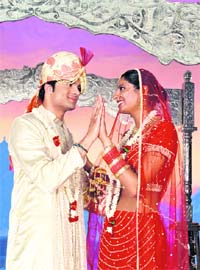 The old parameters of what constitutes marital harmony no longer seem relevant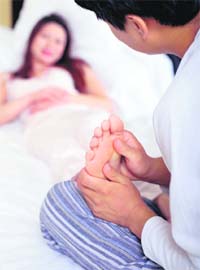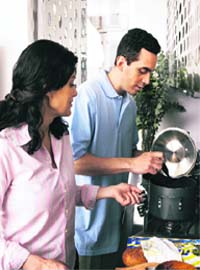 ON AN EQUAL FOOTING: The institution of marriage has evolved over the years, with both persons looking for equal partnerships (above); and (below) since most men has seen mothers working, they do not expect to be waited upon, instead they help their partners in domestic chores Thinkstockphotos/Getty Images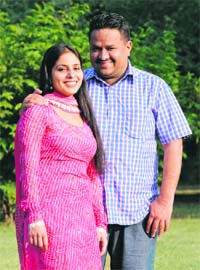 Aman and Amanbir compare marriage to a concert

Like everything else, the institution of marriage, too, has evolved over the years, with a social contract turning into mutuality. If socio-economic flux is putting strain on its dynamics, so are heightened expectations, especially, when both the partners have stressful jobs and timelines to meet.
What makes this challenge all the more daunting is the dipping tolerance levels and even lower thresholds of patience. The old parameters of what constitutes marital harmony no longer seem relevant.
Sixty-year-old Kanta Mehta put it rather well: "We were brought up to believe that kisses don't last, cooking does.
Now you are lucky if the marriage itself lasts. It is gratifying to see more and more young girls shed the baggage of having to be good housewives and mothers."
These days, the young people are more self-assured and independent at the time of marriage. This is because of the changing child-rearing practices with the advent of more nuclear and single-parent families.
Many people, who go for premarital as well as marital counselling, are not willing to have unequal relationships like their parents.
So you have more people looking for equal partnerships, either happy with each other, giving each other the necessary space or opting out of a marriage if they feel it is causing emotional bankruptcy. Some are not averse to taking a second chance at happiness, too.
A young girl opts out of her marriage because she finds her affluent, golf-playing husband not in sync with her sensibilities.
And there is an army officer, who leaves his job rather than living apart from his wife, who has an equally demanding job in the private sector.
Such choices are not whimsical, but carefully thought out. As Simmi Waraich, clinical psychologist at Fortis, Mohali, puts it: "This generation has the satisfaction that comes from doing something they believe in, without the burden of the superego.
They want to live out the truth instead of subterfuge carried out for others' sake. It's a form of 'stepping out of the shadows' as it were."
There is a change in parents, too, who are now more supportive of their childrens' decisions.
They themselves are members of the 'sandwich generation,' caught between the restrictions imposed by their authoritarian elders and their more-than-liberal children and changing child-rearing practices.
Besides, the lifestyles, too, are rapidly changing. The earlier generation used to slog it out, and then invest a lifetime of savings, either into a house or on the education and marriages of their children. Often, such decisions would coincide with the retirement.
But these days, youngsters with their double incomes (shooting into lakhs, sometimes) start planning their dream-house, the moment they get married.
Most of them have enough money to splurge, or even squander. They know what they want out of life and are not willing to take any chance.
Though there is no recipe for a happy, successful marriage, the psychologists and counsellors do recommend their own list of do's and don'ts.
Each couple must not only work out what is best for it, but also be prepared to exercise flexibility. It is important to keep the channels of communication open, because in the end, all relationships are just about that.
Aman, a lecturer teaching English, and Amanbir, an official with the Punjab Government, compare marriage to a concert, "Like Indian classical musicians engaged in a jugalbandi though following the same raga, the vocalist and the percussionist need to constantly improvise so as to remain in tune.
They can have their alaaps but are bound by the bandish of raga."
In the ultimate analysis, it is such a personal, intimate relationship that the partners in marriage must evolve their own ground rules and stick to them, if possible.