In letters of GOLD
From boring white to bright gold, Oscar envelopes have got a makeover,
writes Yoshita Singh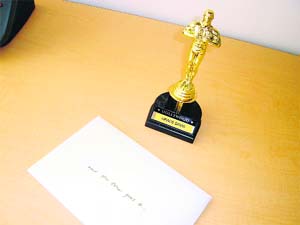 Plain, white paper envelopes have so far being used to declare the winners
THE Oscar envelopes and announcement cards that contain names of winners of the most coveted honour in movie industry are getting a facelift.
Breaking away from a 70-year routine, the Academy of Motion Picture Arts and Sciences will this year use a glamourous gold envelope at the 83rd Academy Awards instead of the plain, white paper envelope, the kind available at any office supply store.
"The envelopes are such an integral part of the Academy Awards, yet there has never been a dramatic, specially designed envelope and card to announce the Oscar recipients," telecast producers Bruce Cohen and Don Mischer said in a statement.
The new custom-designed, handcrafted keepsake envelopes and announcement cards have been made by Los Angeles-based custom stationer Marc Friedland. The envelopes are made of "iridescent" gold paper watermarked with little images of Oscar. It is lined with shiny red paper embossed with gold Oscars. The winnerís name appears on a heavy piece of lacquered red paper inside, with the category listed on front and back. The envelope will be sealed with a shiny red sticker adorned with two strips of red ribbon.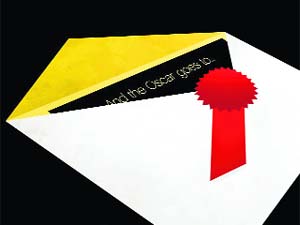 "The Art Deco-inspired satin gold envelope will contain a heavyweight ecru card featuring gold foil accents and a gold leaf-embossed Oscar statuette along with the phrase ó ĎAnd the Oscar goes to...í," the statement said. The winnerís name on the announcement card will be printed in charcoal ink and mounted onto a matching, red lacquer hand-wrapped frame. The back of the card will be printed with the award category.
Till now, the envelopes were printed on heavy cream-coloured stock, with plain block letters sporting the name of the category and, inside, the phrase ĎAnd the Oscar goes toí and the winnerís name and film.
The Academy has been using sealed envelopes for the last 70 years after a winnerís name had leaked out early once.
Friedland, whose company Marc Friedland Couture Communications has designed high-end invitations for the past 25 years, said in spite of the Oscar envelope being the most "iconic" and "symbolic" envelope in the world, "it was funny that it was the most non-descript, office supply store bought" till now.
"At the end of the day, the event is a celebration of an amazing accomplishment. We wanted to bring back the elegance and glamour. The design concept was to be timeless, regal and rich and luxe... the envelope serves as an iconic symbol of that moment," Friedland added.
Friedland got the envelope assignment three weeks ago.
He took design cues from the look of this yearís Oscar set. He will prepare cards bearing the names of each of this yearís nominees. After the ballots are tabula ed, partners at PricewaterhouseCoopers will prepare two complete sets of correct envelopes, and destroy the remaining cards. This year, the Academy is also returning to the phrase ĎAnd the Oscar goes to...í after a one-year experiment with ĎAnd the winner is...í to announce who wins the award. ó PTI