M A I N N E W S
Ladakh council discards J&K emblem, flag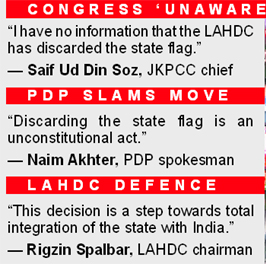 Jammu, February 26
In a development of far reaching consequence, the Ladakh Autonomous Hill Development Council (LAHDC) has discarded the state flag and emblem and adopted the national emblem, effectively distancing itself from the state's emblems and separatist politics.
Jammu and Kashmir has its own flag and emblem. The state secretariat, both here and at Srinagar, hoists two flags — the Tricolour and the state flag — while the ministers also use the two flags on their cars.
The Indian state symbol of Ashoka pillar with three visible lions has been adopted as the council's official logo. The Ladakh Hill Development Council passed a resolution earlier this week, adopting the new emblem in which the rising sun and mountains provide a background to the Ashoka pillar.
"The national emblem of our country is now our logo. The council has already adopted it and we are now giving it final touches to ensure that it represents Ladakh's administrative set-up," said Congress leader and LAHDC councilor Tsewang Rigzin, according to a report published in a local daily today.
Council sources confirmed the news. It was Rigzin who had moved the resolution for a new logo. Rigzin, who is also a journalist, said inclusion of the national emblem as the hill council's logo indicates that the LAHDC exists under a government act.
"Otherwise, what used to happen is that outside Ladakh, even an official letter from the hill council would often confuse whether the LAHDC is a private organisation or a democratically empowered government institution," he said. "It was the need of the hour to ensure that people in the outside world come to know that the hill council is a unique political dispensation for people of Ladakh," the report said. The state government officials were not available for comment. — IANS