Chana goes sweet
Enriched with lotus puffs, dried dates and raisins, the mildly sweet flavoured
Kabuli chana is relished in dham, the Himachali celebratory feast
TRADITIONAL celebratory feast in Kangra is called dham. In Sanskrit, the word means ultimate destination and it is reasonable to assume that in the culinary context also, this implies the acme. Dham is cooked and served at marriages and other festive occasions. It is a multi-course meal, which is prepared exclusively with lentils and is served with rice. No dry items or vegetables are offered as accompaniments. The delicacies are cooked eschewing onions and garlic (though with changing times, these taste enhancers have made slow inroads) and the orthodox still insist that those who man the pots and pans should be Brahmins. The diners sit cross-legged on the floor and the thali is placed on a chowki (a low stool).
In villages and small towns, common men eat off pattal (plates fabricated with broad leaves) while those belonging to the royalty used thali and katori wrought in silver, gold and bell metal. The metal ware, too, is lined with a pattal.
The variety that the common lentils provide is quite amazing. Kabuli chana, which is usually encountered in Punjab in a piquant, pungent incarnation — dry or in gravy — is relished in a dham in a mildly sweet flavour, enriched with lotus puffs, dried dates and raisins. Bengal gram curry, too, is refreshingly different with full-bodied dark green gravy, which acquires distinction due to the incorporation of spinach.
The split chana dal is strongly reminiscent of the Bengali recipe, laced with coconut slices and raisins. The whole mash that is prescribed for all auspicious occasions makes its appearance in a shiny dark hue — the lustre on the surface is due to the film of melted ghee. As if this were not enough, a bowl of bundi ka raita, made with gram flour droplets cooked in yoghurt, chips in to add colour and slightly different taste.
Steaming boiled rice is constantly piled on the pattal to enhance the enjoyment of different dishes as per ones own preference. This is actually a wonderful way to compose courses as per choice. A deep fried whole red chilli, along with a fresh green chilli, is put on the plate to make life better for those who like it hot! The sweet dish surprisingly isn't a kheer, popular in the hills, but meethe chawal, not to be confused with zarda (saffron-tinted dessert from the Mogul repertoire).
What stole our heart was chhole mithaas liye, which we tried at home with some success and trust that the improvised recipe will find favour with you.
Chhole Mithaas liye
Ingredients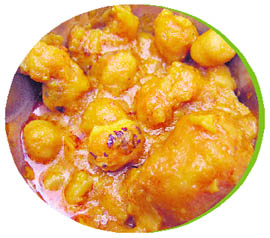 Chhole (soaked overnight) 1 cup
Makhana (puffed lotus seeds, dry roasted on tawa) ˝ cup
Chhuhare (dried dates, pits removed) 3-4
Bay leaf one
Cloves 2-3
Cinnamon 1 inch piece
Dhania powder 2 tsp
Haldi powder ˝ tsp
Kashmiri lal mirch powder ˝ tsp
Saunth powder ˝ tsp
Ghee 1 tbsp
Raisins 1 tsp
Malai (clotted cream) 2 tbsp
Salt to taste
Method
Boil or pressure cook chhole with the bay leaf till done to taste. Drain and reserve. Heat ghee in a pan and add the cloves, cinnamon and powdered spices, dissolved in little water and salt. Stir to mix well. Now put in the chhole. Add makhana and chhuhare, along with a cup of boiling water. Cook on medium flame for about five minutes. Simmer to thicken for a couple of minutes more. Add raisins and clotted cream, just before serving.