And the winner is India!
Our burgeoning tourism potential is drawing many countries to woo Indian tourists in a big way and how! Hugh & Colleen Gantzer report on the South

Asian Travel and Tourism Exchange-2011
POST-Republic Day 2011, when chilly winds skittered leaves down the avenues of Lutyens' Delhi, scams tumbled like poisonous cakes out of the corridors of power. But only the slightest whiff of their fumes filtered into the brightly lit halls of Pragati Maidan.
Life in black & white
Many young artists are exploring monochromatic hues to portray an array of emotions, writes Surekha Kadapa Bose
THERE is something awe inspiring and powerful about black-and-white imagery, which calms the vivacity of colour. In the world of art, every artist happens to dabble in monochrome — either working with charcoal, ink, pencil and then goes ahead to make peace with colours!
Making her life safe
Documentary filmmaker Sehjo Singh has come up with interactive panels in the graphic novel style, depicting a woman's journey from being a victim of violence to a symbol of grit and success, reports Shruti Parthasarathy
DESPITE women's increased visibility in public spaces, better education and work opportunities, and changing social attitudes, women continue to experience physical and emotional violence, both within their homes and outside.
Elegance in tradition
GenX has mixed and matched the standard Indian tunics and presented a refreshing look to the Indian woman, says Dhanvanti Keshavrao
TILL very recently, when you think of ethnic look in Indian fashion, the first thing that comes to the mind is wearing of a sari or ghagra-choli, with the usual accessories of bangles and bindi.
Beer for the gay
Serengeti presents the true picture of Africa with more than 15,000 square miles of plains and endless wildlife, writes Sumitra Senapaty
A Mexican company has launched a new beer aimed at the gay and lesbian community that will also be exported to other countries, company officials said. The honey-flavoured beer will initially be sold in Mexico and later exported to Colombia and Japan.
An unspoilt Eden
The 2000-sq km expanse of tropical jungle tract of Namdapha Game Sanctuary is a haven of biodiversity, writes Sudha Mahalingam
THE mahout cuts a humungous green bamboo pole from a thicket, and with four neat slashes, transforms it into a step-ladder for us to alight from the elephant. We're now on the forest floor, piled high with sodden leaves and buzzing with butterflies and insects.
Fine stretch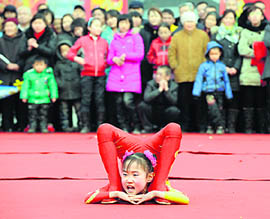 A young acrobat performs during the Shehuo festival to celebrate the Lantern Festival in Taiyuan, Shanxi province. The Lantern Festival marks the last day of the Chinese Lunar New Year celebrations Photo: Reuters

Chinese heritage unveiled
The first showcase of ancient art of China is being held in New Delhi
INDIA refreshed its cultural linkage with China by unveiling an exquisite collection of ancient artistic heritage at the National Museum in the Capital.
Eco-warriors
ITS mission of being eco-friendly, yet luxurious, but earthy in composition has won accolades for Kanha Earth Lodge, Kanha, Madhya Pradesh.
A two-horse race
A period drama and a contemporary biopic will square off against each other at the 83rd Academy Awards tonight, writes Saibal Chatterjee
ON Hollywood's biggest night this year, an independent film from the UK is all set to gatecrash the party. The King's Speech, a superbly acted royal drama, set in the years leading up to World War II, has as many as 12 nominations, including Best Picture, Best Director (Tom Hooper) and Best Actor (Colin Firth).