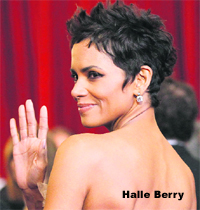 Other than the sparkle, another major trend at the Oscars was the resurgence of the red carpet favourite — voluminous red gowns
Bollywood beauty Aishwarya Rai added some Indian glamour to the Oscars with an on-trend shimmery number at the 83rd Academy Awards where sequins dominated the red carpet.The 37-year-old actor sparkled in a bronze Giorgio Armani Prive gown with rows of amber sequins and beaded detail at the waist, while husband Abhishek Bachchan stuck to a traditional black tuxedo.




Gwnyeth Paltrow

Sandra Bullock
This time, Rahman misses the golden lady
On second thoughts, it's not just the storyline but also the background score of 127 Hours that takes us through the movie. So, when Aron Ralstone (James Franco) begins his journey to the Blue John Canyon, the beats in the background are like from the Punk rock music.
Big on small screen!
Pratima Kazmi started her career in 1997 with an English film Sixth Happiness. She has played many positives roles, but in the tinsel town she is known for her negative roles. Her strength is her powerful dialogue delivery and a husky voice.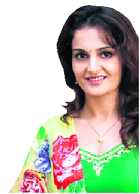 Monica Bedi begins new innings in Nepal
Thirteen years after she acted in her last film of note, Tirchhi Topiwale, Monica Bedi, better known as the companion of jailed mafia don Abu Salem, has begun a new innings in Nepal, acting in a new film that could be the mirror image of her own aspirations.The 36-year-old, whose glamorous looks survived her long ordeal in the past when the Indian government sought her extradition from Portugal along with Salem, and her subsequent stay in prison for passport forgery, starts shooting in a Nepali film, Parichay, directed by Mumbai-based director Akash Pandey.
Sonu to judge X-Factor
Bollywood singer Sonu Nigam, who returns as the judge for a music reality show after a gap of six years, was initially apprehensive about the upcoming show X-Factor as he does not believe in manipulating reactions and situations to garner TRPs.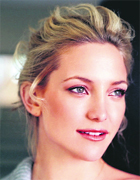 Kate buys $ 6.4 million mansion
Hollywood beauty Kate Hudson, who has long been in a dilemma about shifting her base, has reportedly bought a home in the UK capital worth $ 6.4 million.The Bride Wars star, who is expecting her first baby with Muse frontman Matt Bellamy, insisted that she wanted to spend half of her time in London, her boyfriend's homeland."I have a feeling I'll probably be spending a lot more time here. I don't know about full moves but a half move probably. I love it here but we both travel so much. I'll be around, wandering the streets!" said Hudson.The couple has purchased the property located in north London which would be a 'great place' to raise a family."Kate is ready to put down roots in the UK.
At 43, Madhuri still casts a spell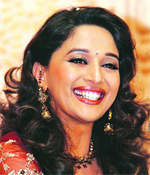 You can't be in showbiz and not be visible - but that doesn't apply to Madhuri Dixit. If she ruled the box office in her prime, the soaring TRPs of Jhalak Dikhhla Jaa now prove she is equally saleable when she is a mother of two and spends much of her time being a homemaker in the US."We had been trying to get Madhuri as a judge for the past two seasons. She has been known as a dancing diva and who better could we have got for a show which is all about perfect dancing," Ajay Bhalwankar, programming head, Sony, said."She has added a lot of freshness to the show and she is an extremely honest judge. In all our four seasons, this season has been the highest TRP earner, thanks to Madhuri," he added.
Renee Zellweger signs Bridget Jones III
Hollywood star Renee Zellweger has signed up the third film in the Bridget Jones series after being assured that she won't have to pile on the pounds.The follow-up to Bridget Jones's Diary and Bridget Jones: The Edge of Reason, which tells the story of wine-loving 30-something singleton who eventually finds love, has been discussed for some time.
Expanding social web via mobiles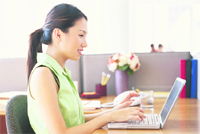 The symbiotic relationship between mobile phones, social media and 'us' is just getting bigger and better. Electromagnetic rays from mobile phones damage the brain, but all this and a lot more on technology hampering health haven't helped much. In fact according to a study report by Analysys Mason, the number of mobile social network users in India is expected to reach around 72 million by 2014; driven by reduced costs of smart phones and the launch of 3G services.
Geek SPEAK
Know the BATTERY more
Primary batteries are designed to last, but any attempt to recharge them can cause serious damage to man and machine. This can be due to electrolyte leakage on to the battery charger or overheating, which can cause an explosion.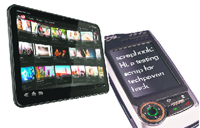 Lesser-known mobile applications
If you thought you had packed your world in a single mobile phone, how about giving it a second thought? How well do you know this world, as in your mobile phone and how much have you explored it…we take a quick look at some mobile applications and bring the ones that you probably don't seem to know too well, or are not used regularly. These applications are in the mobile as part of added features.
Pedestrian detection system for cars
Swedish car manufacturer Volvo has developed a new pedestrian detection system which it says can bring a car to a halt automatically whenever someone steps out in front of it.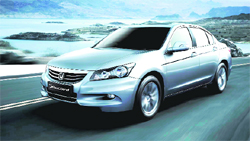 Honda scores on style
Honda Siel Cars India, launched the new Honda Accord with striking new looks and new features to give a breathtaking driving experience.The new Accord has more style, more comfort and more sophistication than ever before. A bold and aggressive look and striking interiors will make it the most commanding premium sedan on Indian roads.
Yes Memsahib
How does it feel to be an IAS officer's wife? Ask Suchita Malik or even better read her book Memsahib's Chronicle: A story of Grit and Glamour, sequel to her first book Indian Memsahib- The untold story of a bureaucrat. "I have divided my sequel into two episodes. The story is a mixture of lives of officers and their wives," she says.
Spade work
For a winsome display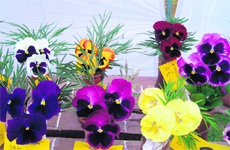 The Chandigarh Rose Festival is over. Now, the focus of gardeners is at Springfest which is to be held this week at Panchkula. I had the pleasure of interacting with some of the participants of Rose Festival. They were curious to know the reason for not getting a prize. I shared it with them and want to do so with you too.It is important to know the technical points about various exhibits besides the aesthetic beauty and presentation. Take for example the gladiolus; the participants should be careful in carrying the spikes as the florets are very delicate.
Diamonds for men
The UK-based jewellery brand Zaira India has launched an exclusive diamond collection for men that include a complete range of belts, cufflinks, watches, rings, bracelets, pendants and tiepins.
Don't bribe kids with food
A study has revealed that parents who give their children food to quieten them down could be setting them up for a lifetime of weight problems.

L-R: Actors Aamir Khan and Sohail Khan during the inauguration of a store in Mumbai on Sunday evening.Actor Hrithik Roshan with wife Sussanne speaks to the media during a inauguration party in Mumbai. — PTI