In close company of stars
Bouncers from the city share some moments they have spent with B-town guests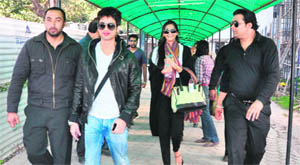 A sturdy frame, height of close to six feet, bulging arms, sporting black tee and black denims…Ruby, manoeuvers his way out from the swelling crowd along with actor Akshay Kumar, whisking him off to the shooting sets. He returns next day to escort pretty Dabangg girl Sonakshi Sinha at the Chandigarh airport. This time the crowd goes berserk, but Ruby and boys have seen it all before.
Shahid Kapoor and Sonam Kapoor with Ruby (extreme right)

LADY IN RED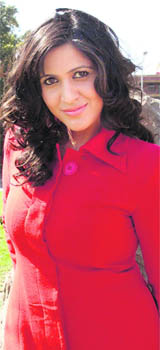 Jonita Doda shoots for Punjabi film Yaara O Dildara in the city
Bling is in
Hollywood's Anne Hathaway and Jeniffer Lopez flaunt them, so do Bollywood's Aishwarya Rai and Sonam Kapoor. And now flashy, bejewelled and palm-sized clutch bags have made it to every fashion fanatic's wardrobe in India — never mind if they defy practicality.
Celebrating womanhood through art
For the eighth successive year, these women have done it - 20 of them from different corners of the country have their artistic works on display at the Punjab Kala Bhawan-16. They love to call themselves WE- a group of Indian contemporary women artists. "Most of us are housewives. We wanted to probe our real selves and the inception of this artistic journey in 2003 gave us the reason. Art is peace for our group," says Sadhna Sangar, the president of WE.
Rotarians from abroad join fight against polio
Twenty-nine Rotarians from Australia, Argentina, Canada, New Zealand and USA, joined their Indian counterparts in the fight against polio. "Rotary has taken up the challenge of polio eradication on a war-footing. These volunteers flew in on February 26 and fanned out with their Indian counterparts to various booths in the city, including ones at Bapu Dham colony, Manimajra Township and Fun Republic traffic junction to administer polio drops to children," says Madhukar Malhotra, District Governor of Rotary District 3080.