Jobs' lively iPad 2 show
Gabriel Madway and Alexei Oreskovic
A thin but energetic Steve Jobs made a surprise return to the spotlight on Wednesday, taking the stage to unveil Apple Inc's new iPad and drawing a standing ovation.
The Silicon Valley legend has been out on medical leave since late January and his reappearance, in trademark turtleneck and jeans, bolstered Apple shares and reassured investors and fans worried about his health. Defying speculation in some tabloid reports that he was seriously ailing; Jobs took swipes at rivals and mocked competing tablet computers. Striding back and forth across the stage at the Yerba Buena Center, Jobs spoke passionately about the iPad 2's features as No. 2 and heir apparent Tim Cook looked on.
The $499 device is thinner than the iPhone 4, twice as fast as the last tablet, camera-equipped, and ships March 11 in the United States and March 25 in 26 more countries. The surprisingly fast roll-out highlights the fierce competition in the tablet market.
"We've been working on this product for a while and I just didn't want to miss today," Jobs told a packed auditorium in San Francisco with his characteristic flair and energy. A relaxed-looking Jobs lingered near the theatre stage for more than 20 minutes after the show wrapped up, chatting amiably with acquaintances and Apple employees. In the run-up to the event, there had been almost as much speculation about whether Jobs would appear as there was about the device itself.
Jobs, who has been treated for a rare form of pancreatic cancer, remains on medical leave for an undisclosed condition. An Apple spokesman referred questions about his medical leave back to Jobs' statement in January that he planned to remain involved in major strategic decisions for the company. His appearance on Wednesday comes at a critical moment. Apple is launching the next generation of its ground-breaking tablet computer just as its main adversaries are releasing their first such devices.
"Steve Jobs is the most important asset for Apple without a doubt and that's why investors are so curious about whether he will remain and continue to have an impact," said Robert Lutts, chief investment officer at Cabot Money Management. "The stock went up after his appearance but not as much as it normally would if Apple had a fully healthy CEO."
The iPad 2 goes on sale in the US, and at $499 is about $100 cheaper than Motorola Mobility's Xoom. "The hardware is as good as anything on the market, the price is still very aggressive, and the software just buries the competition," said Gartner analyst Van Baker. "They're still the guys to beat by a large margin. This does serious damage to the competitors in the market. Xoom now looks like an extraordinarily expensive tablet, and the HP tablet looks under-featured."
Apple sold nearly 15 million iPads in nine months of 2010, two or three times as many as analysts had predicted. The company is expected to sell 30 million or more this year, which would generate close to $20 billion in sales. That is despite a growing cast of competitors like Motorola, Research in Motion and Hewlett-Packard Co.
Tablets are seen as a must-have device for consumers and many businesses over the next few years. Analysts expect the market to surge to more than 50 million units this year, and 200 million units by 2015. As in the smart phone market, Apple's chief rival is expected to be Google Inc's Android platform, which is free to license and is being used on a number of tablets.
The iPad, along with the iPhone, is expected to fuel Apple's growth over the next several years. The two product lines already make up more than half the company's revenue.
Apple's products tend to be priced at a premium to its rivals, but the iPad has been priced aggressively low versus the competition, both to dominate the market and because the company can leverage its own retail network and pre-bought manufacturing capacity.
That has pinched the company's margins, a problem Apple seems happy to live with if the tablet can deliver such startling growth.
A longer-term problem might be the question of who might replace Jobs were he to step down—Cook is the favourite for the top job and has been running Apple in his boss's absence.
But for now, concerns that Jobs might have to exit—stirred by sensationalist and unsubstantiated tabloid reports appear to be allayed by Wednesday's proceedings.
"Investors know his illness is pretty serious, but it's comforting to know that while he's in his supposed leave of absence, he's still involved," said Capital Advisors Growth Fund co-manager Channing Smith. "The new product looks good and the key is they continue to innovate, which is what we want to watch rather than looking at Steve Jobs." — Reuters
Apple launches iPad 2
Steve Jobs launched the latest from Apple at San Fancisco on Wednesday.Here's how iPad 2 stacks up against the original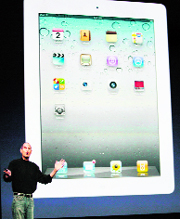 iPad 2
Price: $499-$829
Has front and rear-facing camera, sports a magnetic cover
Weight: 1.33 lbs
Height: 9.5 inches
Width: 7.3 inches
Depth: 0.34 inches
Technicals: Runs on 1GHz dual-core A5 processor, iOS 4.3
Available: March 11
iPad - original
Price: $499-$829
Weight: 1.5 lbs
Height: 9.6 inches
Width: 7.5 inches
Depth: 0.5 inches
Technicals: Runs on 1GHz A4 processor