Punjabi antenna
Championing the cause of the underdog
Randeep Wadehra

Crime and politics are the staple of Punjabi news channels. Zee Punjabi has a special segment on crime — Underworld. PTC News has intrepid reporters all over the region. Apart from attracting eyeballs, fair and fearless reporting can help improve political as well as law and order scenario significantly. We have seen how the public outcry over police laxity vis-a-vis the Khushpreet case resulted in prompter response to Prince's abduction. Not only was the child saved but the criminals were also arrested.
The Day and Night News (DNN) channel is fast emerging as a trendsetter as far as quality, depth and sweep of news coverage is concerned. Be it the scam relating to subsidy to farmers of medicinal plants, or the sex scandal involving a senior HVPN official, the channel has been quite incisive. But, over the past couple of months, it has impressed one with its dogged coverage of a seemingly lost cause — justice for an underdog.
Shaminder Singh Shera, a resident of Balachaur, was picked up by the local police and reportedly kept in illegal custody. Thus began Shera's tryst with painful death after undergoing a protracted and soul-sapping ordeal. After escaping from the illegal detention, Shera reached DNN's studios and revealed how he was subjected to unspeakable third degree torture in order to extract confession of being a Babbar Khalsa activist. The cops also wanted him to implicate others — they helpfully named some persons for the purpose.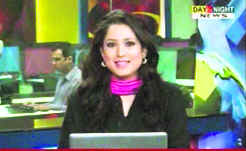 D&N leads by example
Shera refused to confess or name anyone, because, he told the news channel, he knew what they would have to suffer. A scared Shera further said that he pleaded with the policemen to kill him as he could bear the torture no more. Out of frustration, the cops decided to stage a fake encounter and finish him off. When he heard of their plans he became desperate to escape, and succeeded, too. On the show he declared that he could recognise all those who had tortured him even though he was kept blindfolded. Perhaps the policemen feared as much.
On January 13 the channel reported that the court had acquitted him from the charges of being a terrorist and awarded a compensation of Rs 1lakh. However, the then Chief Justice of Punjab and Haryana High Court, Mukul Mudgal, ordered that the compensation be enhanced to Rs 30 lakh and directed the state government to rein in the local SHO. In fact Punjab's Assistant Advocate General assured the court that Shera and his family would be provided with security. This should have put an end to the story.
But one had not reckoned with the Punjab cops. As Justice Mudgal pointed out to Kanwar Sandhu on the Fair & Square talk show, the police are extremely powerful; for a person living in the countryside it is well nigh impossible to get prompt judicial remedy vis-`E0-vis any police atrocity.
On January 26 the channel reported Shera's death after he was attacked. Who killed him? The police say his enemies among antisocial elements had done it. But reporters from Nawanshehar point out that the locals deny any enmity between Shera and others in the area. Kanwar Sandhu moderated a talk show wherein advocates Amar Singh Chahal and Rajvinder Singh Bains squarely blamed the Punjab Police personnel.
Bains said that the policemen had reached the depths of inhumanity and, for them, to organise such revengeful attacks came naturally. However, retired DGP of Punjab P. Lal took a legalistic view of the episode, and SSP Bhargav, Nawanshehar's district chief, too, tried to shroud the happenings in bureaucratic legalese. The humanitarian angle was absolutely absent.
During his last interview to DNN, Shera displayed distrust in the police force and gratitude towards the judiciary. He is dead now. Would DNN's campaign to get justice for Shera bear fruit?