Dawn of darkness
Turning their gaze on a nether world where violence is a necessity rather than a mere source of cheap thrills, Bollywood's neo-noir storytellers are re-imagining Hindi cinema's moral landscape in exciting, if shocking, new ways, says Saibal Chatterjee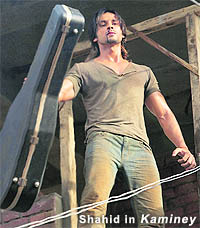 The makeover of the Mumbai movie industry is still essentially a work in progress. In the recent times, however, neither the work nor the progress has been insignificant. Having shrugged off the pull of dead habit and convenient constructs, a new breed of unflinching Mumbai writer-directors are scripting an unlikely moviedom metamorphosis. Drawn to the harsh big-city lights and the darkness that dwells under their glare, these gifted filmmakers, Bollywood 'outsiders' all, have turned their gaze on a wicked, crooked world where mankind is caught between a rock and a hard place.
DIRECTORS' CUT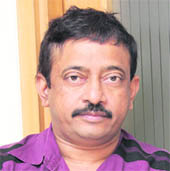 Ram Gopal Varma, master of gritty crime dramas like Satya and Sarkar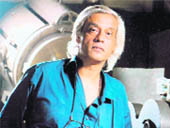 Sudhir Mishra began the trend with Iss Raat Ki
Subah Nahin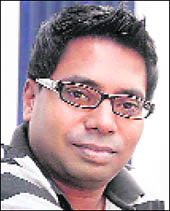 Rajkumar Gupta's No One Killed Jessica is based on Jessica Lall's murder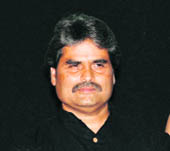 Vishal Bhardwaj has tapped the depths of literary works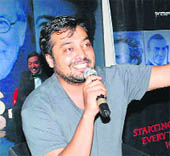 Anurag Kashyap makes films that are the very antithesis of escapist Bollywood fare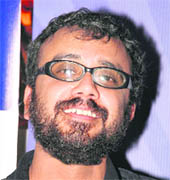 Dibakar Banerjee's cinematic vision springs from the heart of real India

The titles – Love Sex Aur Dhokha, No One Killed Jessica, Yeh Saali Zindagi, Kaminey, 7 Khoon Maaf, among others – say it all. The unvarnished narratives that these films unspool are enveloped in grime, grit and gloom. For glitz and glamour, look elsewhere.
The evocative cinematic canvas that the likes of Sudhir Mishra, Vishal Bhardwaj, Anurag Kashyap, Dibakar Banerjee and Rajkumar Gupta have been painting on with deepening shades of grey and black is pockmarked, defaced, dimly lit and shot through with a palpable degree of nihilism. It invokes an urban space, peopled by men and women, who shun established rules of morality in their pursuit of elusive elation, emotional and material.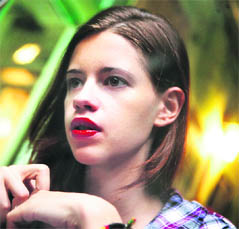 Kalki in That Girl in Yellow Boots

The most heartening aspect of this incipient revolution is that these directors and their hard-edged expositions of venal reality have managed to forge a strong connection with the movie-going masses. Mishra's Yeh Saali Zindagi, Gupta's No One Killed Jessica and Bhardwaj's 7 Khoon Maaf, released within weeks of each other, have generated an appreciable boxoffice buzz.
Clearly, a sizeable section of the Hindi film audience is ready to embrace and bolster the kind of cinema that has succeeded in breaking the hitherto single-dimensional mould of commercial Hindi cinema.
Mishra, Bhardwaj, Kashyap, Banerjee and Gupta have succeeded where many others have failed because their roots aren't in the creative cesspool of Mumbai's dominant film culture. Their cinematic vision springs from the heart of real India and that translates into tangible tales on the big screen.
Mishra grew up in Lucknow, Bhardwaj in Meerut, Kashyap in Varanasi, Banerjee in west Delhi and Gupta in Hazaribagh. Their emergence as effective Bollywood game-changers has been aided by the fact that they have never believed in the mainstream movie industry's tried-and-tested game anyways. Nuanced characters, complex situations, hard-hitting narratives and somewhat staccato pacing mark their films.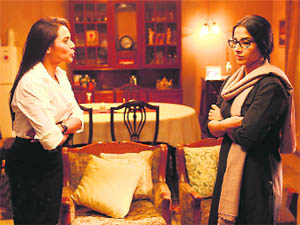 Rani and Vidya in No one Killed Jessica

But more than anything else, the raw earthiness of the dialogues sets these films apart. Says Mishra, an elder statesman of sorts in the now well-ensconced movement: "In Yeh Saali Zindagi, the characters speak the lingo of the mean streets of old Delhi. It borders on the foul, but that's how it is. Had I sought to sanitise the language, the dialogues would have sounded awfully stilted."
So, even as these films push the boundaries of what is acceptable and what is not, the flexibility of censorship norms are also being constantly tested. As Kashyap is out to do with his upcoming release, That Girl in Yellow Boots, in which a biracial girl, under constant threat of deportation, works in a seedy Mumbai massage parlour and offers her clients more than just innocuous rubdowns.
He says: "I am trying to figure out how far I can go with the censors. But, yes, I know I cannot go the whole hog because morality in this country sets distinct limits for a filmmaker."
These filmmakers possess the skill and the acumen to skirt around the social and creative constraints. No film does that more dramatically than 7 Khoon Maaf, Bhardwaj's sixth feature. It is a black comedy unlike any that Hindi cinema has ever attempted. It revolves around a woman for whom the path to true love is littered with corpses – those of her husbands, flawed men who brings out the worst in her.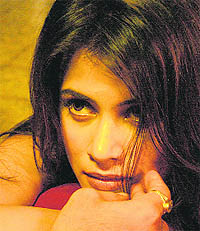 A still from Love Sex Aur Dhokha

Bollywood's ground rules are pretty clear and only the truly gifted and courageous can dare to defy these. Influenced by the classical 'navarasa' theory, a large majority of Indian films seek to deliver a 'holistic' entertainment package to the audience. That leaves little room for acute probes into the zones of darkness that are inevitably embedded in the human soul.
Is that the reason why many of the noir thrillers to emerge from Bollywood in the recent past were what might be described as derivative efforts? It probably is. The Indian filmmaking sensibility, despite the plethora of exploitative flicks that Bollywood routinely dumps on its audience, is grounded, at least ostensibly, in positive, traditional values. Popular Hindi cinema, in particular, packages and sells disinfected dreams. It, therefore, continues to uphold noble attributes like fidelity, honesty, honour, valour and fair play.
But, then, when a woman, on a husband-killing spree, struts across the screen in an unstoppable trajectory of murder and mayhem or a foul-mouthed female journalist decides to move heaven and earth to get to the bottom of a murder case (No One Killed Jessica) or when a no-nonsense Delhi girl delivers an ultimatum to her gangster husband to either reform himself or get out of her life (Yeh Saali Zindagi), you know the world is changing – and in exciting, if shocking, ways.
By turning Hindi cinema's moral universe topsy-turvy and focussing on the extremities of human behaviour, these new films and many others that came before (Kashyap's Dev D and Gulaal, Banerjee's Oye Lucky Lucky Oye and Love Sex Aur Dhokha, Navdeep Singh's Manorama Six Feet Under, Homi Adajania's Being Cyrus, Sriram Raghavan's Johnny Gaddar, etc) reflect the frayed edges of that part of the new India where greed isn't necessarily a dirty word. It's merely a handy defence mechanism in a dog-eat-dog universe.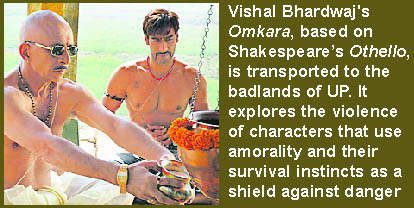 The social reality in large segments of the country's urban pockets – commercial Hindi cinema's principal constituency – has undergone dramatic changes. Consumerism is rampant, corruption is a way of life, and the 'me-first' generation seeks to get ahead in life by hook or by crook. Hence grey is gradually sliding towards the centre of Bollywood's moral spectrum. It is only natural that a small but steadily growing number of Mumbai filmmakers are turning their backs on sugar-coated fantasies hinging on an ideal but non-existent society.
The dark thrillers are now drawing their inspiration from indigenous sources unlike Sanjay Gupta's Kaante and Zinda, unabashedly influenced by applauded foreign films – Quentin Tarantino's ultra-violent Reservoir Dogs and Chan-wook Park's powerful 2003 South Korean thriller Oldboy. Well, both Kaante and Zinda had snatches of style and panache, but they suffered because the effort to adapt an alien source material led to uneven results.
Until he lost his creative spark in the inferno triggered by Aag, Bollywood's reigning master of gritty crime dramas was Ram Gopal Varma. He made films like Satya, Company and Sarkar and then lost the plot. However, the space that he created with his brand of cinema threw the doors open for others to march in and continue the process of pushing the frontiers of Indian filmed entertainment.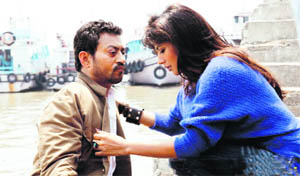 Yeh Saali Zindagi is about a no-nonsense Delhi girl, who delivers an ultimatum to her gangster husband to either reform himself or get out of her life

Several Mumbai filmmakers have followed RGV to the dark edges of the human experience and achieved critical, if not commercial, success. They have carved a niche for themselves simply because of the uniqueness of their vision and style.
Vishal Bhardwaj, first with Maqbool, then with Omkara, and now with 7 Khoon Maaf, has tapped the depths of literary works — Shakespearean drama in the first two, and a Ruskin Bond novella in the third — to explore the violence of characters that use amorality and their survival instincts as a shield against lurking danger. Between Omkara and 7 Khoon Maaf, he also made the stylised and hyper-energetic gangster flick, Kaminey.
If Kaminey explored shades of evil through a tale rooted in a Bollywood convention – twin siblings as protagonists clashing against each other thanks to a quirk of fate and personality – 7 Khoon Maaf is a clear departure from standard practice. Has anybody ever seen a commercial Hindi film subtly alluding to literary works like Leo Tolstoy's Anna Karenina and Anatole France's The Seven Wives of Bluebeard? Bhardwaj is taking popular Hindi cinema where it has rarely gone before.

Dev D is based on Saratchandra's timeless tale of doomed love
And he is obviously not alone in this endeavour. Pretty much the same could be said about Kashyap. With films like Paanch, Black Friday, Gulaal, No Smoking and Dev D behind him, he is preparing for the commercial release of That Girl in Yellow Boots even as he shoots Gangs of Wasseypur, set in Bihar's boondocks. He makes films that are the very antithesis of escapist Bollywood fare and yet manages to achieve mass approbation. His films sock you in the face. They are about reality. The warts of existence aren't papered over.
In the hands of filmmakers like Bhardwaj and Kashyap, Bollywood neo-noir certainly has the potential to evolve into a full-fledged, viable genre. How this form pans out in a climate where number-crunching proposal makers still far outnumber true creators will depend a great deal on how much popular support these films can whip up in the long run.
Points of departure
Ten films that have defined Mumbai cinema's 'dark age':
Iss Raat Ki Subah Nahin (1996)
Director: Sudhir Mishra
In the course of a single night, an innocent couple runs for cover as a Mumbai underworld don guns for them
Satya (1998)
Director: Ram Gopal Varma
A gritty thriller about a young migrant sucked inexorably into Mumbai's grimy underbelly
Company (2002)
Director: Ram Gopal Varma
Varma's stylised follow-up to Satya is a fictionalised take on the lives and times of Mumbai's most dreaded gangsters
Omkara (2006)
Director: Vishal Bhardwaj
Shakespeare's classic tragedy, Othello, transported to the badlands of Uttar Pradesh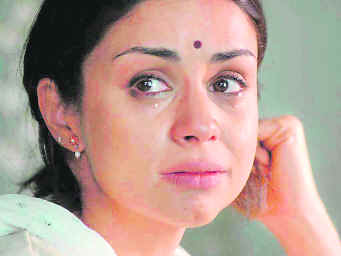 Manorama Six Feet Under is a thinking man's thriller

Manorama Six Feet Under (2007)
Director: Navdeep Singh
A thinking man's thriller about a lowly government's functionary's brushes with greed and corruption in a small town in Rajasthan
Dev D (2009)
Director: Anurag Kashyap
A bravura reworking by Bollywood's stormy petrel of Saratchandra's timeless tale of doomed love
Love Sex Aur Dhokha (2010)
Director: Dibakar Banerjee
An innovative exploration of the scary ways in which voyeurism has invaded our lives
No One Killed Jessica (2011)
Director: Rajkumar Gupta
A crackling cinematic account of the killing of model Jessica Lal in Delhi in the late 1990s
Yeh Saali Zindagi (2011)
Director: Sudhir Mishra
The veteran Mumbai filmmaker points his camera at the nexus between crime and politics in Delhi and its morally mucky environs
7 Khoon Maaf (2011)
Director: Vishal Bhardwaj
Inspired by a Ruskin Bond novella, Bhardwaj brings to the screen a murderous woman of the kind never seen before — SC