TELEPROMPT
Bang on budget
Mannika Chopra


Mannika Chopra

Question: Did you happen to see a TV reporter on any channel asking a villager what he thought about this year's Budget or did you see most channels with their OB vans parked in front of India Inc's headquarters getting reactions from corporate houses, business lobbies, interspersed with voices from urban India, tax planners, keeping an eagle eye on the Sensex as it dived and jived?
The problem, as one panelist on Doordarshan said, only three crore of India's 120-odd core population actually pays taxes so this annual rite of passage with the Finance Minister reading the Budget very year and its impact has a limited audience. Rural India, where we have been famously told India lives, has once again been conveniently left out of the picture.
But never fear, the aam aadmi like a filmy hero is still alive, if not kicking in Budget 2011. Even then, the poor sod, trampled over by taxes, bad governance, and inflation is the subject of bada aadmi's ire.
"The FM is like Robin Hood," said one worthy in a not very nice way implying he has robbed from the rich, (read me) to give to the poor. And as a response to some largesse announced by the FM to anganwaadi workers, Rahul Bajaj said he wished he was an anganwaadi worker. Yeah, right.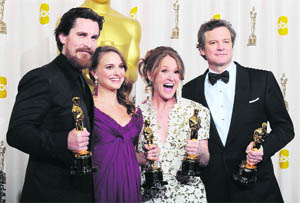 The results of the Oscar ceremony were predictable

Most of the Budget coverage was slanted to the Big Earner, the really Big Earner and The Big Spender. News channels went into overdrive, of course. CNN-IBN called it the 'Budget of Hope'; ET Now, a 'landmark budget' giving us a relay of happy-looking smiles when it outlined products, which would get cheaper — like diapers and mobiles — and some down turned mouths accompanying items that would get more expensive like travel and air-conditioned hospitals.
Generally, most voices gave it a thumbs down: Prannoy Roy and Dorab Sopariwallah on NDTV 24x7, TV's original rab ne ban di jodi couple; economist-writer like Swaminathan Ankelshewar Aiyar on Times Now; and, of course, the inimitable Mani Shankar Aiyar. Prasoon Vajpayee on Zee News tried to demystify the financial exercise while CEOS, en masse, looked desperately for the Big Ticket Reform. Monica Halan on Bloomberg TV called it a 'Nothing Much Budget' and the aam aadmi, well he is, too, busy struggling to worry about whether the FDI has been allowed into the insurance or the retail sector.
The other annual rite of passage was the Oscar award ceremony broadcast live on Star Movies. The results were predictable, though one hoped that A.R. Rahman, whose name Jennifer Hudson pronounced atrociously, would have won one Oscar for his musical score but alas, it was not to be. What was to be was the Oscar for Best Film to the King's Speech because stories about British royalty in stony British accents are guaranteed to bring home the Oscars even if the film does not have a dedicated audience. British royalty are to the Oscars what little puppies are to computer screens: A done deal. So Colin Firth did his tough upper lip thank you speech leaving Social Network, frankly a far worthier contender, sulking in the corner.
At first, there was MasterChef Australia, and then, there was MasterChef India, and now, we have MasterChef USA.
(All have been on the Star platform). Frankly after MasterChef Australia raised the bar, every other me too has been going downhill. The Indian version, even with celebrity chef Akshay Kumar, was without any tadka, and now the American version is a complete mishmash.
Its chef judges, including Gordon Ramsay, being seen simultaneously as the boorish chef in Hell's Kitchen on AXN, are nasty, mean and destructive, even throwing inedible dishes into the garbage. Unlike their Australian counterparts, the contestants are not really focussed foodies either, and worst of all, for some strange reason, Star World, even as the culinary competition is down to the last four or five, is showing promos of the final two asking viewers, who will win the coveted title. Not sure, if this is some new innovative way to grab eyeballs or just a goof up. In any case, it is bizarre.
There is another new kid on the reality block, Keeping up with the Kardashians (Zee Café). It's all about a high-profile, second generation, Iranian (I think) family. Matriarch Karen Kardashian oversees the hip and happening Kardashian brood — six daughters and a son. The family is full of personality disorders and explosions are guaranteed as are the bleeped out expletives that qualify practically every fourth sentence. But the bleeping doesn't really help because with all the practice we are getting we can all lip read really well now.
Leading member of the clan is Kim Kardashian, model, dancer, and social figure. In the episode I saw, Hugh Heffner has asked her to model for Playboy magazine. You can hear the screams of joy down in Jhumritalia. The only trouble is that HH wants the luscious Kim to expose more skin and well, the hottie needs some gentle persuasion. Momma is willing to help, undergoing some self-indulging modelling herself, dropping towels at the appropriate occasion.
The show is full of American reality show clichés. Lots of temper and oodles of immodesty. Watch if you must, or if you believe that like the weather, climate change has affected TV as well.