Cricket, the man and the mind
A peep into the other side of combative and fierce cricketer 'Haydos'

Reviewed by Uttam Sengupta
Standing my Ground
By Matthew Hayden.
HarperCollins. Pages 398. Rs 599.

A champion surfer, a great cook who is also the author of three books on cooking, an outdoor man but not a very nice man to know. That is Matthew Hayden for many contemporary cricketers, as Andrew Flintoff of England readily acknowledges in a generous foreword. The big and burly opener, a left-hander, is best known for belting the best fast bowlers out of the ground. The seemingly fearless man would step out to pace bowlers and take them on, converting many perfect deliveries to full toss.
Above all, he was "quick on the lip" and perfected the art of sledging on the cricket field. Flintoff recalls that once he was coughing badly while taking his crease when "Haydos" asked if he had a spare cigarette. Sledging of course could not have remained one-sided and Hayden himself has been at the receiving end, with Harbhajan Singh telling him once during a first-class match in India, "Surely, Australia has something better than this ... I hope you get picked for the Test team because I am going to play with you."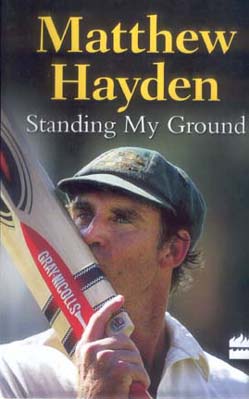 What the book does, disarmingly so, is to show up the other side of the combative and fierce cricketer. Someone who is quick to cry, is emotional, has deep family ties and who is a thinking sportsperson, a bit of an introvert but with an elephantine memory. In short, the book makes him appear almost human! An added bonus is a sense of humour that adds sparkle to the book. He recalls an uncle of his hollering at him once, "Play some shots ... I have to live in this town."
Not many sportsmen, certainly not cricketers but with exceptions like Sachin Tendulkar and Hayden himself, seem to acknowledge the role the family plays in grooming them. Hayden, however, provides illuminating insights into his approach to the game. Growing up on the family farm, he developed an affinity with adventure and outdoor activities like camping, climbing, swimming, bushwalking and fishing and "drinking a couple of litres of milk every day", which contributed to build not just his body but also his mind. He recalls that his mother, who taught Drama at the high school, would occasionally start a lesson by saying, "Okay, tell me something positive`85I don't want to hear the word 'no' ..."
The farm hardened him. He and his older brother would walk up steep and testing hills almost every day, sharpening his stamina and sense of balance, but without realising that he was receiving arguably the best physical training he could possibly have at a time when gyms and trainers were not so commonplace.
There are chapters on "superstition" and on "umpires" as well as on the Indian Premier League (Hayden played for Chennai Super Kings) and on his own dream XI (Sehwag, Dravid, Tendulkar and Harbhajan make the cut). He also devotes separate chapters on Muralitharan and Shoaib but while "The Indian Uprising 2001" and "India 2004: Cockroach? What Cockroach" deal with his Indian experience, they are sketchy at best. Nor do they provide much insight into his thinking on Indian teams, wickets and players. But then, he does admit to be baffled by the diversity and cultural differences and says that it was his stint in the IPL, which gave him some understanding of India and the Indians.
A pity really because the Indian cricket fan would have expected a lot more from this thoughtful and observant cricketer.