ART & LITERATURE

'ART & SOUL
ENTERTAINMENT

TELEVISION

GARDEN LIFE

NATURE

FOOD TALK

CONSUMER, BEWARE!

FASHION

GLOBOSCOPE

BRIDGE

ULTA-PULTA
EARLIER FEATURE

TRAVEL

RELATIONSHIPS

DREAM THEME

TIME OFF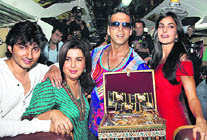 Farah Khan (second from left) is
a force to reckon with among new-age commercial filmmakers

Damsels in direction
Vimla Patil
From Gurinder Chadha to Kiran Rao, women have created films on subjects that have found resonance in their hearts. Others, like Farah Khan, have shown that women need not be just activist directors, taking up gender or social issues, and that they can simply aim to be successful commercial directors. A peek at woman power behind the cinematic lens…
LONG years ago, a young Sikh woman, born in Nairobi and living in Southall, England, went through an agonising experience. Her father, a relatively poor man, went to the local bank to encash a cheque and was humiliated by the racist attitude of the staff.
Steeped in history
Ancient coins of the Indo-Greek era and broken pieces of earthenware belonging to the Maurya empire have been found in Naurangabad, near Bhiwani, in Haryana, writes Dev Brat Vashisth
According to historians and archaeologists, in ancient India the hamlet of Naurangabad was a prosperous and flourishing place with a mint of world class standard, where coins were moulded. Naurangabad was also the capital of the Yodheyas empire.
In the heart of Middle East
Located at the crossroads of civilisations, Jordan has a cultural confluence that can't be found anywhere else, writes Tanushree Podder
YOU are at the heart of the Middle East," stated Abdul dramatically, pausing near the entrance to the erstwhile Greco-Roman city. "Jordan is located at the crossroads of civilisations and nowhere else will you get to see the kind of cultural confluence that you see here."
Cats are woman's best friend
Many young artists are exploring monochromatic hues to portray an array of emotions, writes Surekha Kadapa Bose
WHILE dogs are considered ever-friendly, ready to follow you all over the place, cats are thought of as haughty creatures — but that may not be true — according to a new study, which claims cats attach to humans, and particularly women, as social partners.
Look hot and wild
Animal prints have made a huge comeback to the fashion circuit, says Shama Rana
FROM international fashionistas to Bollywood hotties, here is a style that like polka dots is proving to be a staple in the fashion scene. Safari trends, aka animal prints, have leaped from the jungle on to the streets. Animal motifs have rocked the catwalks, too.
Risk of mobile phones
THE next time you chat away for hours on your mobile phone, think about the grave health risks from the emitted radiation. It causes loss of memory, lack of concentration, digestive and sleep disturbances, says a government panel on hazards posed by electromagnetic radiation.
Judging out of box
Manpreet Kaur finds out what makes Bollywood stars, singers, choreographers serenade the idiot box
NOTICED the surfeit of Bollywood singers and choreographers on TV? Not only are music and dance reality shows giving them a good source of income, but many say the recognition they get from the small screen is a big add-on.
Bollywood gets abusive
With Hindi cinema becoming realistic, the use of swear words is fast becoming film industry's new style, says Priyanka Sharma
Bollywood has always been about people's cinema. And lately so has been the language, and sometimes even the titles, of Hindi films — juicy and peppered with expletives, like we hear around us most of the time.
Stamp of excellence
The Department of Posts had recently issued stamps on legendary film heroines as a tribute to their depiction of women on the big screen, writes M. L. Dhawan
DURING the World Philatelic Exhibition held in Delhi recently, the Department of Posts & Telegraph issued a commemorative Rs 5 stamp on Devika Rani, Nutan, Leela Naidu, Meena Kumari, Kanan Devi and Savitri, as a tribute to these icons for their role in changing the depiction of women on the screen.
Three's company
Mrighdeep Singh Lamba's Teen Thay Bhai, starring Om Puri, Deepak Dobriyal, Shreyas Talpade and Ragini Khanna, is all set for release on April 1. The film is co-produced by PVR Pictures and Rakeysh Omprakash Mehra Pictures Pvt. Ltd.