Damsels in direction
Vimla Patil

From Gurinder Chadha to Kiran Rao, women have created films on subjects that have found resonance in their hearts. Others, like Farah Khan, have shown that women need not be just activist directors, taking up gender or social issues, and that they can simply aim to be successful commercial directors. A peek at woman power behind the cinematic lens…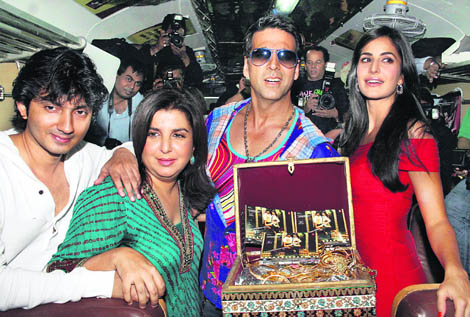 Farah Khan (second from left) is a force to reckon with among new-age
commercial filmmakers Photo: AFP

LONG years ago, a young Sikh woman, born in Nairobi and living in Southall, England, went through an agonising experience. Her father, a relatively poor man, went to the local bank to encash a cheque and was humiliated by the racist attitude of the staff. His intrepid daughter, Gurinder Chadha, carefully nurtured the angst she felt, to later make films to vent it.
"I remember the occasion when I went to the same bank with my cheque for £1 million, which I had received for making my first film (Bhajji on the Beach) about Asian women living in Britain and getting together on a beach to give vent to the problems they faced. The admiring expression on the faces of the bank staffers was sweet revenge," she recalls. "Thereafter, making films that frame the lives of the Indian diaspora became the purpose of my career."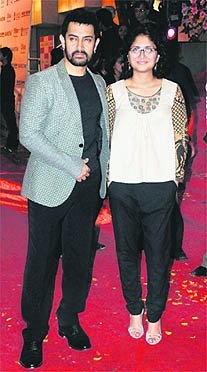 Kiran Rao became the new kid on the block with Dhobi Ghat Photo: AFP

Gurinder came to filmmaking in the 1980s after she spent years working for BBC as a news reporter. She directed many documentaries for the British Film Institute, BBC and Channel Four. Many of these award-winning films traced the lives of British Asians and their problems. When she set up Umbi Films, her own company in 1990, she became the toast of Asians in Britain who saw her as a symbol of their power in the media. Before making Bhajji on the Beach, Gurinder made several short films which showed how painful the mix of Indian culture and a western lifestyle could be and how it impacted the lives of thousands of East Africans who had come to Britain. However, her later films, Bend it Like Beckham and Bride and Prejudice added a touch of wry humour to her films and she became a celebrity in the British as well as Indian film industry. She was honoured with an O.B.E. in 2006 in the Queen's Birthday Honours.
The other woman director of Indian origin who etched her name in movie-making is Mira Nair. Born in Bhubaneswar, she went to Harvard University to study media and found great success with her very first film, Salaam Bombay, which was nominated for an Academy Award, and won the Golden Globe Award and the BAFTA Award for the best foreign language film. Based on the condition of street children in Maximum City, Nair touched a raw nerve of Indian society and was also criticised for 'finding faults' in Indian urban society to make quick money. Salaam Bombay won the Camera D'Or and the Prix du Publique at the Cannes Film Festival as well as 25 other international honours.
In the following years, Nair made Mississippi Masala, an inter-racial love story set in Europe and Africa and, of course, the much-publicised Kamasutra: A Tale of Love and Monsoon Wedding, among others. Nair's preoccupation is with the concerns of the Indian diaspora and their experiences as they try to merge with western societies. Hysterical Blindness, mirroring the working class in New Jersey, got the Golden Globe for leading lady Uma Thurman and three Emmy Awards. Nair has successfully told the stories about events that have shaken human society such as the 9/11 terrorist attack on the World Trade Centre in New York and the condition of Garo communities in Meghalaya, India. Vanity Fair, The Namesake, Migration, Shantaram and the awareness film AIDS Jaago are some of her epoch-making films. Nair is an international celebrity and makes films that portray the changing lives of communities across the continents.
Nearer home, in Bollywood, there are many women directors who have earned kudos for their work and sensitivity to issues that concern Indian society. Among the earliest, was Sai Paranjpye, who made nearly 12 films, mostly touching life's situations with the brush of humour and sensitivity. Among her films, Sparsh and Chashm-e-Baddoor are memorable.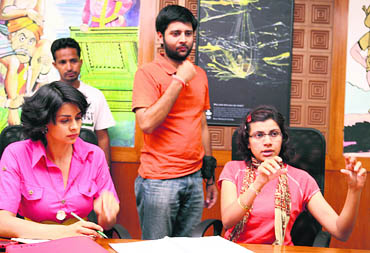 Alankrita Shrivastav (right), who debuted recently with Turning 30, starring Gul Panag, has earned critical acclaim for portraying the angst of a modern woman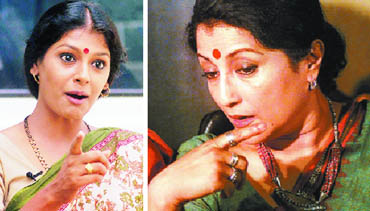 Nandita Das won rave reviews for her directorial debut Firaaq; (right) Aparna Sen's films, like Paroma, showcase women in specific social settings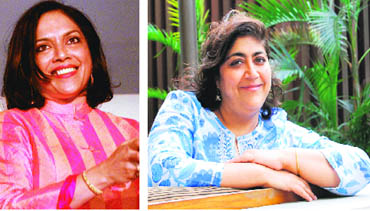 Mira Nair and (right) Gurinder Chadha's films capture the concerns of the Indian diaspora

Kalpana Lajmi was the 'angry young woman' of Indian films. Rudaali, Daman, Darmiyaan and other films always portrayed the pitiable situation in which Indian women found themselves. Aparna Sen, herself a beautiful filmstar, became a director and made 36 Chowringhee Lane, Mr & Mrs Iyer, Paroma and other films, showcasing women in specific social situations.
Counting the other significant women directors, there are Tanuja Chandra, Deepa Mehta and Leena Yadav, who have made films but not really tasted great commercial success. Among the early women who became successful directors is Pooja Bhatt, who took a sabbatical from being a top star to direct films which were 'wicked, edgy and showed women who were haunted by their own sensuality'. "I believe that evil is more attractive than good," she says. "My films, therefore, touch subjects that other directors would never choose. I have proven that the narrative is the king in a film." She produced Dushman and Jism and then directed Paap with John Abraham and Udita Goswami. Meghna Gulzar, too, directed Filhaal, based on surrogate motherhood, but retired after her very first attempt.
Farah Khan's name stands out in Bollywood as a director with the golden touch because her two films Main Hoon Na and Om Shanti Om hit the bull's eye at the box office, though her more recent Tees Maar Khan failed completely. Farah, according to Bollywood writers, has proven that women need not be activist directors for a cause and that they can aim to be just rank commercial directors. "Leaving my triplets at home to go work is the biggest challenge for me," says Farah, who also anchors TV reality shows.
Zoya Akhtar, daughter of Javed Akhtar, started her directorial career with the slice-of-life film Luck By Chance. Not too enamoured by the 'woman director' sobriquet, Zoya is looking for generic subjects to write scripts on and direct films. Reema Kagti, who is much in the news today as the director of Aamir Khan's next film, first assisted Farhan Akhtar on Dil Chahta Hai and Lakshya and directed her first film Honeymoon Travels Pvt. Ltd, the story of six couples on a honeymoon to Goa! Its success launched Reema into Bollywood's big club and she is poised to join the top directors of the film industry.
Nandita Das, starred in Fire, 1947: Earth and Bawandar. She made her directorial debut with Firaaq, a story set one month after the Gujarat riots. Her film is yet to be released in India, but has been shown in prestigious international film festivals.
And last, but not at all the least, is Alankrita Shrivastav, who has debuted with her mood film Turning 30, starring Gul Panag and Purab Kohli, which has won critical acclaim.
And now, we also have Kiran Rao, who assisted Ashutosh Gowarikar when he made Lagaan. Kiran recently made Dhobi Ghat – again a slice-of-life Mumbai film with little success. Most viewers agreed that the indulgent Aamir Khan had produced the film to please his wife.
Of course, where Indian theatre is concerned, there have been several celebrity directors including Mahabanoo Mody-Kotwal of Vagina Monologues fame, Dolly Thakore and Lillette Dubey, who directed a novel version of the Mahabharata. In language theatre, too, there are innumerable women directors who are carving out successful careers for themselves.
Looking at the burgeoning brigade of women directors, the future seems to be promising for those who venture out boldly to handle the reins of a production — film or play — with confidence and a certain feminine elan and style which is unique to Indian women today.