Partying or social climbing?
It began with relaxing, extended on to having fun, went up to catching up with friends….What is a host's purpose behind throwing a party? Certainly, not for you to have a good time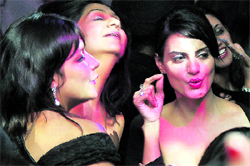 Paris Hilton made a career out of partying; of course, the model, actor; singer tag closely followed! If Michel Adam didn't party the way he did, perhaps nobody would recognise him. Closer home, Queenie Singh is probably a product of partying right. Let's put it straight, you are who you party with; whoever thought partying means to put your feet up, let your guards down. Shares Iris Maity, model-turned-actor, "For different people, the reasons for partying are different."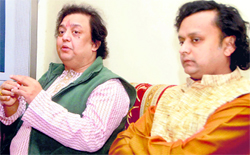 Kathak in their veins
When art resides in one's soul, every act seems like a performance par excellence, even a casual chat over a cup of tea. So, when Jaikishan Maharaj and Deepak Maharaj, renowned kathak maestro Birju Maharaj's sons, met us over a brief one-on-one session, it was like a unique performance in itself.


Jaikishan Maharaj(L) and Deepak Maharaj
The cult machine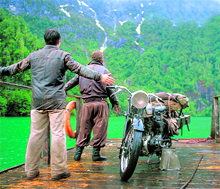 A racing heritage, a revenge on dull, drab and boring souls, a teaser for minds…the everlasting road king is here to raise dust on the silver screen with the ongoing Harley Davidson film festival at PVR cinema in the city. If you have managed to dream about it, the HD movie festival must have worked like fuel for fire. What is it that you've taken back? The thrill, rise in the adrenaline, fear of death, a kick to do things that you've never done, grit to tread the unknown, a job shift that promises more money so that dreams can be cashed…what does the road ranger trigger?

A still from The Motorcycle Diaries
Yeh Faasley makes for an engrossing watch


Film: Yeh Faasley
Cast: Anupam Kher, Pawan Mlhotra, Suhasini Mulay, Tena Desae, Rushab Rana, Sudha Chandran, Rajendra Gupta, Seema Biiswas, Kiran Kumar, Natasha Sinha
Director: Yogesh Mittal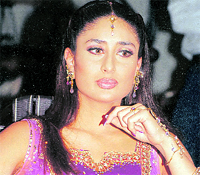 Ash, Kareena, Priyanka in run for fun, fearless award
Bollywood beauties Aishwarya Rai, Kareena Kapoor and Priyanka Chopra are in the run for Cosmopolitan Magazine's fun, fearless awards, to be held in Mumbai on Saturday. The three actors are competing in Fun, Fearless Female All Time Reader's Choice Award this year. Other categories include — Fun, Fearless Power Couple award, for which the nominees are Kareena Kapoor-Saif Ali Khan; Hrithik Roshan-Sussanne Khan and Arbaaz Khan-Malaika Arora Khan.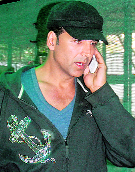 Akshay Kumar was spotted at the Chandigarh airport on Saturday. Photo: S Chandan

Mamma Mia! sequel will never happen
Amanda Seyfried has shot down rumours that a Mamma Mia! sequel could one day go into production, saying the script writers have no scope to take the story further. "F**k no! That's never gonna happen. Like, what would they do? What would they write about? How would they get all the actors back?" said the actor. The ABBA stage show became a box office phenomenon when it was transformed into a 2008 film, overtaking Grease as the world's top-earning movie musical after pulling in a mammoth 400 million pounds in global ticket sales.
YPD sequel soon: Bobby
After the stupendous success of comedy caper Yamla Pagla Deewana, actor Bobby Deol has revealed that work on the sequel to the film has started.
She's got the move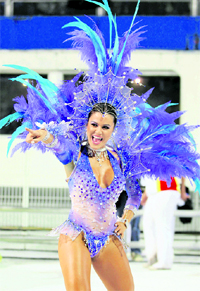 A reveller does samba during a carnival at Sao Paulo. — Reuter

Natalie Portman accused of popularising premarital pregnancy
Oscar winning actress Natalie Portman, who is expecting her first child with fiance Benjamin Millipied, has been blasted by political commentator Mike Huckabee for getting pregnant out of wedlock. The 29-year-old who won the Academy Award this year for her role as a troubled ballerina in the psychological thriller Black Swan, was criticised for being a wrong role model for young Americans, by the former Arkansas governor on a radio show.
Tarot TALK
ARIES: Your ability to remain cool during volatile situations will bring success. However, some upsetting conditions or pressures will make a health problem resurface. That will probably need immediate medical attention. Tip of the week: Think before you speak to avoid misunderstandings. Lucky colour: Sky blue.
TAURUS: Your finances are better than ever and all disputes have been settled. Despite this, you are not really happy. This is because what you really want is missing. You need a break. Go for a holiday and do some soul searching to feel good. Tip: Restore ties with business people with whom you have been out of touch for so long. Lucky colour: Metallic grey.
We did it


Actor Vanessa Williams accepts the award for Outstanding Actor in a Comedy Series for Desperate Housewives.


Actor Halle Berry attends the 42nd Annual NAACP Image Awards at the Shrine auditorium in Los Angeles on Friday night. — Reuters


Actor Sofia Vergara accepts the award for Outstanding Supporting Actor in a Comedy Series for Modern Family.