PUNJAB

HARYANA

JAMMU & KASHMIR

HIMACHAL

REGIONAL BRIEFS

NATION

OPINIONS

LETTERS

BUSINESS

SPORTS

WORLD


M A I N N E W S
Now, cooking gas from kitchen waste
Shubhadeep Choudhury/TNS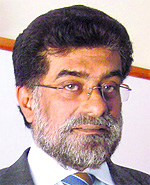 Rajah Vijay Kumar

Bangalore, March 6
Five-feet long, two-feet wide and about three feet in height, the biogas machine designed and developed by the Bangalore-based Scalene Cybernetics Limited looks a trifle unwieldy for the kitchen in an average flat.
The machine, though, has the potential of revolutionising the fuel use in urban households by ridding them of the ubiquitous LPG cylinders. Set in the start mode by plugging it on to the electric supply, the machine can produce gas from any kind of organic waste.
The machine will also be handy in rural areas where organic waste is found in abundance. However, electric supply may be problem in villages and manufacturers of the machine are contemplating installing a solar panel in it to get around the problem.
"You can run it on newspapers also, besides vegetable peel or any other organic waste", says Rajah Vijay Kumar, chairman of Scalene. He says householders will gradually get used to having the machine in their kitchen. "It can be put outside also, like the balcony of a flat, and gas can be brought to the kitchen through a pipe", he says.
About Serigas
A machine developed by Scalene Cybernetics Limited, Bangalore, to generate gas for daily use
The machine can produce gas from any kind of organic waste
Only three kg of waste is required for generating 14 kg of gas
With subsidy expected to be provided, the machine will cost about Rs 10,000 in market
The machine will hit the market by June after the subsidy issue is sorted out with the govt