M A I N N E W S
Cong phones DMK, resignations on hold
Pranab seeks 24 hours from Karunanidhi to resolve seat-sharing issue for TN poll
N Ravikumar & Anita Katyal
Tribune News Service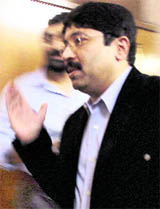 DMK leader Dayanidhi Maran after meeting Pranab Mukherjee. — PTI
Chennai/New Delhi, March 7
The ruling DMK in Tamil Nadu today deferred the move of withdrawing its ministers from the Union ministry by a day following the efforts of Finance Minister and senior Congress leader Pranab Mukherjee, as the prospects of breaking the deadlock over sharing of seats for next month's Assembly poll between the seven-year-long allies brightened today.
Tamil Nadu Deputy Chief Minister and DMK treasurer MK Stalin revealed in Chennai that Pranab spoke to his party leader M Karunanidhi over the phone twice and sought a day's time to resolve the crisis. The DMK had agreed to this request and the party's ministers would wait for one more day before submitting their resignation, he added. The six DMK ministers who were to submit their resignations to Prime Minister Manmohan Singh deferred their decision till tomorrow on instructions from their party leadership after the Congress requested that the two parties give themselves another day to hammer out a compromise formula.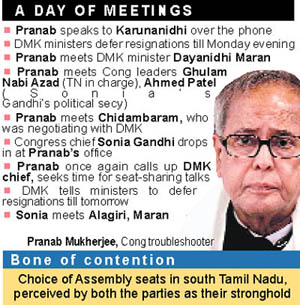 After speaking to Karunandhi, Pranab held a lengthy meeting with DMK minister Dayanidhi Maran. Ghulam Nabi Azad, AICC general secretary in charge of Tamil Nadu, and Ahmed Patel, Congress president Sonia Gandhi's political secretary, were also present there. Home Minister P Chidambaram, who was heading the Congress team mandated to negotiate with the DMK, was called in for consultations after this meeting. Sonia Gandhi, too, dropped in at Mukherjee's office later in the afternoon.
After these discussions, Mukherjee is learnt to have called up Karunanidhi again in the evening to press for more time. According to sources, DMK leaders MK Alagiri and Maran met Sonia Gandhi late in the evening, which indicated that the two sides were keen to resolve their differences.
The sources said the problem arose following strong differences between Chidambaram and Alagiri over the choice of seats in south Tamil Nadu, which is perceived by both these leaders as their stronghold. The problem, Congress insiders say, is not over the number of seats but over the choice of constituencies. "It is essentially an intra-DMK issue. Alagiri wants more seats in the south, which is not agreeable to the Congress as it has sitting MLAs there," revealed a senior Congress leader.
With political parleys picking up momentum, the six DMK ministers who were slated to submit their resignations in the morning first put it off till the evening and subsequently deferred it till tomorrow.
Now that the ice has broken, Congress leaders are optimistic that the differences will be sorted out and have rejected reports that the UPA government is in danger.