M A I N N E W S
Appointing Thomas as CVC was an error of judgement: PM
Sushma forces Manmohan to repeat word for word what he said in Jammu
Faraz Ahmad
Tribune News Service
New Delhi, March 7
Prime Minister Manmohan Singh had to reiterate in the Lok Sabha today word for word what he had said in Jammu last week, thereby taking the onus in front of fellow MPs for the fiasco surrounding Central Vigilance Commissioner PJ Thomas, whose appointment was quashed by the Supreme Court recently.
Initially, the Prime Minister read out a prepared text regarding the background of the CVC appointment. But his brief statement failed to satisfy the Opposition.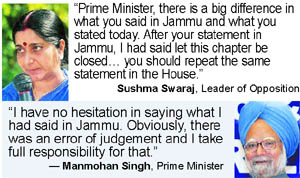 And as Speaker Meira Kumar announced the commencement of zero hour, CPM leader Basudeb Acharia along with his party members and a few other MPs, notably from the Telugu Desam Party, were on their feet demanding clarification on the issue.
The next to speak on the issue was Leader of Opposition Sushma Swaraj: "Prime Minister, there is a big difference in what you said in Jammu and what you stated today. After your statement in Jammu, I had said let this chapter be closed… You should repeat the same statement in the House."
Manmohan Singh responded promptly: "I have no hesitation in saying what I had said in Jammu. Obviously, there was an error of judgement and I take full responsibility for that." This seemed to satisfy the BJP and NDA benches, with the alliance's convener Sharad Yadav echoing Sushma's words of "closing the chapter".
However, Acharia and his men remained on their feet asking the Prime Minister to explain further how things took such a turn. But as the Speaker moved on with other business, the Left staged a walkout.
Earlier in the House, the Prime Minister recalled the events that led to Thomas' appointment: "The CVC's post was due to fall vacant on September 8, 2010, on completion of the term of Pratyush Sinha. Under the CVC Act, 2003, the appointment is required to be made by the President by Warrant under her hand and seal and on the basis of the recommendation made by a committee comprising the Prime Minister, the Home Minister and Leader of Opposition in the lower house."
The meeting of the committee took place on September 3, 2010. The Leader of Opposition gave a dissenting note but the President, following the recommendations made by the committee, appointed PJ Thomas as the CVC. He was sworn in on September 3. However, his appointment was challenged through two PILs in the Supreme Court, which quashed it later.
"The Supreme Court has pronounced its decision. We accept and respect the verdict… The government will take into consideration the guidelines or directions given by the court while appointing a new CVC," he said.