M A I N N E W S
55 Indians make it to Forbesí billionaire club
l Munjal, Malvinder on the coveted list
l Moscow has more billionaires than
New York
Sanjeev Sharma/TNS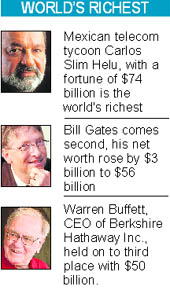 New Delhi, March 10
The latest Forbes billionaires list for 2011 is all about a marked shift in wealth creation from the advanced economies of US and Europe to the BRIC countries (Brazil, Russia, India and China), which showed a huge increase in their number of billionaires. Fiftyfive Indians are on this list.
Mexican tycoon Carlos Slim remains the richest person on the planet with a wealth estimated to be worth $ 74 billion for the second year in a row while steel magnate Lakshmi Niwas Mittal is ranked sixth and Reliance Industries Limited (RIL) chairman, Mukesh Ambani is placed ninth in the list.
Telecom and mining tycoon Slim?s worth increased by $ 20.4 billion from last year's $ 53.5 billion and is followed by Microsoft founder, Bill Gates with a net worth of $ 56 billion. Wall Street guru and Berkshire Hathaway chairman, Warren Buffet, is ranked third with a wealth of $ 50 billion.
It was a record year for the Forbes list with the total number of billionaires increasing to 1,210 from 1,011 last year and the combined wealth of $ 4.5 trillion, more than the GDP of several advanced countries.
Forbes said this year?s story was about the BRIC surge as Brazil, Russia, India and China produced 108 of the 214 new names. These four nations now have one in four billionaires. Before this year only the United States had more than 100 billionaires but now China has 115 and Russia 101. Moscow now has more billionaires than any other city in the world, much more than New York.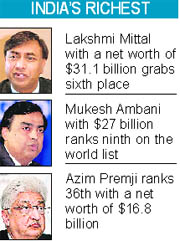 While America still has more than 30 per cent of the rich list, Asia-Pacific region has surged ahead and overtaken Europe for the first time.
India now has 55 billionaires after adding seven to last year?s number. India had seven names in the top 100. These include Lakshmi Mittal at 6 with a wealth of more than $ 31 billion and Mukesh Ambani at 9 with a wealth of $ 27 billion.
Azim Premji of Wipro was ranked at 36, Shashi and Ravi Ruia of Essar at 42, Savitri Jindal and family at 56, Gautam Adani at 81 and Kumar Birla at 97.
Other Indian names in the list include Anil Ambani, Sunil Mittal of Bharti, Adi Godrej, K P Singh of DLF, Anil Agarwal of Vedanta, Dilip Shanghvi of Sun Pharma, Shiv Nadar of HCL, Malvinder & Shivinder Singh, Kalanithi Maran, Uday Kotak, G M Rao, N R Narayanamurthy, Gautam Thapar and BM Munjal among others.