Indian comics come of age
Scores of new cartoonists are drawing sketches that bring out the funny vein of Indian life. With their disarming honesty, these new-age comic characters are clambering with restlessness, elbowing out the old-school comics, writes Vandana Shukla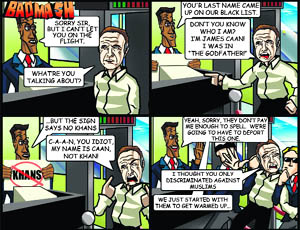 Badmash is created by, and aimed at, the Indian diaspora
The swadeshis are offered condoms made of khadi. And Birbal is told, your punch lines are weaker than Sher Shah Suri's third wife after the delivery of her 15th child! Well, this may send Chacha Chaudhury scurrying for cover. Behind his twirling moustache and furrowed brow, a lot is happening to make him sulk. The new-age comic characters with their disarming honesty are clambering with restlessness, elbowing out the old-school comics.
These new comic characters are different from those of Chacha's era for their brashness and irreverence towards political correctness. Much has been brought out in the open from the closed closets of Indian society, which allows them to tickle and amuse the reader with their idiosyncrasies, hypocrisies and a unique pettiness inherent in our society.
Humour is changing Indians' perspective about themselves. And comics are the best vehicle to carry it, for they are outside any literary boundary and are, at once worldly and whimsical. So, they offer a new reflection on culture and life, Indians have never tasted before. As an answer to the creative anxieties of the country's needs for Indianness, raring-to-go young artists are taking risks in life and in their creative pursuits to fill the gap. For example, a character in Level 10 Comics magazine, Jump, declares, "How on dharti (earth) did this happen?" Comix.India, a multi-language self-published B & W magazine, had an issue of women cartoonists alone to make a point. The team of Suhas and Shreyas, who launched Level 10 Comics at Bengaluru, with a USP that is called Unique Indiannness, say, "We were a bunch of software-engineer-US-returned types, wanting to realise our creative potential before it was too late. We didn't want to be 35, married, settled and think that we haven't done what we always wanted to do."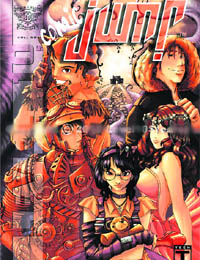 The new-age Indian comic hero doesn't need an enemy to prove his prowess. He often deals with the enemy within. In Jump, the incident of girls being harassed at a pub in Mangalore becomes a point of reference
This new take on life is the ground zero of creative dynamics that is evident in a dozen new comic publications flooding the market.
The comic industry has now reached a stage where conventional comics can be downloaded on mobile phones — and if the story features an explosion, the phone will vibrate, too. With proven prowess in 3-D animation wizardry, why should anyone care about something as old-fashioned like the printed page?
Well, a society obsessed with creative variations of mythological figures is now looking for new initiatives to keep the narrative on. Fresh initiatives like Manta Ray, Level 10, Random, Abstraction, World Comics India ( an NGO floated by young artists, who pick tales of common man's heroism) Cartoon Watch, Comix.India ( 4 volumes) Creative Gaga, and many others offer a platform to out-of-the box creative prowess, which they believe is no less than that what is printed by Marvel and DC. And then, the industry is very lucrative.
But selling new concepts is not going to be a cakewalk. A number of foreign-based companies like Gotham, Virgin, Liquid, Fluid Friction Comics, Illustrated Orchids (based in Singapore) etc. are looking at re-writing the comic strip for Indians. They are distributing comics made by international comics powerhouses like Marvel, DC, and Cartoon Network, which gives them access to more than 10,000 well-known characters. With a monthly readership of more than two lakh in India, and high popularity of American comic characters like Spiderman and Scooby-doo, these giants are looking at indigenous characters to add to the comic wagon, from the Indian talent pool.
Indians, who grew up reading Amar Chitra Katha and Nagraj with a certain degree of apology, are changing. For the young Indians, the ultimate is not a foreign brand or comic. Apart from the vast network of distribution established by Diamond Comics, Raj Comics, Tinkle and Amar Chitra Katha, scores of regional heroes, who fight demons, enjoy closer affinity with readers. Spiderman may be a global spider with abilities to climb the Empire State Building, but he cannot defeat Nonte Fonte, Handa Bhonda and Batul the Great in Kolkata nor can he slight our Santa Banta in Ludhiana!





Not a Child's play:

New Indian comics offer a fresh reflection on our life and cultures
The new-age Indian comic hero doesn't need an enemy to prove his prowess. He often deals with enemy within. In Jump, the incident of girls being harassed at a pub in Mangalore becomes a point of reference. The Adventures of Widhwa Maa aur Andhi Behne, a spoof on Hindi film stereotypes in Random makes one realise that there is no need for larger-than-life characters, we can be in splits for the absurd of our now and here!
Will Indian comic industry create its own unique style like Japanese manga or distinct Franco-Belgian comic strips like Tintin and Asterix? Or, will it continue to oscillate between mythology, history and fantasy to carve out a contemporary style? Despite a large pool of creative energy, the industry is at a nascent stage, looking for a format that can rope in mass appeal. "As script writing comes hard to Indians due to lack of training, graphic narratives, too, require a lot of discipline and training, which is seriously lacking here. Graphics is based on intense teamwork, a lot of coordination is required between the writer, sketcher, illustrator, artist and the editor," says Andrew Dodd, publishing and editorial consultant, Campfire, who believes cartoons like Amar Chitra Katha, Tinkle, and Chacha Chaudhary are tacit. "Their illustrations need to be more dynamic," he asserts.
But, Shreyas differs, "It took about 30 years for the American comic industry to gain such a fan-following, we started just three years back, so it is just a matter of time for the Indian comics industry to catch up."
Sadistan laughs
The Sadistan is opening its closed doors to web, letting it lay bare open its petty, ludicrous and covetous self. Kshiraj Telang has more than a thousand comic strips, many around the middle-class status symbol – a pug puppy on the web. Badmash is created by and aimed at`A0the Indian diaspora. Curry Bear Comics is another popular Indian webcomic that revolves around three South Asian college students and their White friends, taking a dig at the Indian students at odds in America. Fly, You Fools deals with the daily irritants of life in India. Arbit Choudhury, regarded as the world's first MBA comic character had to be created in India. Though, another Dilbert is what we are waiting for, to comment on our cutely corrupt and jugadu Indian work culture, Sunny Kris, a web comic, focusses on the unique idiosyncrasies of an Indian workplace.
The alchemy of Graphic novel
The gods and demons of our myths are reincarnated over and over again to keep the narrative spiced and alive. Like them, the art of storytelling never dies. Only forms change. Graphic novel is the latest entrant creating ripples in the publishing industry. Creative visuals are the new bait for reluctant readers.
Orijit Sen, the first graphic novelist of India, who wrote and illustrated River of Stories (1994), the saga of the Narmada river against the so-called development, had to struggle for years to find someone to fund his dream of writing a graphic novel. It was the NGO, Kalpataru, that came to his rescue. When he took the 100-odd printed copies to a book store, it posed a problem. Where should they be displayed? In children's corner, or among novels or among comics?
Things have changed a lot since then. Graphic novel is no more treated as children's stuff and global publishers are publishing it in India. Sarnath Banerjee's Corridor, the first mainstream graphic novel in India, is said to have sold about 5,000 copies. Witty, soul searching and full of angst, Corridor's engaging narrative unfolds multiple layers between Lutyen's Delhi and Kolkata's Carl Marx, and the fragmented reality of contemporary urban life lying-in-between-the anxieties of getting an H-1B visa and aphrodisiacs.
Amruta Patil's multi-hued and deeply engrossing Kari (Harper Collins) is a narrative of two suicidal lesbians who jump from a building — a la Thelma and Luise. Sumit Kumar's The Itch You Cant Scratch, launched at recently concluded Comic Con, is an adult book, not by common connotations attached to adulthood-sex, but because of its stark honesty.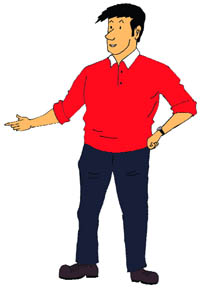 Arbit Choudhury, regarded as the world's first MBA comic character, was created in India
Almost all Indian graphic novels are real and personal stories with almost no fantasy in them. But George Methan's Moonward broke that rule. Set in Halahala, a fantasy land, Appupen (pen name of Methan), takes the reader on a journey to future by a few millennia in a small town. Publishers like Campfire, on the other hand, have tapped mythological appeal for graphic novel with Sita — Daughter of the Earth. Bheemayana, based on the life of B. R. Ambedkar is illustrated by tribal artists of Gond.
With such diversity in style, tone and subject matter, the challenge remains to push graphic literature out of its rarified niche. Strangely, graphic novel is not published in Hindi. Vishwajit Ghosh, who wished to get Hindi version of Delhi Calm, was told the price of Hindi book had to be kept below Rs 100, which was an impossibility. Perhaps, publishing graphic novel like Japanese manga on cheap paper with scant ink is the answer to take its appeal high on a popularity graph.
The term graphic novel was coined by Will Eisner, a writer trying to persuade his publisher that his book (1978 classic,`A0A Contract With God), was no ordinary comic book.`A0But graphic novels were thrust into the literary limelight only in 1992, when Art Spiegelman's`A0Maus, an`A0Animal Farm-like take on the Holocaust, won the Pulitzer. Since then, biographies, literary novels on every possible theme, academic texts, historical fiction and non-fiction — from The Bible`A0to`A0The Hobbit — have embraced the format.`A0Their growth and relevance can be gauged by the fact that they are reviewed in the`A0New York Times and The Guardian. — vs