Shirt is your status symbol
A formal shirt cannot casually be bought off the counter. After all, it is a symbol of your upward movement in society, writes Hector Choksi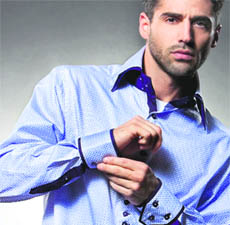 The collar of a quality shirt should be firm with no wrinkles and have tabs to keep it sharp
The number of dress shirts you have are an index of your upward movement in society. The term dress shirt is reserved for a particular type of formal shirts. There are formal day shirts for wearing with morning dress. White dress shirts are used as eveningwear. I recently spoke to a gentleman who wanted to dress smartly but didnít want to worry about his clothing. "I donít want to go into a meeting and be worrying about my sleeve length or anything like that. I want to look good and concentrate on the matter at hand," he said. His solution is, of course, the dress shirt.
Well, a dress shirt cannot be bought off the counter! You have to first decide as to the occasion you are going to wear it for, and then it is easy to plan the purchase. In fact, next to deciding on the occasion you have to wear, selection of the tailor is the most important factor.
If you have already a good tailor, with whom you are happy, then half the battle is won. He will know as to what are your physical attributes like a pencil neck or broad shoulders. He will take into consideration those factors in finalising a dress shirt for you. If you do not have such a darzi, then your circle of friends and colleagues will help you to get one.
Invariably, the dressmaker will insist on taking your measurements before advising you. The experienced among them will be able to tell you as to the fit and collar type that will be best for your body and face. The items he has to check are your personal preferences for comfort.
The next important point is where you plan to wear your custom-made dress shirt. It has a lot to do with detailing, fabric and fit. For formal occasions, a dress shirt in neutral coloured luxurious fabric with a tailored fit would be OK. But if you have in mind an evening at a top restaurant or a swanky bar, then the requirement would be for shirts with trendier patterns with slimmer fits. Business meetings require more fashionable ensemble and call for a French cuff shirt.
Whether you are shopping online or in person for your custom-made shirts, obtaining the correct measurements is of utmost importance. Get this wrong and you botch the entire process. To avoid the situation in which you end up with a custom-made shirt that looks like it was made for someone else, always have a tailor to take your measurements. If you plan on buying a custom-made shirt online, go to your local tailor, pay him to take your measurements and then proceed. Ask him to take collar, chest, shoulder, half-shoulder, sleeve, waist, hip and length measurements. Ensure that your tailor is measuring the largest circumference of any given area. For example, the tape should go around your Adamís apple for a neck measurement and around your nipples for your chest. Finally, if you normally wear a watch, bring it with you to your fitting and request that the tailor take your favourite accessory into account in your cuff measurement. Be as detailed as possible about how you like your shirts to fit.
Plastic buttons are OK. But pearl buttons are worthwhile for the higher costs they involve. On cuffs, gauntlet buttons and horizontal buttonholes are indicative of a superior shirt. If your shirt is striped, the pattern should be properly aligned everywhere. The collars on a top-quality custom-made dress shirt should be firm with no wrinkles and have collar tabs to help keep it sharp. ó MF