Clash of equals
Sunil Narula
For Team India, it's the biggest match of this World Cup today. If they can beat South Africa in Nagpur, it will give us a fair idea of this team's strength. So far, in this World Cup, India have played against some good teams but not a strong and balanced side like the South Africans. In a sense, both teams — India and SA — are somewhat similar. Both have solid batsmen at the top and both have a couple of match-winners in the bowling department as well. But there's a difference between these sides as well — South Africa have not responded very well to the tag of chokers that has been attached to them for quite a while now. Their team is very talented and all that but whenever the heat is turned on, the Proteas kind of wilt and whither. Or so it seems.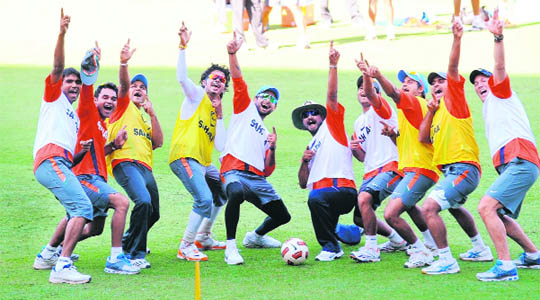 The Nagpur match will show how Team India handles pressure at this half-way stage Photo: AFP
Chilli chocs to cut calories
DHC is tasteless and speeds up the body's metabolism
Imagine having to eat a piece of chocolate or cake to lose weight, that's right, sounds like it's too good to be true. But manufacturers claim to have discovered an ingredient derived from chilli peppers that could be added to any pudding or treat to make the red hot idea a reality.
Worth the weight!
Actor Jennifer Hudson's weight loss sparks off slimming debate
Jennifer Hudson, who looked stunning at the Oscars in her orange Atelier Versace gown, has sparked furious debate since stepping out looking slimmer than ever on the big night. Nutritionists said that the 29-year-old, who has lost 80lb, had gone too far with her weight-loss regime, while a consensus among an Allure magazine writer's friends found her to be "too thin".