Fashion forecast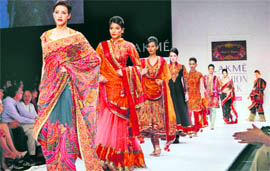 Strong international presence at Lakme Fashion Week's opening show
The Lakme Fashion Week (LFW) Summer/Resort 2011 kickstarted on Friday with a Gen Next show and apart from talent from India, international designers too had a strong presence at the event. Designer Aki Narula says they got loads of applications from foreigners and selected whoever they thought had talent and would continue doing so.



Festive mood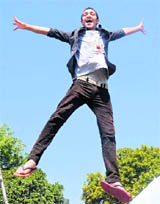 Soaring High: A student tries a stunt at Rose Festival, Panjab University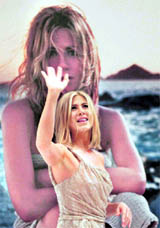 Hollywood actor Jennifer Aniston waves after signing autographs during the launch of her new perfume in Mexico City. — AP
Kate Moss puffs at Paris show
Supermodel Kate Moss closed the Louis Vuitton show at the Paris Fashion Week by smoking a cigarette.
Pets in the NET!
More and more people are making profiles of their pets on various social networking sites like Twitter and Facebook
We mean literally and virtually, some canines with Facebook profiles have more friends on the social networking site than you do, according to a new survey. Amazing, unbelievable, funny…all of the above! Here is more - the survey carried out through social networks found dog-owners were most likely to make an account for their pet on YouTube, followed by Facebook and then Flickr and Twitter. Wait till we tell you more…some social network-savvy pooches managed to make more than a few acquaintances, outdoing many human users!
Myriad hues of nature
It's like taking a tour of India. Beginning from Rohtang Pass, transversing the Himalyas and a pit stop at Shimla. Moving onto Punjab and Rajasthan. Going down south to Goa, Karnatka and making a final halt at Kerela. Bheem Malhotra's exhibition of his recent watercolour works is a mix of his trademark subject, landscapes and scenes from daily life. "I wanted to highlight certain aspects of life rendered redundant. For example, a 150 year old letter box in Shimla, titled rightly 'Glory of the Past' and a steam engine kept as a relic at the Chandigarh College of Architecture, seldom catch people's attention," says Bheem.
Would you like a robotic nurse?
How would people react to being touched by a robotic nurse? Would they recoil, or would they take it in stride? In a study, researchers at the Georgia Institute of Technology found that people generally had a positive response toward being touched by a robot, but their perception of the robot's intent made a significant difference.
Gurdas Maan's latest offering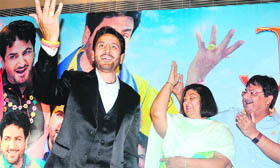 Renowned Punjabi singer and lyricist Gurdas Maan is back with a lyrical treat for his fans in the form of his latest album Jogiya, which recently released worldwide. The lyrics of the songs have been penned down by the musical genius himself and the music has been lent by Jaidev Kumar. Further, the music videos are directed by Manjeet Maan and available on T-Series.

Gurdas Maan at the launch function of his latest album Jogiya. Photo: Pradeep Tewari
God of Punjabi folk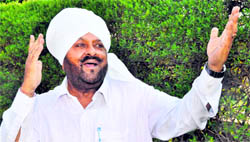 Muhammad Sadique shares views on his kind of music and the industry today
Muhammad Sadique is an established name when it comes to Punjabi folk. So much so that when he made a brief appearance in our office, people made a beeline to get clicked with him!



Punjabi folk singer Muhammad Sadique
Flavours from China
A walk around the buffet table can be pretty tantalizing and yes, rejuvenating too. You think we are going overboard with it. Well, hop in at Mainland China-26 to check out the on going Chinese Buffet. Chinese Buffet! Sounds interesting. Let's see what makes it one….
Broccoli fights cancer
Scientists have discovered how broccoli and its veggie cousins fight cancer. They found for the first time that certain substances in the vegetables appear to target and block a defective gene associated with cancer.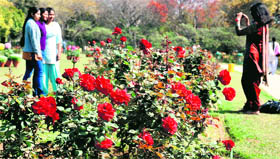 Full bloom: Roses add colour to the campus.
Treat yourself to butter chicken
A non-vegetarian's delight, butter chicken or murgh makhani is a celebrated Punjabi dish. Popular in countries across the globe, the origin of butter chicken can be traced to a man named Kundan Lal Gujral, who ran a restaurant called Moti Mahal Delux in Peshawar and after Partition moved to New Delhi.
Lucknawi delicacies on platter
Lahore Chowk at Hotel Aroma has come up with the concept of Lucknawi cuisines on a platter
Value for money, the idea is clear, whether it is shopping for gadgets, clothes, upholstery, or whether it is taking a travel package or eating out. Lahore Chowk at Hotel Aroma takes care of this mantra to the hilt, which is why they have come up with a concept of Lucknawi cuisines in a platter.
Bon Appetit
Sauces that sizzle
Can you visualize alu-tikki without chutney, a samosa without sauce or butter chicken without its creamy gravy? It wouldn't really have a heartbeat now, would it? The same analogy holds for western cuisine.
Emma dating Alex?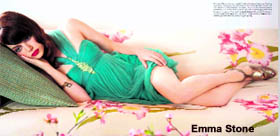 Hollywood beauty Emma Stone who plays Mary Jane in the much awaited Spider Man reeboot is reportedly dating British actor Alex Pettyfer. The 20-year-old actor who recently split from Glee star Diana Agron, sparked romance speculation when he arrived at the Louis Vuitton show in Paris with the Golden Globe nominated actor. They posed together for the camera, before joining other celebs on the front row.
Keira to star as Tinker Bell
Hollywood beauty Keira Knightley will play the thumb-sized fairy, Tinker Bell, in a new Peter Pan prequel movie. The 25-year-old actor will voice the character in the Neverland film which will be released this summer.
Shah Rukh Khan charms Malaysia
Hundreds of shoppers stopped browsing when Bollywood star Shah Rukh Khan, who is shooting Don 2, strolled into a shopping mall here.
Justin and Jessica Biel split
Pop heartthrob Justin Timberlake has reportedly split from actress Jessica Biel after a four-year-long relationship. The break-up between the Sexy Back singer and the Hollywood beauty is mutual.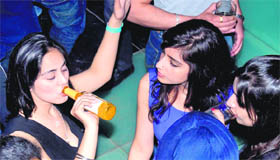 Party venue… your house!
Are Friday night-outs burning a hole in your pocket? Are you sick of overcrowded bars, dance floors and deafening music? Well, don't worry because house parties are here and they are definitely here to stay! The latest fad in the city, house parties today are 'in' amongst party poopers.

House parties sure are a great way to have a good time without burning a hole in your pocket.

There is no Mr Right: Vidya Balan
She is one of the most eligible bachelorettes of Bollywood, but Vidya Balan says that she is not looking for 'Mr Right' and is instead focusing on her career.
Music, Punjabi ishtyle


Let's talk about something that has caught the attention of viewers in Tanu weds Manu. Sorry, it is neither the funny looking pout and less frizzy, 'disturbed' hairstyle of Kangana Ranaut nor the girl-like sharmaana of R Madhavan. Against expectations, it is Punjabi tracks, kadi saadi gali by Lember Hussainpuri and Jugni by Mika that has come as a complete 'paisa vasool'.

Diljit Dosanjh
Salman grooves to Dheela character in Ready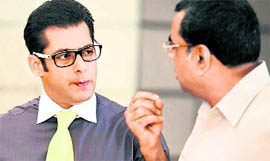 Bollywood star Salman Khan, known for his notorious behaviour, shot for a funnily titled song Dheela character for his film Ready in Bangkok. The song is aimed at describing his character in the comedy film, being directed by Anees Bazmee. Replete with amusing lyrics and Salman's typical dance moves, the song was shot with 100 dancers who were especially flown from Mumbai to Bangkok, said a source.

Salman Khan (L) and Paresh Rawal
Captain Sparrow to become an action figure
Hollywood heartthrob Johnny Depp's iconic character Jack Sparrow from the superhit Pirates of the Caribbean franchise, has been converted into a action figure.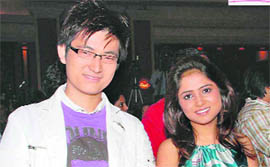 Chang wants a long stint in Bollywood
Dance reality show winner Meiyang Chang, who made his film debut with Badmaash Company is looking for a longer innings in B-town as an actor and singer. "In the long run, I would like to pursue singing and acting as a career. Till 40-50 years of my life I would like to do this as I enjoy doing these two things," said Chang.
I'm writing a script: Udita Goswami
Hollywood bound Udita Goswami has decided to direct a movie. The actor reveals she is ready with the story, but is facing problems in shaping it up into a proper script.
Julianne Moore to play Sarah Palin
Hollywood star Julianne Moore will play controversial Republican Sarah Palin in a film about the 2008 US Presidential elections.
Vidushi trying to carve a niche with small roles
She started her career in Bollywood by playing supportive characters in movies like Aisha, No One Killed Jessica and Saat Khoon Maaf, but actor Vidushi Mehra is not complaining. She says her priority is to play small but important roles rather than "big" yet insignificant parts.