M A I N N E W S
Day after, blast in Japan's nuke plant


Radiation level low, major leakage not expected: Government


Quake toll put at over 1,700; four trains still remain untraced
LETHAL LEAKS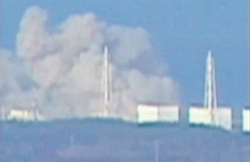 What's the alarm?
Efforts are on to contain radiation leak from the damaged Fukashima Daiichi nuke plant. People around the reactor, 250 km from Tokyo, were evacuated and a safety ring of 20-km radius put in place.

What happened?
The quake caused the outer structure of the nuclear building to collapse. The reactor is surrounded by a steel container, which is then surrounded by a concrete building. The explosion was caused by leak of hydrogen.

What's being done?
Officials plan to fill the reactor with sea water. Boric acid will be used to avoid criticality. It would take 5 to 10 hours to fill up the reactor and 10 days for the process to complete.
Fukushima, March 12
Radiation leaked from an earthquake-crippled nuclear plant in Japan today after a blast blew off the roof, and authorities prepared to distribute iodine to local people to protect them from exposure.
The government insisted radiation levels were low because although the explosion severely damaged the main building of the plant, it had not affected the reactor core container. Japan's nuclear safety agency said the accident rated less serious than either the Three Mile Island or Chernobyl disasters.
Local media said three persons suffered radiation exposure near the plant after Friday's massive earthquake, which sent a 10-metre (33-foot) tsunami ripping through towns and cities across Japan's northeastern coast.
Kyodo news agency said the combined number of people who have died or are unaccounted for in yesterday's double disaster is feared to top 1,700. There were fears that the death toll would rise with Fuji TV reporting that as many as 10,000 persons were missing in the town of Minamisanriku in Miyagi. One report said four whole trains had disappeared and still not been located.
The blast raised fears of a meltdown at the power facility, 240 km north of Tokyo, as officials scrambled to contain what could be the worst nuclear disaster since the Chernobyl explosion in 1986.
However, experts said Japan should not expect a repeat of Chernobyl. They said pictures of mist above the plant suggested only small amounts of radiation had been expelled as part of measures to ensure its stability, far from the radioactive clouds Chernobyl spewed out 25 years ago.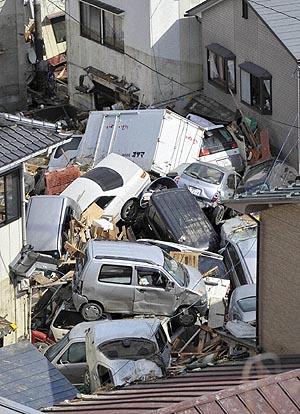 Vehicles are piled up in Kesennuma on Saturday. — AP/PTI

Japan's nuclear safety agency said it was rating the incident a 4 on the 1 to 7 International Nuclear and Radiological Event Scale (INES), less serious than 1979's Three Mile Island, which was rated a 5, and Chernobyl at 7.
Japanese officials told the UN's atomic watchdog they were making preparations to distribute iodine to people living near nuclear power plants affected by the quake. Iodine can help protect against thyroid cancer from radioactive exposure.
Along the northeast coast, rescue workers searched through the rubble of destroyed buildings, cars and boats, looking for survivors in hardest-hit areas such as the city of Sendai, 300 km northeast of Tokyo.
Dazed residents hoarded water and huddled in makeshift shelters in near-freezing temperatures. Aerial footage showed buildings and trains strewn over mudflats like children's toys.
Across the coastline, survivors clambered over nearly impassable roads. In Iwanuma, not far from Sendai, people spelled SOS out on the roof of a hospital surrounded by water, one of many desperate scenes.
The earthquake and tsunami, and now the radiation leak, present Japan's government with its biggest challenge in a generation.
Friday's tremor was so huge that thousands fled their homes from coastlines around the Pacific Rim, as far away as North and South America, fearful of a tsunami.
Most appeared to have been spared anything more serious than some high waves, unlike Japan's northeast coastline which was hammered by the huge tsunami that turned houses and ships into floating debris as it surged into cities and villages, sweeping aside everything in its path.
In one of the worst-hit residential areas, people buried under rubble could be heard calling out for rescue, Kyodo news agency reported earlier.
The international community started to send disaster relief teams on Saturday to help Japan, with the UN sending a group to help coordinate work. The earthquake was the fifth most powerful to hit the world in the past century. It surpassed the Great Kanto quake of Sept. 1, 1923, which had a magnitude of 7.9. — Reuters