Leader's legacy
Humra Quraishi

Nayantara Sahgal's book Jawaharlal Nehru — Civilizing a Savage World
highlights this leader's major concerns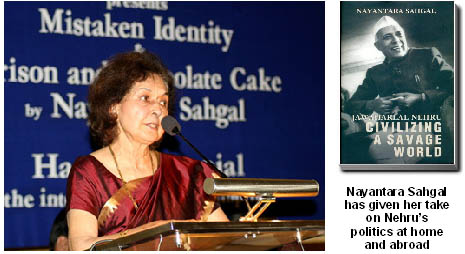 Nayantara Sahgal needs no lengthy introduction. Niece of Pandit Jawaharlal Nehru. Author of several fiction and non-fiction works, her political and literary commentaries go well beyond the set historical and academic parameters. For, there is that strong undercurrent of realism, honesty and forthrightness, which is, perhaps, the highlight of her writings.
In fact, at the release of her latest volume Jawaharlal Nehru — Civilizing A Savage World sometime back, she had spoken along the same strain, forthright and without mincing words. The large audience had sat hearing attentively each single word she had spoken that evening.
As I sat interviewing her, I was distracted. I tried hard to convince myself that she is well into her eighties, for she didn't look even in her sixties. Her appearance carries little traces of ageing. Then, there is that certain calm with which she talks. No aggressive words, no hyper tones. On the contrary, there's that definite grace and subtle aura about her, which is rarely to be seen in today's Who's Who ...
Excerpts from an interview with Nayantara Sahgal:
Why did you decide to write this book on Nehru at this stage?
I was asked to write this book, on my take on Jawaharlal Nehru. And the subjects I have chosen were Nehru's major concerns, which translated into politics at home and abroad. They were a realist's response to the world of his time.
Why have you dedicated this book to Mani Shankar Aiyar and to Gopalkrishna Gandhi?
Gopal and I belong to the same family, by which I mean the Jawaharlal Nehru/Mahatma Gandhi family. Our families were closely connected throughout the fight for freedom. Mani and I also belong to the same family — the family of ideas and outlook.
In this volume you have not focussed on Kashmir although your maternal family traces its ancestral roots to the Valley. Comment .
I left out Kashmir because I feel that Kashmir needs a book to itself.
Are you planning to write a book focussing on the Kashmir valley?
Can't say at this stage, but if I do then it will be on the political dimensions.
Jawaharlal Nehru had focussed on West Asia and the Government of India's foreign policy of that era tilted heavily towards the Arab world. In that context, comment on the latest uprisings in the Arab world. Also, the Government of India's rather weak response to the revolution in Egypt.
I think the Government of India cautiously waited to see how things would turn out. I feel it should have expressed full support for this remarkable non-violent uprising. India's voice should be heard in the region on the side of justice, especially in support of Palestine.
In our country there is growing anger vis-a–vis the rising prices and corruption in the government. Do you think there could be eruptions?
We have a democratic system, so people have the freedom to protest, and they do. The size of the country also helps to limit and absorb tensions.
What do you think of the prevailing conditions in today's India?
Depressing, with the scams and the scale of corruption.
Comment on the obvious change in the very foreign policy of GoI, with the tilt towards the USA?
I think we should be an independent actor in our region. Unfortunately, our foreign policy seems tied to America's interests and`A0committed to keeping America in the region.
You come from a political family, yet you never joined any political party?
I don't have the temperament for politics but I am intensely involved in what goes on in the country, and politics has been the material of my fiction and non-fiction.
Your mother — Vijay Lakshmi Pandit — was much in focus but your father — Ranjit Sitaram Pandit — remained in the background. Tell us more about him.
My father, a Maharashtrian, was a Sanskrit scholar, a linguist, a music-lover and a keen sportsman. He gave his life to the struggle for freedom, dying of his last imprisonment under the British in 1944. He and my uncle were the feminists in the family, encouraging`A0and supporting the women when they stepped out to take an active part in politics.
For a writer, it is tough to survive. Financial and emotional upheavals do come in the way as hurdles Comment.
Fortunately, my first book got published quickly and did well, which got me started as a writer. From the 1970s on, I also wrote political commentary for newspapers in India and abroad. Yes, there were financial and emotional difficulties. I suppose my writing would have been different if I had had a peaceful life.