M A I N N E W S
Indian student raped, murdered in Australia
Melbourne, March 14
A 24-year old Indian student Tosha Thakkar was allegedly raped and murdered and her body stuffed inside a suitcase was dumped in a canal in Sydney by a teenager who shared an accommodation with her. "On 11 March morning, construction workers found the suitcase containing the woman's body in a water canal near Meadowbank Park and alerted police," said a statement issued by the local police.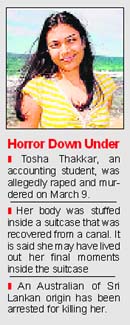 The young accounting student may have lived out her final moments inside the black suitcase in which her body was ultimately found floating in a canal.She shared a house with the accused teenager Daniel Stani-Reginald, an Australian of Sri Lankan origin, who was arrested and charged with sexually assaulting and killing her. She was allegedly raped and murdered between 10.30 am and 1pm (local time) last Wednesday in the Croydon suburb of New South Wales.
Her body was stuffed inside a large cloth suitcase and was later pulled from a canal behind Meadowbank Park on Friday morning by pipeline maintenance workers.
The latest reports said that Thakkar from Gujarat may not have been dead when her body was packed into the suitcase. The police is investigating whether she eventually suffocated inside it.
The police will allege Stani-Reginald was a predator who waited until the third resident of the shared house in Edwin Street, Croydon, was away before attacking Thakkar.
Thakkar was studying accounting at the Sydney College of Business and IT, which collaborates with Southern Cross University, and was a permanent resident of Australia. Friends and family of Thakkar told media that they had no idea why she was killed.
"She did not deserve this at all," Chief Inspector Pamela Young said adding "She did nothing whatsoever to contribute to what happened to her." Thakkar migrated to Australia about two years ago and was in the last semester of a post-graduate accounting degree. She was planning to return to India when she graduated.
Stani-Reginald, an Australian of Sri Lankan descent, chose not to appear in court yesterday and he did not apply for bail. He is expected to face court again on May 9.
The Australian High Commission said it extended its sincere condolences to the family and friends of Thakkar. Australia's high commissioner to India, Peter N Varghese, sent a personal message of condolence to Thakkar and has also spoken to the family, a statement said.
"The Australian police have acted quickly - they arrested a suspect on Friday, the same day as the discovery of the victim's body," it said.